bachelor of architecture '09
Architecture alumnus makes a difference through design and post-disaster relief
While countries around the world are grappling with the ongoing migrant crisis, one University of Oregon architecture graduate found himself personally working with refugees in Sofia, Bulgaria this past December.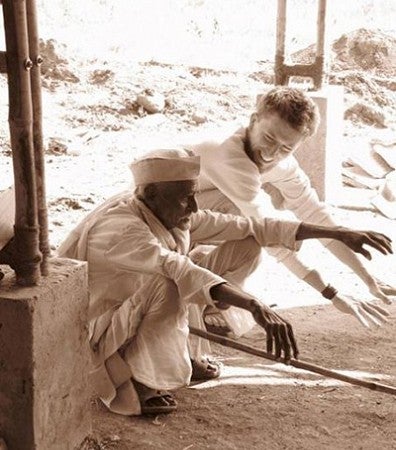 Above: Alex Miller in India in March 2010. Photo courtesy of Miller.
"Disaster exposes a weakness in a community's resilience," said Alex Miller, B. Arch '09. "You become resilient with better design. Disasters, for me, were an opportunity to explore design and expose design that hadn't been taken advantage of before."
Miller has used his UO architecture education to specialize in designing shelters for those affected by the ongoing migrant crisis, as well as civilians whose homes have been devastated by natural disasters. For three weeks in December 2016, Miller worked with a non-governmental organization called Catholic Relief Services in Bulgaria's capital city Sofia.
He conducted interviews with migrants in Bulgaria who are living in temporary camps and seeking more permanent homes. Through these conversations, Miller learned about the refugees' most paramount challenges, fears, and obstacles in their adjustment period.
Since graduating from the UO, Miller's post-disaster work has also taken him to locales devastated by natural disasters, such Nicaragua, the Philippines, and Haiti; and areas where the inhabitants are beset by poverty, including India and here in the United States.
At the UO, Miller said that Associate Professor Peter Keyes' housing studio spurred his interest in post-disaster relief. The studio emphasized developing financially affordable housing after the U.S. 2009 housing crisis.
As a student, Miller worked for architect and AIA fellow William Hawkins to develop sustainable housing for the homeless population in Portland.
"From him, I learned more about good housing practices," Miller said. "I think it's the most complex design process you could go through, compared to museums, commercial, or retail. You're looking at the most complex organism, which is a human being, and their expression of living in a space."
Howard Davis, UO professor of architecture, helped Miller develop an application for a Fulbright fellowship. Davis said he was "very impressed" with Miller's focus on post-disaster architecture in developing countries and for vulnerable populations.
"Many architecture students develop such focused interests only after several years working in the field — so Alex was unusual in this way," said Davis.
Likewise, UO architecture professor Brook Muller said that Miller "channels an impressive set of skills, a big heart, and a generous spirit toward making a difference in peoples' lives. When I track careers like Alex's, I feel so thankful that we are able to attract and cultivate the best."
The advantage of attending the School of Architecture & Allied Arts, Miller said, was the ability to commingle with other departments.
"By looking at art, landscape, public policy, and bringing these [programs] together in the same building is a really strong component," said Miller. "I think bringing those things together helped me form the idea that architecture is not simply about building a structure."
After graduating in June 2009, Miller found a summer internship in Anchorage, Alaska with the National Park Service through UO's Historic Preservation program. The internship involved surveying historical restoration for a copper mine that previously supplied the U.S. with more than 30 percent of the country's copper needs for World War I.
From September 2009-2010, Miller traveled with the organization Wonder Grass to develop sustainable bamboo housing for families in Nagpur in central India.
By working in the field, Miller said, he's able to learn more about the intimate relationship between humans and their environment.
"I wanted to be learning from architects who'd been working in communities all around the world, who could design and visualize things through experience and through an understanding of how people interact with each other and with their environment," he said.
In June 2016, Miller graduated from Oxford Brookes University in the UK, where he received a master's in development and emergency practice through their school of architecture. That summer, a university scholarship and a U.S. government grant from the USAID Settlement and Shelter Office sponsored Miller to research housing programs in Nepal, Haiti, and Lebanon.
It's hard to find many people in the United States working in the same line of work as Miller.
"You can count on your hand the architects that want to do post-disaster relief," he said. "It's a career that's so different."
Miller plans to return to the UO soon to introduce current students to post-disaster relief and share some of his work from around the world.
This story was published as part of the 100 Stories collection, compiled to celebrate our 2014 centennial and recognize the achievements and contributions of our alumni worldwide. View the entire 100 Stories archive on the College of Design website.