The School of Architecture & Environment is a learning community, renowned for academic excellence, and innovative education. We are dedicated to the principles of civic responsibility, environmental sustainability, international understanding, and interdisciplinary education. We give our students the power to positively affect not just their own future, but also the people, communities, and environments around them.
The School of Architecture & Environment offers degree programs in Eugene and in Portland.
---
Life in Eugene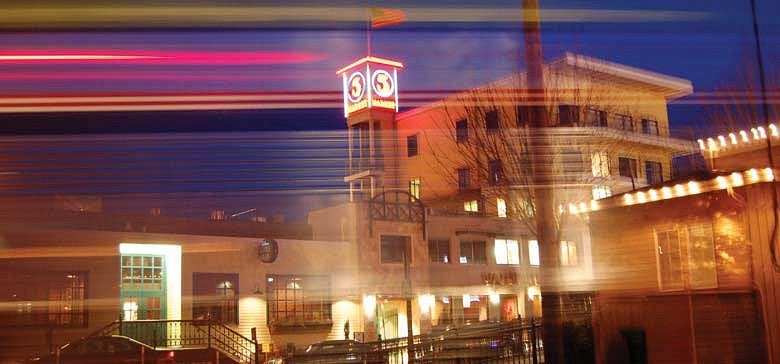 Known as a city with great arts and outdoor recreation, Eugene (pronounce it "you-GENE" and not "YOU-gene," and you'll fit right in) is the second largest city in Oregon. It has the relaxed amenities of a small town and the cultural advantages of a much larger city. Eugene has a mild climate with an average temperature of 54 degrees. Winter temperatures usually hover in the 30s and 40s, while summers range in the 80s to 90s. Most of the rain falls between October and May, leaving dry warm summers.
All of Eugene's amenities are within easy reach of campus by foot, bike, or bus. More than 100 miles of bicycle paths and jogging trails meander through the city's riverside parks and rose gardens and into the business and university districts. The city's bus system provides convenient—and free—transportation to UO students. Eugene's central location allows easy access to a world of recreational opportunities within minutes of campus:
15 minutes: fish for trout in a crystal-clear river; hike through lush forests; relax in one of the 157 area parks; or catch a concert at the world-class Hult Center for the Performing Arts.
60 minutes: walk for miles on pristine public beaches; explore tide pools; watch migrating whales; mountain bike through challenging terrain or float the wild and scenic McKenzie River.
90 minutes: challenge yourself on the downhill runs and cross-country trails at Willamette Pass Ski Area; camp beneath the stars; or explore clear mountain lakes in Oregon's wilderness areas.
---
Life in Portland Updated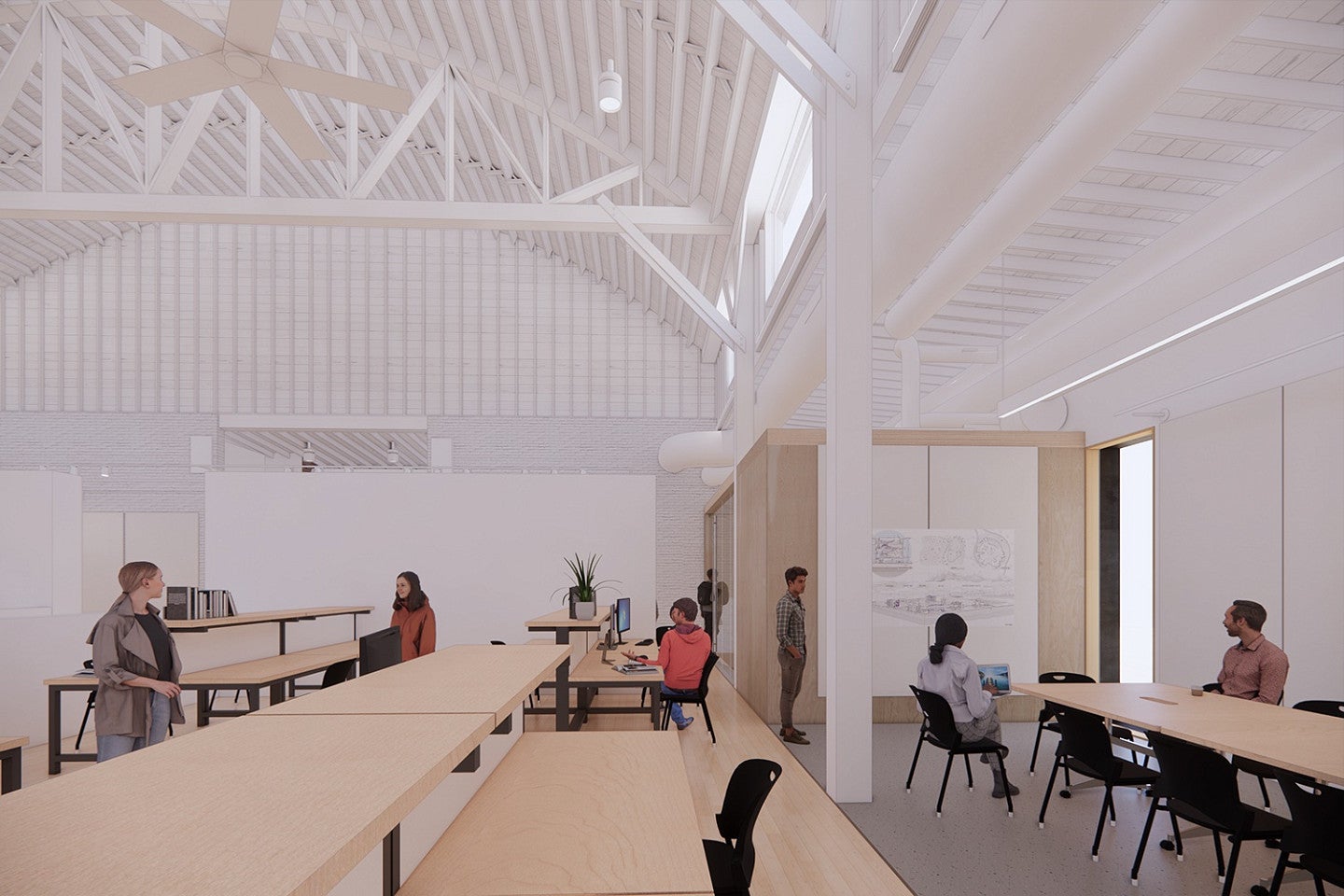 In 2022, coinciding with the founding of the Ballmer Institute, the University of Oregon expanded its commitment to Portland with the purchase of a campus in a neighborhood in the Northeast part of the city. As part of the planning process for the move, the university commissioned LEVER Architecture to transform an existing fine arts building into a new home for the Portland Architecture Program.
Beginning in the Fall of 2024, the architecture program will move into the completed Highland Hall. Conceived as a tool for learning, connecting, and experimenting, the building will house studios, seminar rooms, offices, a kitchen, and a gallery. Highland Hall's prominent location between NE 27th Street and the main campus quad gives the program a visible public presence, while its proximity to the campus center and cafeteria, recreation center, library and coffee shop, innovation building, and student housing serves students with a range of resources and amenities.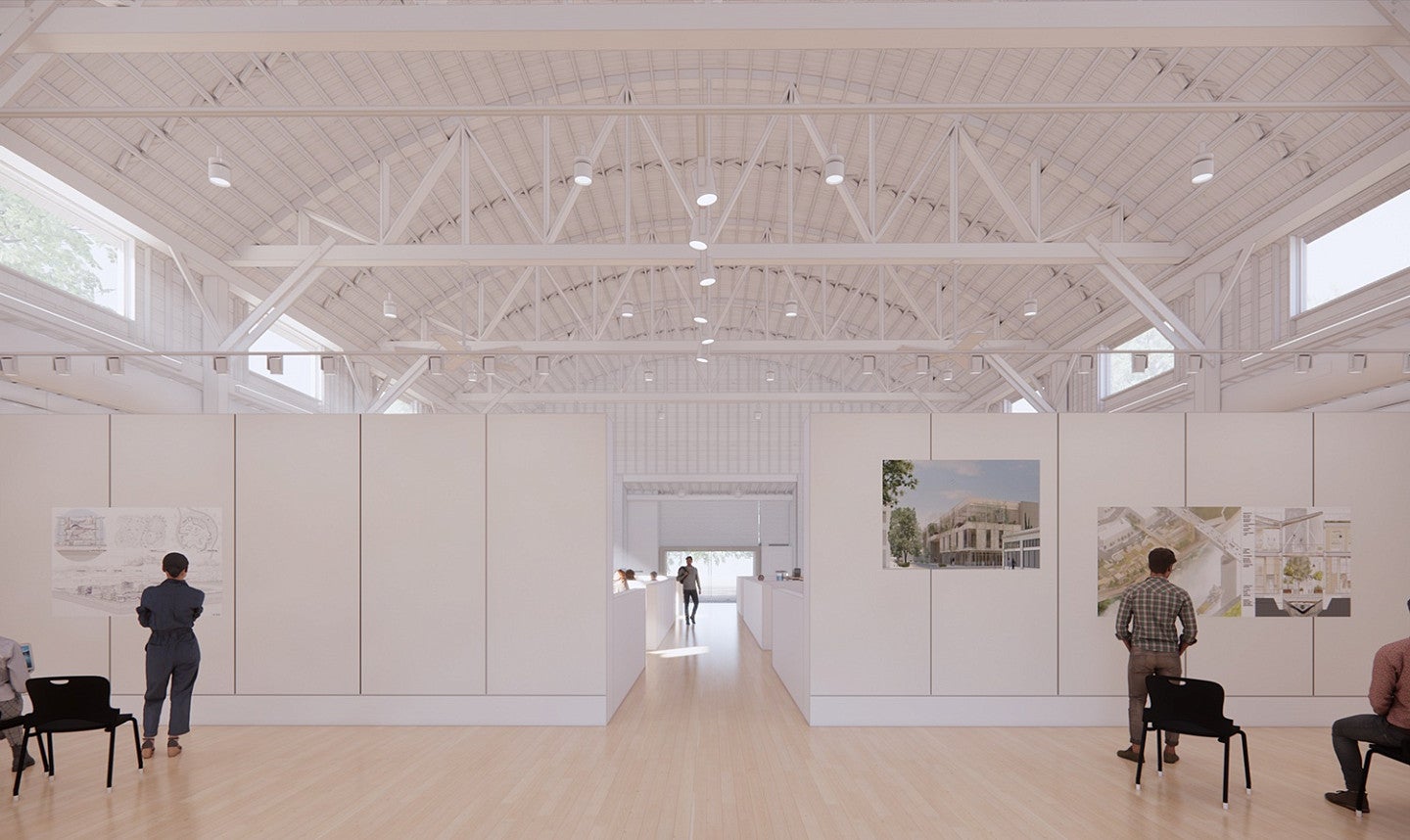 When completed, Highland Hall will boast a triple-height studio space supported by exposed bow trusses and lit from above with restored clerestory windows and from the perimeter by new timber and glass entry vestibules and a set of operable ground-floor windows that also allow for cross-ventilation. Flexible studio bays are supported by dedicated breakout spaces with digital display screens, and fabric wall panels allow most surfaces to double as pin-up surfaces. Two seminar rooms constructed from reused mass plywood panels flank the building's main gallery, itself a space for reviews, exhibits, lectures, and informal gatherings.
Additional support spaces for architecture and the College of Design include a woodshop on the ground floor of the adjacent student center, a digital fabrication lab with 3D printers and laser cutters in the Innovation Building, a large-format review space in the Innovation Commons, and several classrooms and lecture spaces across the campus. A virtual reality lab, video and audio production studios, and a ceramics studio are also on-site, as are spaces for the Urbanism Next research center the and Energy Studies in Buildings Laboratory.
Through strengthening connections with a diverse community in NE Portland and leveraging the abundant outdoor space at the NE Campus and Highland Hall's prominent street presence for design activation, programming, and public art opportunities, the Portland Program is poised to expand its curricular offerings while building upon its foundation as a community-engaged urban architecture program with deep ties to practice.
About LEVER Architecture: LEVER is a leading architectural practice recognized for design excellence and material innovation. From our offices in Portland and Los Angeles, we collaborate with communities, institutions, and creative companies to design buildings and spaces that elevate human experience. We see architecture as a tool for moving the world forward, leveraging the forces that shape our broader culture to create buildings that amplify our clients' goals and aspirations. Design excellence is the fulcrum of LEVER's approach to making buildings that are simple, elegant, beautiful, and inherently useful. We are focused on how we can leverage the specific qualities of a place—climate, access to materials, community, and the resources of the specific sites we work with—to deliver design excellence in every project we undertake.
Notable projects include the Adidas Headquarters expansion (Portland), the Oregon Conservation Center (Portland), the Headquarters for Meyer Memorial Trust (Portland), the NBCUniversal Campus Project (Los Angeles), and Framework (Portland), the first wood high-rise design in the US to receive approval for construction. And, following an international competition, LEVER was recently awarded the project for an expansion of the Museum of Art in Portland, Maine.