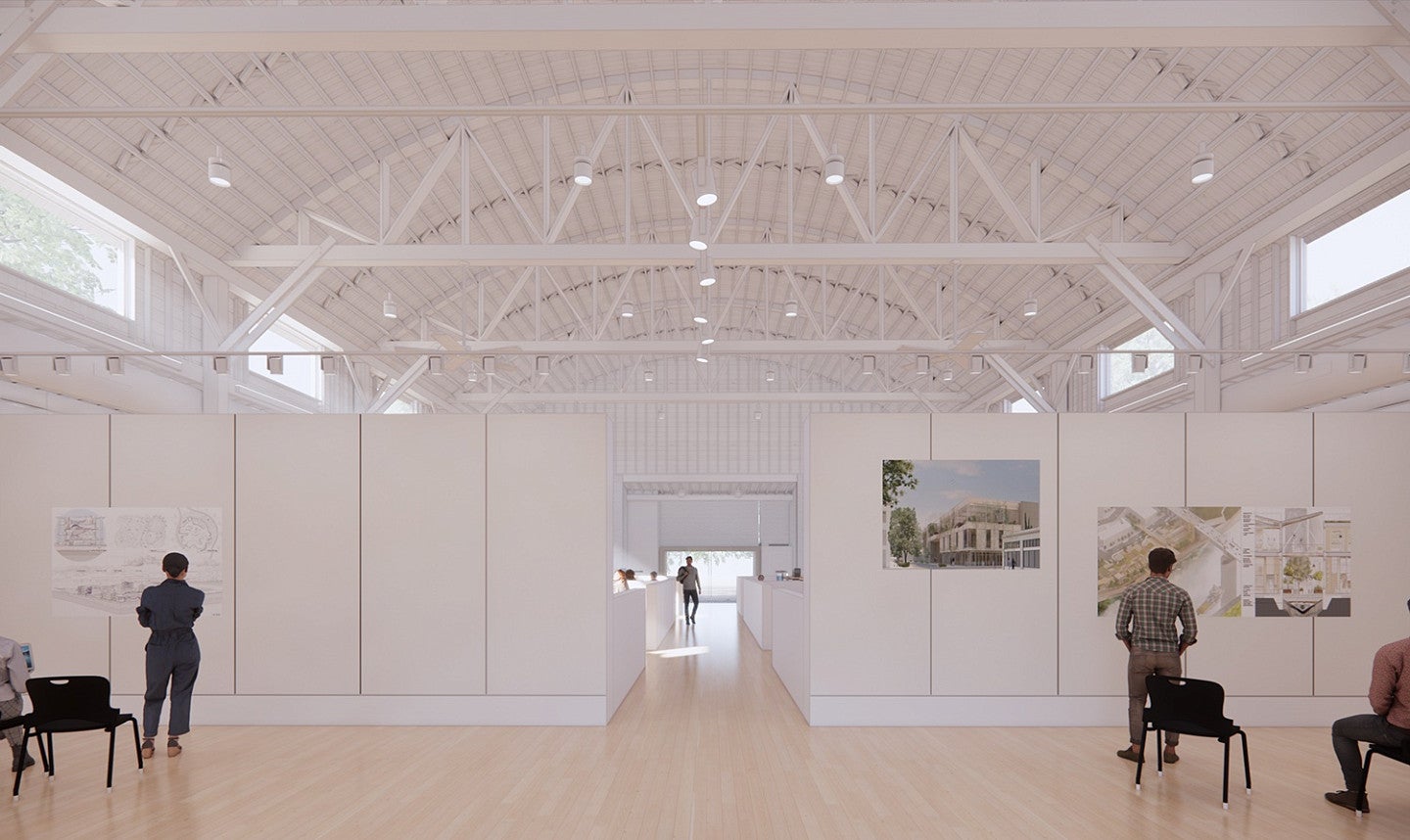 Portland is a dynamic urban laboratory for both students and faculty. Rapid urbanization, climate change, technological innovation, socio-economic inequity, and public health pressures demand robust and ecological approaches to design across a range of scales. Working through experiments in material performance and adaptive reuse to the design of social infrastructures, we believe the practice of architecture can advance a dialogue about the future of the city and the systems that shape it.
In 2022, coinciding with the founding of the Ballmer Institute, the University of Oregon expanded its commitment to Portland with the purchase of a campus in a neighborhood in the Northeast part of the city. As part of the planning process for the move, the university commissioned LEVER Architecture to transform an existing fine arts building into a new home for the Portland Architecture Program.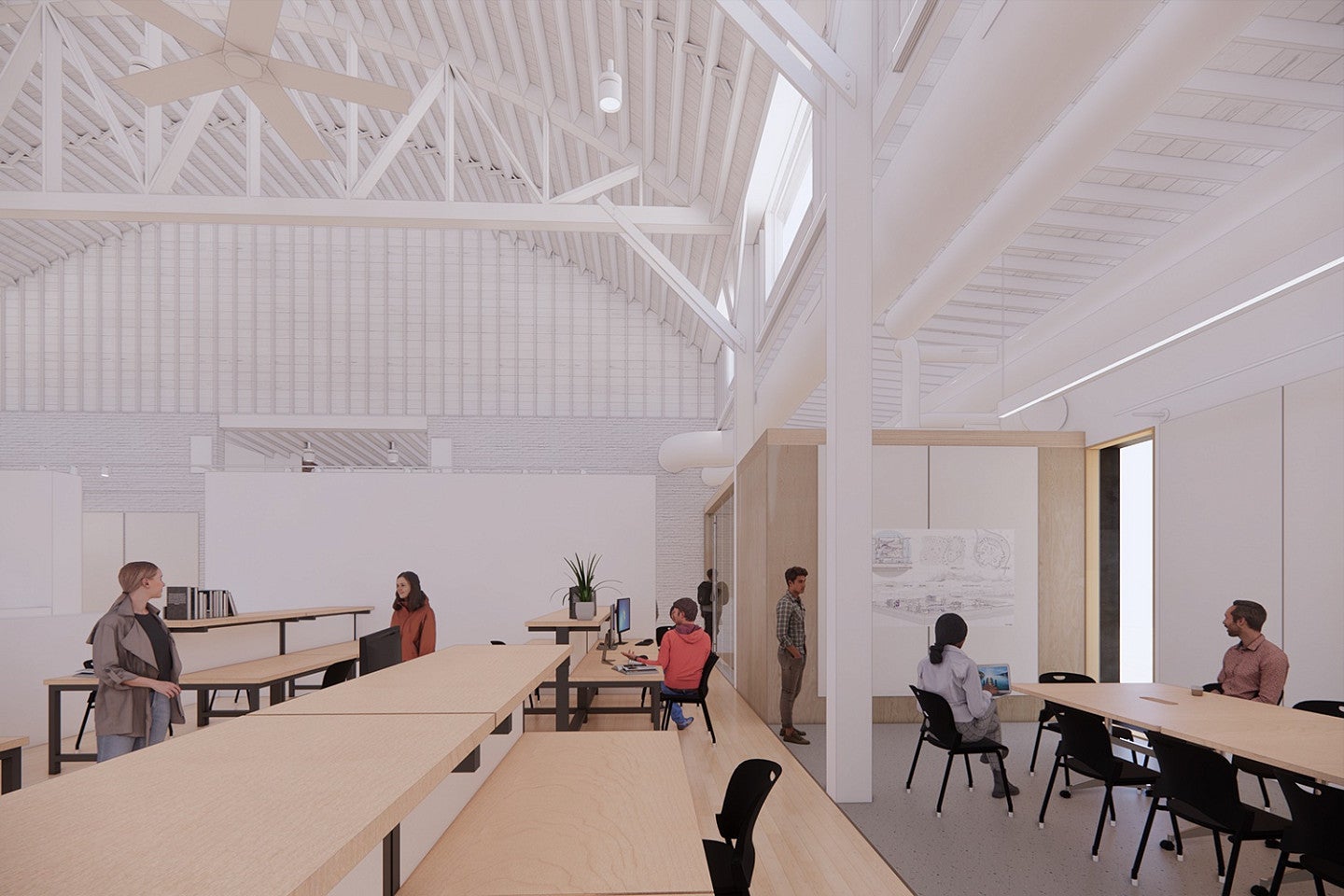 Beginning in the Fall of 2024, the architecture program will move into the completed Highland Hall. Conceived as a tool for learning, connecting, and experimenting, the building will house studios, seminar rooms, offices, a kitchen, and a gallery. Highland Hall's prominent location between NE 27th Street and the main campus quad gives the program a visible public presence, while its proximity to the campus center and cafeteria, recreation center, library and coffee shop, innovation building, and student housing serves students with a range of resources and amenities.
When completed, Highland Hall will boast a triple-height studio space supported by exposed bow trusses and lit from above with restored clerestory windows and from the perimeter by new timber and glass entry vestibules and a set of operable ground-floor windows that also allow for cross-ventilation. Flexible studio bays are supported by dedicated breakout spaces with digital display screens, and fabric wall panels allow most surfaces to double as pin-up surfaces. Two seminar rooms constructed from reused mass plywood panels flank the building's main gallery, itself a space for reviews, exhibits, lectures, and informal gatherings.
Additional support spaces for architecture and the College of Design include a woodshop on the ground floor of the adjacent student center, a digital fabrication lab with 3D printers and laser cutters in the Innovation Building, a large-format review space in the Innovation Commons, and several classrooms and lecture spaces across the campus. A virtual reality lab, video and audio production studios, and a ceramics studio are also on-site, as are spaces for the Urbanism Next research center the and Energy Studies in Buildings Laboratory.
Through strengthening connections with a diverse community in NE Portland and leveraging the abundant outdoor space at the NE Campus and Highland Hall's prominent street presence for design activation, programming, and public art opportunities, the Portland Program is poised to expand its curricular offerings while building upon its foundation as a community-engaged urban architecture program with deep ties to practice.
---
Programs Offered in Portland
Master of Architecture II (MArch), Master of Science in Architecture (MS), and Master of Science in Historic Preservation (MS) candidates can initiate and complete required coursework in Portland to earn a degree. Master of Architecture I and Bachelor of Architecture (BArch) candidates initiate coursework in Eugene. Once those candidates complete the necessary prerequisites, they are eligible to continue on to Portland to complete degree requirements.
---
Hands-on Environment, Urban Laboratory
The City of Portland is a vital creative hub and a national leader in urban sustainability policies. The city's downtown regeneration, urban design innovations, regional growth policies, and land-use-transit planning are considered national models. It is also a city grappling with the pressing challenges of gentrification, displacement, and the housing of its most vulnerable residents. Working on sites in and around the city, students engage with Portland as both a laboratory and a place.
Research is essential to our mission. We believe research skills complement training in design thinking and that students benefit by working on cutting-edge applied research problems on the design of buildings and cities. UO programs such as the Institute for Health and the Built Environment and the Sustainable Cities Institute's Urbanism Next Center are active in Portland and offer many opportunities for guided research on the environmental and physiological performance of building systems and the impact of technology on urban resiliency and livability.
---
Collaborative and Creative Community
The School of Architecture & Environment collaborates with agencies and professionals both within and beyond architecture and historic preservation on issues of shared concern. We enable our partners to get out in front of issues and to envision new possibilities for making the city better.
Portland students and faculty members have worked with the Portland Development Commission on an extensive series of projects, and have partnered with Portland METRO, one of the nation's few regional governments, on projects such as greenhouse gas reduction measures and a habitat competition. Students have also worked with the Oregon Department of Transportation, TriMet, and neighboring programs at UO such as Product Design, and the School of Journalism and Communication, the Lundquist College of Business, and the School of Law. The University of Oregon also maintains close ties with many regional and environmental organizations headquartered in Portland such as Cascadia Green Building Council, EcoDistricts, the Portland Building Enclosure Council, and the Portland chapter of the American Institute of Architects.
Students also have access to the wide array of architectural expertise residing in Portland. Serving alongside our dedicated faculty and staff, practicing professionals are integral to our academic community and are actively involved in our classrooms and studios. Top designers from leading firms such as ZGF, Allied Works, Sera Architects, Opsis Architecture, Bora Architects, and GreenWorks have conducted design studios, advanced technology seminars and other courses across our programs, and regularly participate in reviews of student work.
---
The Student Experience
Students and faculty in Portland work on real-world problems while aiming toward producing alternative futures. The UO in Portland hosts lectures, special events, and exhibitions that encourage thoughtful exchanges on architecture and critical issues facing the city and region. Portland students also have opportunities to organize and participate in events such as the annual HOPES Conference sponsored by UO's Ecological Design Center.
---
Alumni Spotlight
Architecture Alumna Incorporates Wasted Resources in Design
Sabrina Ortiz Luna (MArch II, '19) joined the architecture program at the UO in Portland for its focus on sustainability. Ortiz Luna was born in Mexico City, where water scarcity and a sinking cityscape are urgent issues.
"I'm really interested in how architecture can respond to water problems," she says. For her thesis project, Ortiz Luna designed and created a model of a mixed-use industrial building meant for brewing, plastic recycling, and rock climbing. She plans to return to San Antonio, Texas, where she grew up, and help transform the city through sustainable architecture.
---
Enrich Your Academic Experience
---
Visit Us
We attract students from all over the country and the world who want to make an impact on the future of the city. We welcome you to visit the Portland NE campus to view the facilities and meet faculty members and students. 
Please contact us to set up your visit.
---
Portland News
---
Portland Events