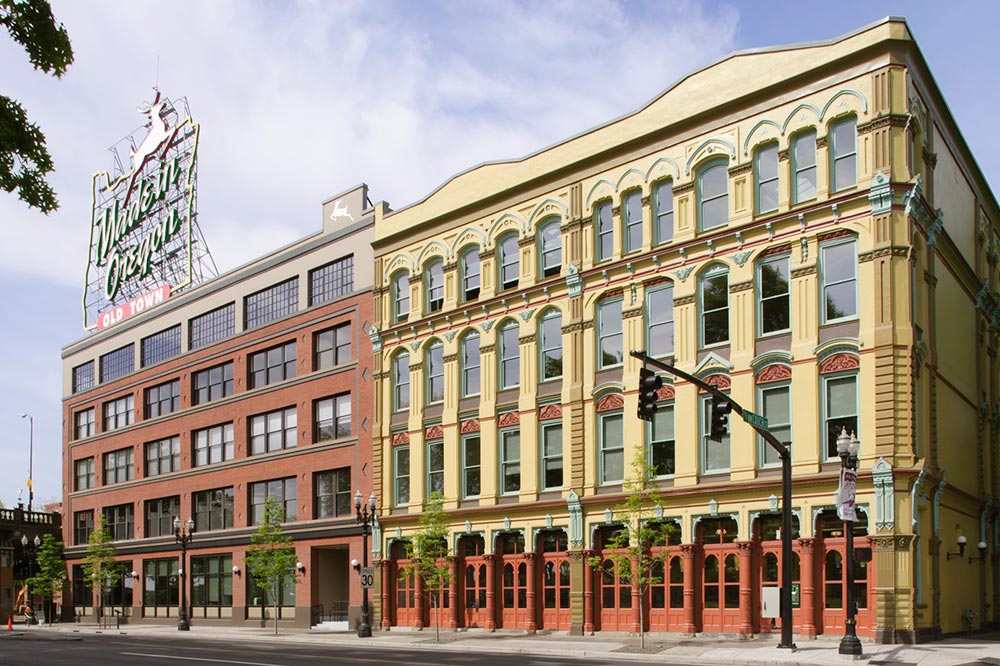 Portland is an extraordinary urban laboratory for our students and faculty members. The School of Architecture & Environment programs at the University of Oregon in Portland connect with the city through teaching, research, creative work, and community activities. We advance a dialogue about the future of the city. In a context of rapid urbanization, climate change, transforming economies, growing inequalities, and other challenges affecting the city, we believe the potential impact and value of design has never been greater.
The historic White Stag Block that houses the School of Architecture & Environment's Portland-based programs offers state-of-the-art technology, light-filled workspaces, and a superb art and design library—all located in the heart of Portland's Old Town and Chinatown.
---
School of Architecture & Environment Programs offered in Portland
Master of Architecture II (MArch), Master of Science in Architecture (MS), and Master of Science in Historic Preservation (MS) candidates can initiate and complete required coursework in Portland in order to earn a degree. Master of Architecture I and Bachelor of Architecture (BArch) candidates must initiate coursework in Eugene. Once candidates have completed the necessary prerequisites, they are eligible to continue on to Portland to complete degree requirements. 
---
Collaborative and Creative Community
The School of Architecture & Environment engages in robust partnerships with agencies and professionals both within and beyond architecture and historic preservation. Some of our partners include The City of Portland, TriMet, Metro, Portland Development Commission, Oregon Department of Transportation, and many programs at UO such as Product Design, Journalism and Communication, Business, and Law.
---
The Student Experience
Our students and faculty work on real world problems while entertaining alternative futures. We help our partners get out in front of issues, and we help them envision new possibilities for making the city better. Practitioners spend time in our classrooms and studios. Top designers from leading firms such as ZGF, Allied Works, Sera Architects, Opsis Architecture and GreenWorks have taught studios, advanced technology seminars and other courses in our Program.
Our students study in the newly renovated, historic White Stag Block, where studios and workspaces overlook Waterfront Park. The building houses a university library and provides access to the collections of more than 30 additional libraries. The Fab Lab, a fabrication laboratory, provides a creative workshop for shaping materials with both digital design and woodworking processes, and an output room provides students with graphic printing services. The UO in Portland hosts lectures, special events, and exhibitions that encourage thoughtful exchanges on issues of importance to the city and region.
---
Hands-on Environment, Urban Laboratory
The City of Portland is a national leader in urban sustainability policies. The city's downtown regeneration, urban design innovations, regional growth policies, and land-use-transit planning are considered national models. 
Research is essential to our mission. We believe research skills complement design thinking skills and that students benefit enormously by working on cutting edge, applied research problems pertaining to the design of buildings and cities. Portland students and faculty members have worked with the Portland Development Commission on an extensive series of projects, and have partnered with Portland METRO, one of the nation's few regional governments, on a number of projects including greenhouse gas reduction measures and a habitat competition.
Many regional and national environmental organizations are also headquartered in Portland. The University of Oregon maintains close ties with groups such as Cascadia Green Building Council, EcoDistricts, the Portland Building Enclosure Council, and the Portland chapter of the American Institute of Architects.
---
Success Story
Student's Vision of Sustainable Development Crosses Borders
Growing up in the urban center of Honduras, Gloria Morazán Salgado has witnessed the conflict of a rapidly developing country struggling to sustain natural resources while addressing extreme poverty. Now—as a Fulbright Scholar studying architecture at the UO in Portland—she's part of the solution.
---
Enrich Your Academic Experience
---
Visit Us
We attract students from all over the country and all over the world. We believe they have important contributions to make when it comes to the future of the city. We welcome you to visit the Portland White Stag Block to view the facilities and meet faculty members and students. Located in Portland's historic Old Town Chinatown district, the White Stag Block is at 70 NW Couch Street, in convenient walking distance to public transportation and a SmartPark lot at NW Naito Parkway and Davis Street.
Please contact us to set up your visit.
---
Portland News
---
Portland Events