Annie Han, bachelor of architecture '93
Daniel Mihalyo, bachelor of architecture '94
Making history by combining art and architecture
Annie Han (BArch '93) and Daniel Mihalyo (BArch '94) are a Seattle-based team who has created a successful practice which bridges the gap between art and architecture. Their firm, Lead Pencil Studio, includes an architectural practice specializing in residential and commercial buildings, and an art practice that specializes in site-specific pieces, which explore the intangible conditions of architecture at full scale. Han and Mihalyo formed Lead Pencil Studio in Seattle in 1997. The small studio takes on three architectural projects a year so that they can maintain their art practice. According to Han, "[we] are working in a new territory that brings art to architecture."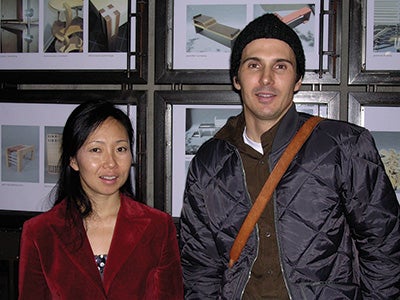 Above: Annie Han and Daniel Mihalyo.
Han and Mihalyo's art draws heavily from their architectural background, and is characterized by material use and spatial inquiry—they create large-scale site-specific pieces, often out of steel, with an eye towards the creation of historic forms. The couple received a Creative Capital grant in 2006 to help fund their most recent work, the Maryhill Double, a replica of the Maryhill Museum of Art in Washington. During this past summer, the double was constructed on the opposite side of the Columbia River Gorge with scaffolding and construction netting. According to Mihalyo, the piece, which billowed in the wind and appeared blue or white depending upon light, "was an exploration to see how minimal of a gesture could be employed to create space."
Mihalyo, a native of Washington, and South Korean born, Han, met as undergraduate students in the early 1990s in the UO architecture department. At their lecture given at the UO in November 2006, Mihalyo was quick to point out that Han was his studio critic during their days as students. The two joked about the complexities of having a business, and a creative and personal partnership; it is clear, however, that their work has flourished as a result of their collaboration. Professor Donald Peting described the couple as being "among the hardest working and most active students to have passed through the architecture department."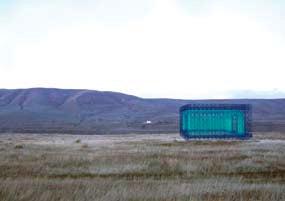 Above: Annie Han and Daniel Mihalyo installation.
As undergraduates, the two won a design competition for a freestanding steel display kiosk in Lawrence Hall. Also, as undergraduates, they collaborated on the renovation of a building for Goodwill Industries, which won a State of Oregon Development of the Year Award for revitalizing downtown Springfield.
Han and Mihalyo's interest in materials and their active participation in the construction process gained them attention in 2000 with the construction of their home. The couple, experienced in welding, built their 1,400 square foot home in Seattle largely out of steel, as well as concrete and glass.
Gaining national attention, Han and Mihalyo were selected in 2006 as an Emerging Voice in the field of architecture by the Architecture League of New York. Their work has been featured at numerous museums and galleries throughout the country, including the San Francisco Museum of Modern Art, and they have received multiple grants, awards, and residencies.
Information about Han and Mihalyo's work can be found at http://leadpencilstudio.com
Originally published in 2004, this story is part of the 100 Stories collection, compiled to celebrate our 2014 centennial and recognize the achievements and contributions of our alumni worldwide. View the entire 100 Stories archive on the College of Design website.