bachelor of architecture '74, master of architecture '76
Career highlights public sector work
The C.V. for Brad Black, BArch, '74 MArch '76, reflects a long career as an architect in public service. His last project before he retired this year was the new UO Global Scholars Hall. When Black, AIA, NCARB, retired in 2012, we asked him to review how his UO education contributed to his career, and what motivated him to devote much of his time to the public sector, among other questions.
Q: How did your time at UO help you to succeed in your career?
A:. My undergraduate work provided a solid, broad-based foundation that allowed me to enter a complex professional world with confidence that I could succeed. As a graduate student, that confidence continued to grow due to the strong and effective mentorship of one special faculty member, Stephen Jen-Yao Tang. My graduate education provided an opportunity to fully develop a philosophy about humility and how one can be a mentor and educator.
Q: What would you suggest students do to get the most benefit from their time at UO?
A: Explore subject areas outside of their majors. Understand that architecture is far more than design and drawing. It's business. It's making presentations. It's working effectively with people. Many of the classes that I took outside of architecture became important to my long-term success. Architecture students should take both public speaking and business writing classes. Much of the profession is based on the ability to communicate. Also, finding professional intern opportunities very early on in one's education is a wonderful way to get advice from active professionals and maybe most importantly, to gain experience that will help with the hardest task an architect student may face: finding their first job.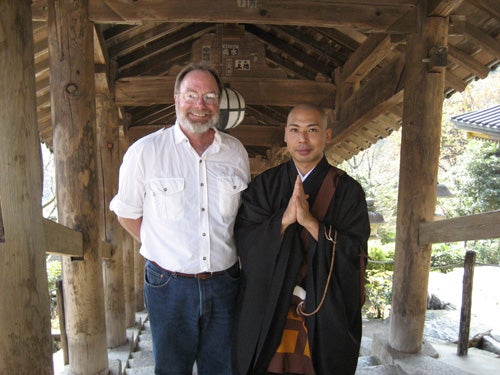 Above: Brad Black at Hasadera Temple in Japan.
Q: Do you have a particular memory of a class or professor?
A: I was incredibly fortunate to have developed a life-long relationship as a result of being graduate assistant to Professor Tang for two years. As a mentor, his focus was well beyond just architectural related knowledge. His emphasis was on developing the entire individual. As a result, I gained a deeper philosophically based understanding of how to be a mentor, educator, and architect.
I recall one very special moment when I knew that my relationship with Professor Tang changed. Given his Chinese heritage, it was understood that one always called him Professor Tang. He was not called by his first name. Under his guidance, I had prepared my thesis proposal and presented it for approval. After meeting with the committee, hearing their input and receiving their approval, I met with Professor Tang to give him the good news. Once I explained the input and approval, he stopped me and said with a wonderful genuineness, "Now, you can call me Steve." I knew at that point, my educational and personal relationship with him had changed dramatically. His mentorship then took on greater importance to me. The focus shifted toward the intangible, the importance of personal values….values he demonstrated daily. As I look back, his mentorship was one of the true gifts of my education at the U of O. (Editor's note: Yang (1919-1993) taught at UO beginning in 1969 as a visiting professor of architecture. In 1971, he was hired as a full-time professor, a position he held through the 1980s.)
Q: What motivated you to leave work in a firm to begin a public service career?
A: Public service always had a draw for me. Exploring public service opportunities took two very different paths. It started with teaching architecture – two years at the University of Arkansas followed a few years later by three years as an assistant professor at the School of Architecture, University of Oklahoma. I thoroughly enjoyed teaching and found it incredibly rewarding. With much regret, I left my teaching career for family reasons and returned to Oregon.
Those experiences only fueled my desire to work in a public setting, but in a different way. As an architect, many of the firm's clients were large private or public institutions. My work with representatives from these institutions exposed me to the idea that in a role as an architect with a public agency, I could make a more significant contribution to my community than I could as "just" an architect. I viewed being an architect, representing a public client, as raising the level of expertise within the organization and, in the end, raising the quality and value of each public project. I moved among several small public agencies until an opportunity presented itself to join the City of Eugene.
My career with the City of Eugene as a senior project manager included the development of several high-profile projects:
New City of Eugene public library
Public safety training facility located at 2nd and Chambers
Pearl Street parking garage
Broadway Place development
Fire Station 12 (ARFF Station at the Eugene Airport)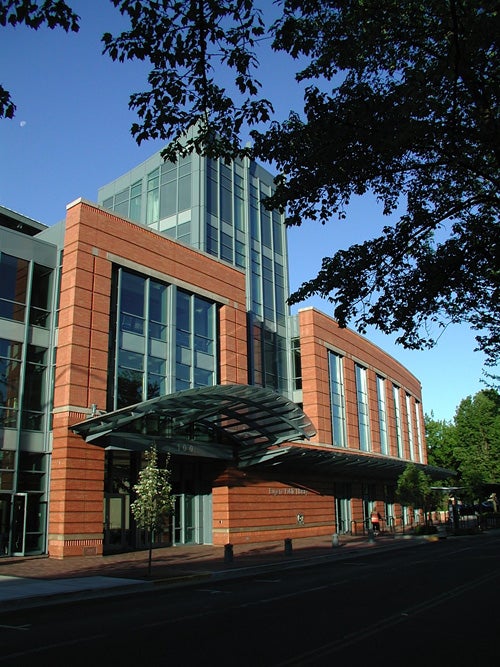 Above: One of Black's defining projects was the new Eugene Public Library. "I knew that the team had created a successful project when I watched a woman walk into the lobby and start crying," he says. "It was most rewarding to empower others to contribute to the development of a beautiful cornerstone project in our downtown." Photo by Brad Black.
The Downtown Public Library represents my most significant contribution to our community. It validated all of my aspirations and beliefs about working in a public service position. The City had not built a library in over 50 years. The new library was a very challenging project with a limited budget on an environmentally polluted site. After nearly five years of project development, environmental cleanup, design and construction, the project opened to the public. On opening day, I watched as the public streamed in, stopping in amazement at the new facility. I knew that the team had created a successful project when I watched a woman walk into the lobby and start crying. Today, 10 years later, I am still rewarded when see the excitement of those using the facility.
Q: What was your involvement in helping the new Global Scholars Hall (which opened October 2012) come to fruition?
A: The Global Scholars Hall was a bit of a reunion in many ways. Having grown up in Eugene, I knew Fred Tepfer (UO planning associate) and Chris Ramey (UO architect and associate vice president of Campus Planning and Real Estate) from, yes, high school and college. I had worked with Andrew Bonamichi (UO professor and associate librarian for Media and Instructional Services) from the library when I was the project architect for the Knight Library renovation. The Global Scholars Hall project brought all of us back together including former colleagues at the City of Eugene to create not just another "dorm" but a visionary integrated living/learning facility. It was a exciting and challenging to participate in the development a new vision for a fully integrated on-campus living and learning environment. It has set a high standard for future on-campus living/learning facilities to come.
Q: What are you most proud of professionally?
A: While my career has been wonderfully rewarding across the board, one award and two projects stand out as absolute highlights:
Receiving a Distinguished Lecturer Award presented by the University of Oklahoma, one of only five presented across the university system in 1983.
Five years spent managing the development of the new Downtown Eugene Public Library. It was most rewarding to empower others to contribute to the development of a beautiful cornerstone project in our downtown. The commendation from the Eugene City Council for my contribution to that project remains on my wall.
Managing the process that designed and bid a new $5 million fire station for the Eugene Airport in just 13 weeks.
Drawing upon my public sector experience, I am proud to have authored a chapter on the development of city facilities in the Architect's Studio Handbook (McGraw Hill), by Terry l. Patterson.  I also co-authored two chapters on the development of public facilities in Capital Project Planning and Evaluation, (a Government Finance Officers Association publication) by Joseph P. Casey and Michael J. Mucha, Editors.
Q: What are your plans for retirement?
A: Continued volunteer activities, travel, amateur radio, furniture making and family. I've been on the Board of Directors of Food For Lane County for the past two-plus years and will continue my involvement. I also volunteer to assist Planned Parenthood of Southwestern Oregon with the development of an on-going plan for maintaining their new facility.
Traveling has a large place in my plans. I just returned from a month-long trip to Turkey and Greece. As an architect, seeing the various historical sites throughout both countries was amazing. It brought architectural history alive. (Another) goal is to visit all 51 covered bridges that remain in Oregon.
As a licensed amateur radio operator (with the call sign of K7EUG), I have made contacts with people in over 110 countries. In June 2013, I will be making my annual trek, along with my radio equipment, to a fire lookout in the Cascades.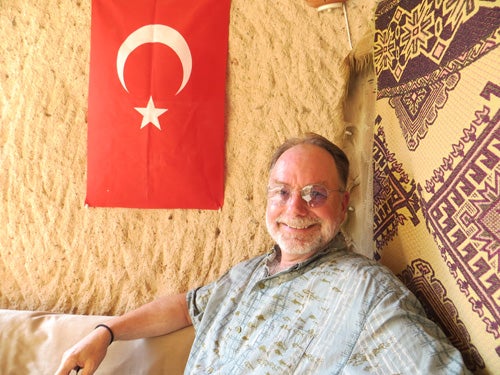 Above: Black in Cappadocia, Turkey. "As an architect, seeing the various historical sites was amazing," he says. "It brought architectural history alive.
This story was published as part of the 100 Stories collection, compiled to celebrate our 2014 centennial and recognize the achievements and contributions of our alumni worldwide. View the entire 100 Stories archive on the College of Design website.