bachelor of architecture '97
From washing pots in Carson Hall to winning filmmaking awards
When Daniel Wu posted on his blog in April that he was "going back to school," the comment snagged 15,147 views in mere hours. Wu, who's been called the Johnny Depp of Chinese cinema, is a 1997 graduate of the University of Oregon's architecture program. By "going back to school," the actor-director-producer meant returning to UO to screen some of the films that have made him famous across Asia – and to share what inspires his creative process.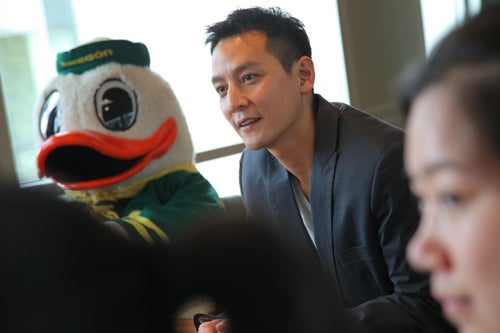 Above: Daniel Wu meets with students, while the Duck observes, in the Ford Alumni Center. Photo by Michael McDermott.
Wu's return to UO was prompted by an invitation to be a featured artist at the 2012 Cinema Pacific Film Festival, an annual five-day festival of screenings, live multimedia performances, and art exhibitions in Eugene. The UO-sponsored event is devoted to discovering and fostering the creativity of international films and new media.
Although Wu isn't well known by American movie fans, many of UO's Asian students are well-aware of his fame from movies in Asia, where he's reached Brad Pitt-level megastardom. Others knew of him from a martial arts sport, Wushu, that Wu practices and promotes internationally. Both screenings of his movies at Cinema Pacific sold out.
His presence created a buzz on campus wherever he went during his recent visit, as Twittering Chinese and other Asian students gathered in impromptu crowds when Wu toured Lawrence Hall, home to the architecture program, and strolled elsewhere on campus. He took time to pose for photographs, sign autographs, and share his thoughts on his career, how students can create their own success, and how his time at UO helped shape who he is today.
Architecture student Wenyu Jiang gets feedback on her project from Daniel Wu as Dean Frances Bronet listens. Photo by Michael McDermott.
"My approach to filmmaking is like architecture – I look at scenes as if they were rooms. That process, I learned all that here," Wu told a gathering of his former architecture professors in a small conference room in the Department of Architecture. "With architecture you have an idea, it's a concept, you sketch it out then you draw the plans, which is what you use to get people together to help you build this building," he said.
"Moviemaking is the same thing – a director has this idea, especially in Asia because all the directors are auteur directors – so you write a synopsis, the synopsis becomes a script, the script is your plan that you use to go and find actors and cinematographers and lighting guys to help you build this film."
Wu was equally methodical when he started the Wushu Club at UO in 1996. "I had to educate people what it was. I did demos in the EMU courtyard, I went to all the student associations and showed videos and got people to sign up because I couldn't get the club started unless I had enough people signed up. It relied on me going out there and hoofing it on foot to get people interested in Wushu and trying it out. Educating people is the whole thing, so if you can show them your culture, your people, if you can get one person to change, that one person will become two and three and four. Eventually that will grow and will become 100 people in a year's time."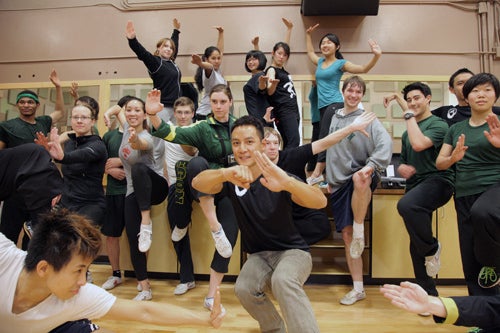 Above: Wu worked out with the UO Wushu Club, which he founded in 1996. Photo by Michael McDermott.
Down to earth and gracious, Wu seemed to enjoy wandering around campus. Touring one of his former architecture studios, he excitedly nudged his assistant and, pointing around the large open room at the dozen students working at drafting tables, said with a big smile, "This was my life for five years."
He seemed pleased that some things hadn't changed (like the Hearth, the café in Lawrence Hall), but appreciated certain upgrades. "We didn't have laser cutters when I was in school," he said. "I cut my fingers a lot" making models. Personal computers also weren't part of the curriculum in his day, he said while viewing a student's multi-layered project on her MacBook Pro.
Richard Herskowitz, director of Cinema Pacific, was "struck by how grounded (Wu) is, in spite of being the object of total adulation. At some points during his visit, like when we slipped him out the back of the library when a crowd of fans was forming out front, I felt like I was in the middle of Beatlemania. Every question put to him – even the one from a fan asking for his height – was responded to respectfully. He always found a way to give an intelligent and thoughtful response."
Wu admitted to a "flood of memories" as he toured campus. Walking to the Ford Alumni Center for a meeting with Chinese student leaders, he paused to point out a nearby building and said, "I worked there, that's Carson Hall, right?, in the kitchen. I washed pots and pans in my sophomore year."
Wu, now 37, took a circuitous route from pots and pans and architecture studio all-nighters to award-winning actor and director. He stayed committed to an architecture career until his final year, "when I made a decision in April to go to Hong Kong to be part of the handover, to see Hong Kong go back to China. I wanted to be part of a historical moment – that was for me, as an American, a huge opportunity. Obama being elected, that was a historical moment – but in the '90s there wasn't that much going on, so I went (to Hong Kong)." Wu's parents are both first-generation Chinese immigrants. He was born in Berkeley, California.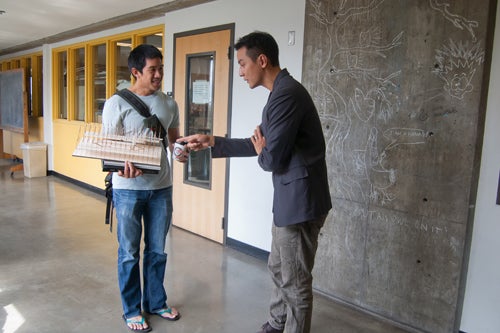 Above: Student Kevin Young asks Wu for feedback on his model in a Lawrence Hall corridor. Photo by Ricci Cande.
While in Hong Kong, on the advice of his sister he found work as a model; four months later he was asked to star in a movie. "I turned down my first offer because I didn't have the confidence to do it. But after a month of this director calling me every day, I finally promised him to do it as long as he didn't blame me for messing it up."
Along with not yet having any acting training, Wu also couldn't speak Cantonese or read Chinese. Why a Chinese film director wouldn't find that problematic is explained by one of Wu's former architecture instructors. Suenn Ho told The Register-Guard's Serena Markstrom in April about an interaction she had with Wu before he graduated in 1997. Wu had come to Ho to ask if she had any recommendations of people he should contact in Hong Kong, where she grew up.
"Knowing what she did about Hong Kong culture," Markstrom wrote, Ho "had a feeling that when Wu showed up there, things could go in a different direction for him than architecture. 'He has that quality,' Ho said. They 'love getting American Chinese (in movies). There is a certain exoticness to it. They don't really speak Chinese, so they think that's really cute.' "
Wu completed that first movie, Bishonen, in 1998. The next day he was offered the leading role in City of Glass, for which he was nominated as best new actor at the Hong Kong Film Awards. Other movies followed, and he soon met Jackie Chan, who helped him find a top-flight agent, which put his career on a fast trajectory.
Though he now speaks Cantonese, Wu still has an assistant read him new scripts aloud while Wu makes notes on pronunciation. In 2005, he was nominated as best actor and best supporting actor at the Hong Kong Film Awards; he also won the best supporting actor award at that year's Golden Horse Film Awards.
In 2006, he made his writing and directorial debut with The Heavenly Kings, a mockumentary of the Hong Kong pop music industry, which won him the best new director award at the Hong Kong Film Awards (and which was screened at this year's Cinema Pacific Festival).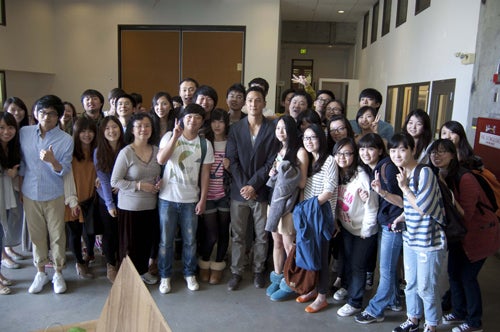 Above: Asian students – none of whom were A&AA majors – tweeted up a crowd that gathered outside the A&AA Library when they heard Daniel Wu was in a nearby office. He posed for a group photo. Photo by Ricci Cande.
In his meeting with Chinese student leaders at UO, Wu was asked what was his biggest mistake in college. "I wasn't that great a high school student" he began, "but by the time I got here and was studying architecture I'd found all the things I wanted to do. The one thing I made sure I did while I was on campus was take advantage of everything the campus had to offer, like taking some film and photography classes which helped me indirectly with my film career.
"I didn't plan to be an actor, it just happened to me, but I'm lucky that I had those foundations – all that stuff helped me eventually when I became an actor and then a director and now producing," he said. "I didn't just stay in a small little circle. When I was a student I noticed a lot of international students just staying in their own little cliques. That's a bad thing, because you have a campus here with people from all walks of life studying all kinds of different things. Integrate, mingle, mix up with everybody else because that's how you're gonna really learn. I'm glad I didn't make the mistake of isolating myself."
Wu also spoke to students about working to make success happen. He said that in 2007, "halfway through my career, I went back to school and took an intensive (acting) workshop just to get those concepts in a more formalized form in my mind. You can learn in school but to excel you have to practice, practice, practice, whatever it is you're doing. You can't just do your homework and that's it. Study your craft, work hard, and become good at it and then it doesn't matter, you can last forever once your craft is settled."
He also talked to students about finding their passion. "You have to prepare for rejection. It's going to happen, and you can't avoid that. But you learn from it, you learn from your mistakes and move on. Fight for what you're passionate about. And keep working hard– if that is your passion, be passionate about it."
Wu still models and serves as spokesperson for products including Seiko and L'Oréal. He has homes in Hong Kong, Shanghai, and Beijing, and continues to actively train in Wushu as well as other martial arts.
A 3:38-minute Seiko ad featuring Wu talking about his life and acting is on YouTube. Entitled "Daniel Wu (Handsome man with good English)," it can be viewed here.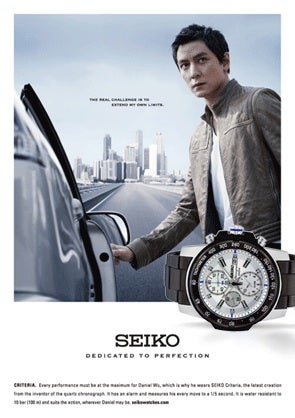 Above: Wu appears in print and broadcast advertisements for Seiko products.
Originally published June 6, 2012

, this story is part of the 100 Stories collection, compiled to celebrate our 2014 centennial and recognize the achievements and contributions of our alumni worldwide. View the entire 100 Stories archive on the College of Design website.