bachelor of landscape architecture, 1971
Macy helps design iconic landscapes in Northwest
The Pioneer Courthouse Square in Portland, the Capitol Mall in Salem, and the Oregon Vietnam Veterans Memorial in Portland are some of Oregon's iconic landmarks conceptualized and designed, in large part, by Walker Macy, a firm cofounded by University of Oregon graduate Doug Macy.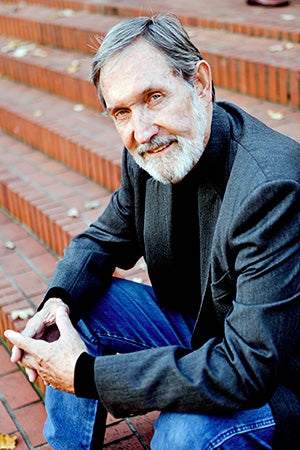 Doug Macy is the founding principal of Walker Macy, the Portland, Ore.-based landscape architecture firm. Images courtesy of Walker Macy.
Growing up on a cattle ranch in central Oregon inspired Macy's reverence for landscape architecture at an early age.
"I lived a very free and independent life when you're on the open range like that," he says, adding that raising livestock and growing crops affected his perception of how land is modified to fit human needs. "I was a product of that agricultural background. That probably has more to do with my work ethic than anything else."
In college, Macy transferred from Oregon State University to the UO because OSU didn't offer an accredited degree in landscape architecture. As a Duck, he recalls an irate and outspoken student body; social justice was at the forefront of every anti-war protest and civil rights march that took place on campus.
"We were sort of a defiant bunch," recalls Macy. "That whole movement was just at its beginning when I came to the school. … My generation of people was questioning everything. I feel very fortunate to have come along at a time like that because there was so much questioning of what was right and what was wrong and what was the right way to approach it."
Macy says that as students became more disenchanted with contemporary society, their academic workload and obligations were also widely disregarded or questioned.
"I remember getting assignments that we didn't feel were appropriate or relevant," he says.
The curriculum itself at the School of Architecture of Allied Arts was in flux, due in part to student opposition and the reform of landscape architecture as a profession. Previously, architectural design focused on the City Beautiful Movement, an effort championed by Frederic Law Olmsted to beautify urban areas in order to inspire civic and moral virtue through the creation of and increased availability to appealing outdoor spaces. Gradually, the focus in design shifted to land planning projects. This change marked the beginning of the conservation movement, which ultimately reformed and broadened landscape architecture as a profession.
"We had a really interesting effect on faculty," Macy says of his time at UO. "We were challenging the department to make sure that we were getting more relevant work experience so we could go out and get a job," he says. "The faculty was trying to move things forward as well."
The discourse between students and faculty helped broaden the scope of the curriculum to respond to changes in the world and the profession, he says.
"When I transferred to UO, I sensed a much greater sense of challenging the status quo," says Macy. "I sensed that the UO was actually a little more progressive in terms of my interests and my chosen profession, which was landscape architecture. There was a dialogue and a great deal of mutual respect between the faculty and the students in terms of making sure that we were discussing relevant issues."
He adds, "It was a time of questioning. The whole world was being questioned by university students at that time. … My generation was the first generation that heavily involved people in the design process. Those were the kinds of things that happened as a result of societal changes."

Above: Walker Macy designed Discovery Hall, an academic and sciences building of University of Washington campus in Bothell.
After graduation, Macy began working at a Portland-based firm run by another UO graduate, Robert Perron. There, he helped design housing projects, parks, college campus projects, resorts, gardens, and other projects.
Along with former UO professor Larry Walker, the two colleagues purchased the firm in 1975, and renamed it Walker Macy. For the next few decades, the firm's cofounders pursued work that would benefit visitors, community, and environment at each of their project sites.
"Before sustainability was even a word that was coined, we were doing sustainable work that repaired landscapes," he says. "We've been committed to sustainability since the beginning of our practice in 1976. That's what makes the practice interesting. … We've been doing that for years. It's just common sense."
Within a year of taking over the firm, Walker Macy was hired to create a master plan for Portland's Oregon Zoo, formerly the Washington Park Zoo.
In 1980, they entered a competition to design Pioneer Courthouse Square. The odds were stacked against smaller local firms because the Portland Development Commission, the agency in charge of the competition, advertised the competition internationally.
Walker Macy, in collaboration with Portland architect Will Martin, was the only local firm in the running and they managed to beat some of the world's most reputable architecture firms to design the plaza. Macy says that by almost any standard Pioneer Courthouse Square is in the top five public open spaces in the country, as well as in the top ten public open spaces in the world.
"For that, I'm really proud. The fact is that thing really holds up well in that regard," he says. "What you see today is a result of the combination of all of our thinking."
The plaza, which officially opened in 1984, accommodates ten million people a year, says Macy, which makes it one of the most visited sites in the state of Oregon. Many locals affectionately refer to it as "Portland's living room."
"That was a project that was really meaningful for me because it was the core of a city that I decided to live in," he says. "I wanted to make it the best possible place that it could be. I was motivated by pure passion to make great spaces that served the widest range of people."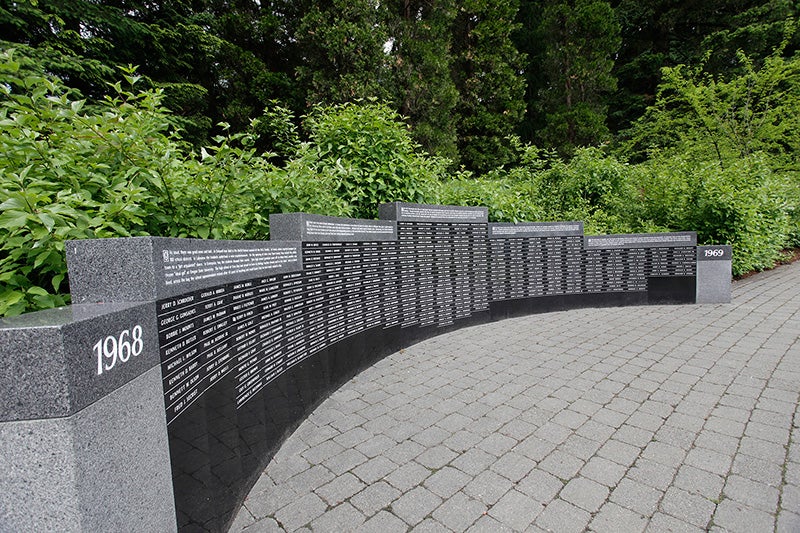 Above: The Vietnam Veteran Memorial, located in Portland's Washington Park, was dedicated to Oregonian veterans of the Vietnam War in 1987.
Soon after Pioneer Square Courthouse was completed, Walker Macy took on redesign of the Oregon State Capitol Mall in Salem. The mall was constructed in the 1930s and sat on a depressed landscape. The firm completely transformed the Capitol Mall and added a transit loop for State employees and reconfigured the proportions of the space to a more dramatic and defined landscape. A parking garage now sits beneath the water fountains and two rows of cherry trees.
Since developing its reputation as a company with many interests, Walker Macy has designed numerous award-winning projects, including waterfront (the Waterfront Park at Ankeny Plaza in Portland) and corporate buildings (Amazon headquarters in Seattle, Washington).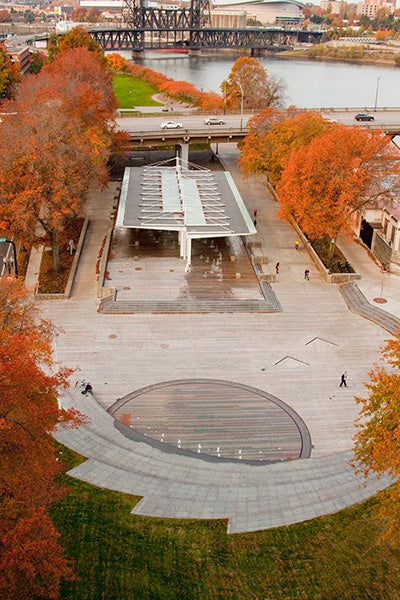 Above: An aerial shot of the Waterfront Park in Ankeny Plaza of downtown Portland, designed by Walker Macy.
After the 1980 Mount Saint Helens eruption in Washington state, the U.S. Forest Service hired the firm to develop a comprehensive plan for interpretation and recreation focused around the major geologic activities that transformed the forests to a barren volcanic landscape.
The firm has also developed comprehensive campus plans for numerous colleges and universities in the U.S., and designed many landscape plans for plazas, malls, and performing arts facilities throughout the Pacific Northwest and California, including the UO, Oregon State University, University of California at Davis, University of California  at Berkeley, University of California at Santa Cruz, University of Washington, and Portland's Lewis and Clark College, to name a few.
Additionally, the firm has designed cemeteries, including the Los Angeles National Cemetery expansion and the Willamette National Cemetery in Portland.
 
Currently, Walker Macy is commissioned to design a new plaza for the renowned Oregon Shakespeare Festival in Ashland.
"It's going to be a great assignment because it's going to be used by thousands and thousands of people," he says.
One project of which Macy says he is most proud is a pro-bono design for the Oregon Vietnam Veterans Memorial, an eight-acre outdoor commemoration for Oregonians who served in the Vietnam War, located in Washington Park, Portland. It was established in 1987.
"It was a project I did because it was the war of my era," he says. "I was not a veteran, and felt it was important to honor my peers who sacrificed so much and many lost their lives fighting in a very unpopular war. The place I designed there is very personal to me and loved dearly by all the veterans."
Macy is confident in the future of his firm, saying that the next generation of architects and designers has already been determined. He deems his two principal partners, Chelsea McCann and Mike Zilis, both UO graduates, "the solid core of the company right now."
He says his goal is to work as long as he desires; with such a gratifying profession, Macy says, he has no incentive to retire.
The principles of designing a public space involve meeting a client's specifications, as well as considering the topographical landscape. Both the site and the client are the bedrock of motivation for any design, he says.
"That's the deal," he says. "That's what continues to inspire me to continue to work, is there are just so many great assignments."

Above: The Amazon Headquarters in the South Lake Union area of Seattle.
This story was published as part of the 100 Stories collection, compiled to celebrate our 2014 centennial and recognize the achievements and contributions of our alumni worldwide. View the entire 100 Stories archive on the College of Design website.