bachelor of architecture '63
Koetter's work helps shape how we view the modern city
Fred Koetter, FAIA, remembers his "Aha!" moment while an undergraduate at UO. "One day on the third floor of Lawrence Hall a small light called 'architecture' went on in my head—a little tantalizing light that completely seduced me and gave me the bit of confidence to take the next steps in becoming an architect."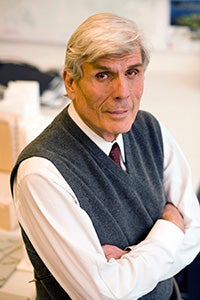 Those steps led him to a job in Seattle after graduating from UO, on to graduate school at Cornell, and eventually to establish his own firm. Koetter is a founding principal of Koetter, Kim and Associates in Boston and of Koetter, Kim and Associates Ltd. in London.
Koetter's achievements in the field of architecture, urban design and theory, and teaching contribute to the way in which professionals interpret the modern city. Miller Park Plaza in Chattanooga, Tennessee, represents a mixed-use urban area of commercial spaces, offices, housing, and public open space. Koetter, Kim and Associates developed the urban design and master plan, which reinforces existing street patterns and inner city public open space.
Koetter, Kim and Associates —which Koetter cofounded in Boston in 1978—maintains a diverse urban design and architectural practice that includes large-scale urban planning, site and landscape design, as well as commercial, institutional, and residential building design. The firm's practice and interests have concentrated in the related areas of architecture, urban design, and campus planning.
For his outstanding achievements during his career, A&AA presented Koetter with the Ellis F. Lawrence Medal in 2010.  In his "Reflections" written for the award program booklet, he noted that UO offered him "an engaging sense of accessibility and easy communication involving both faculty members and students. I was able to study with Wallace Hayden for a time and learn things from Philip Dole and Earl Moursund that remain with me to this day."
Koetter noted that between 1958 and 1962 at UO, "I began to appreciate the critically important relationship between architecture and urbanism—an issue that has strongly influenced my thoughts about architecture and the nature of our practice from that time forward."
Koetter Kim and Associates has won numerous design awards, including the AIA Academy of Architecture for Justice Merit Award for Architectural Design, 2010, for the United States Courthouse in Rockford, Illinois; the Boston Society of Architects' Willo von Moltke Award for Urban Design, 2005, for the East Bayfront, Toronto, Canada; and the City of Dallas Urban Design Award, 1999, for the Dallas Victory District Plan.
Select projects by Koetter, Kim and Associates include urban master planning projects in Lebanon, Kazakhstan, Korea, Spain, Saudi Arabia, the United Kingdom, and Canada along with educational projects at Cornell University, Yale University, University of Southern Maine, Syracuse University, and Brown.
Widely published and exhibited, Koetter's firm has been recognized with Progressive Architecture Design Awards. The firm was awarded the prestigious Harleston Parker Award in 1988 for "the most beautiful building in Boston," the Codex Corporation (now Meditech) world headquarters in Canton, Massachusetts, as well as the American Institute of Architects' national honor awards for its work at Miller Park in Chattanooga, Tennessee, and Firestone Library at Princeton University. Koetter, Kim and Associates has participated in more than twenty invited design competitions leading to major commissions in the United States and abroad.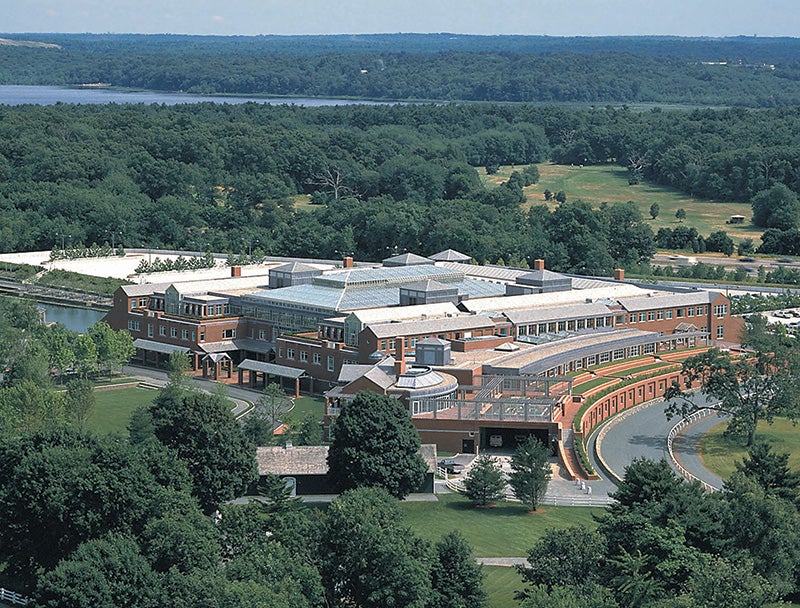 Above: Meditech headquarters, Canton, Massachusetts. Koetter's firm was awarded the prestigious Harleston Parker Award in 1988 for the building, deemed "the most beautiful building in Boston," built for the Codex Corporation (now Meditech). Photos courtesy Koetter, Kim and Associates.
The author of numerous articles and books, in 1978 Koetter co-authored, with the late Colin Rowe, Collage City, which proposed that cities could be improved through the collaging of a variety of urban elements including shaped, figural open space into the continuous fabric of a city.
In 1988, Koetter established the firm's London office, which operated from 1989 to 1995. During those years he spent half his practice in London, where he was the principal urban design architect for Canary Wharf in East London.
Koetter has taught at Cornell University, the University of Kentucky, Yale University, and Harvard University. He served as dean of the School of Architecture at Yale University from 1993 until 1998.
Although his career became global, Koetter remembers Eugene and UO fondly.
"After many experiences as both a practicing architect and teacher, I am moved to recall and reflect upon those early days when I was in the process of becoming an architect and making friendships I still have," he said. "I am also reminded of the randomness and unpredictability of the world, that little light that lit up in Eugene, and how fortunate I am to have followed the path that I did."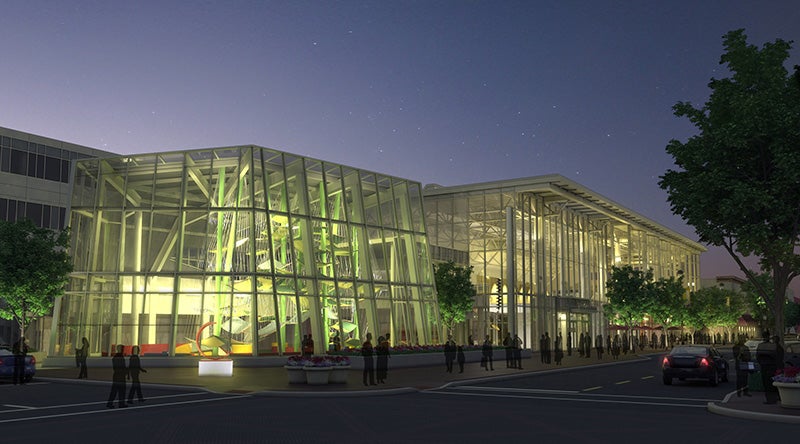 Above: The New Commons, Commons Mall Redevelopment Project, night view from Washington Street in Columbus, Indiana. Completed 2010.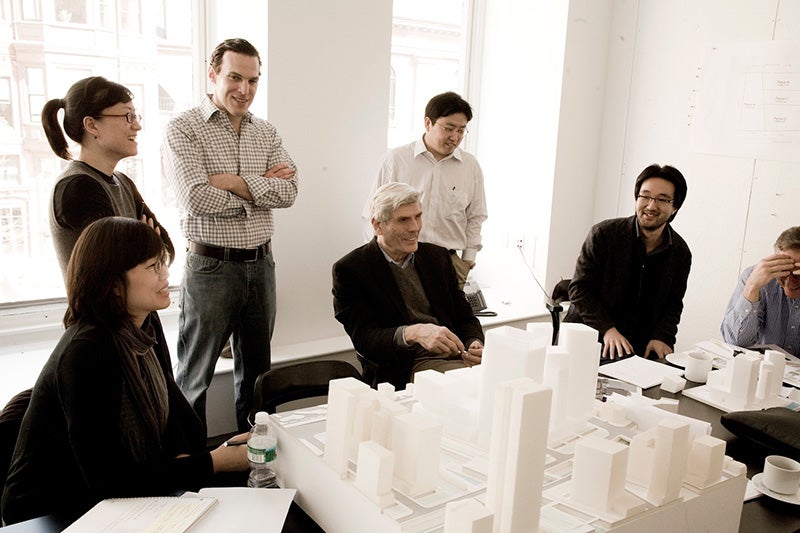 Above: Koetter meets with clients in Sewoon, Korea.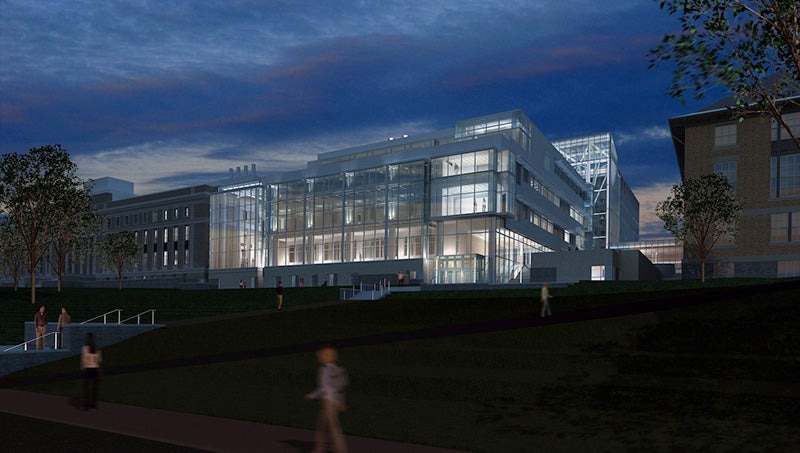 Above: The Cornell Physical Sciences Building night view from East Avenue, Ithaca, New York.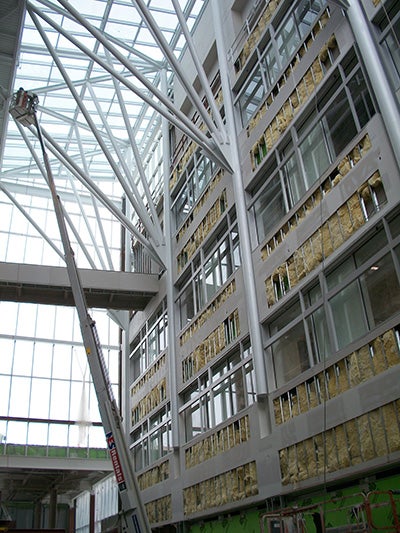 Above: Construction photo of interior, Physical Sciences Building, Ithaca, New York, a project for Cornell University.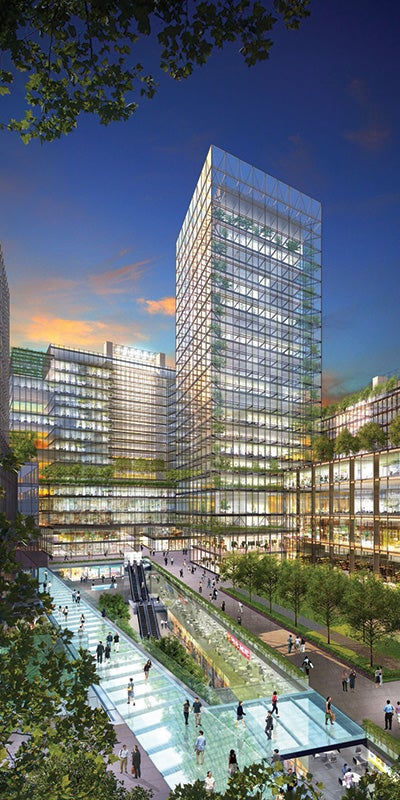 Above: The multilevel public court, Sewoon District 4 Urban Redevelopment, Seoul, Korea, completed in 2009.
This story was published as part of the 100 Stories collection, compiled to celebrate our 2014 centennial and recognize the achievements and contributions of our alumni worldwide. View the entire 100 Stories archive on the College of Design website.