bachelor of architecture '59
The Father of Preservation in Oregon
George McMath, FAIA, spent his life standing up for Portland's built environment. His contributions to the field—and the city of Portland—include helping to restore buildings such as Union Station, the Central Library, the Blagen Block, Pioneer Courthouse, New Market Theater, and the Bickel Block. He co-authored A Century of Portland Architecture in 1967 and was a contributing author to Space, Style, and Structure in 1974.
McMath is so revered in the Oregon preservation community that an ongoing award was established in his honor: the George McMath Historic Preservation Award, which celebrates a leader in the field. Coordinated by the UO Historic Preservation Program, the recognition has been bestowed annually since 2009.
"There weren't very many people in Portland interested in preservation when George began advocating for it—he knew the most, was the fiercest fighter for it," says Bill Hawkins, one of McMath's partners in the firm Allen, McMath & Hawkins.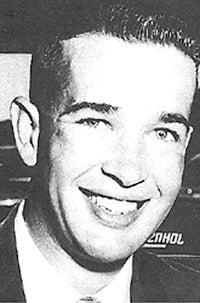 Born February 28, 1931, McMath graduated from Grant High School in Portland and then from the UO, where he earned a bachelor's degree in architecture, launching him on the same career track as his grandfather, famed architect A.E. Doyle. Doyle would have been proud that his grandson became widely remembered as one of the most important figures in the preservation and restoration of Portland's historic architecture.
Early in his career, McMath developed an interest in historic preservation and restoration. After witnessing the demolition of several of Portland's historic buildings, he was inspired to protect and preserve the city's architectural history.
That passion crystallized in 1965, when the 1881 Ladd Block was torn down in a "midnight demolition"—in order to build a parking lot.
"That got the preservationists', George and the others, dander up. And they proceeded to write the ordinance" to protect historic resources in the city, said architect Al Staehli, a founding member of the Historic Preservation League of Oregon.
Hawkins further elaborated on McMath's efforts to draft and implement preservation law.
"[George] was very influential in getting the first landmark legislation passed by the Portland City Council. He pushed and pushed it," Hawkins said. "What led to it was the demolition of the Ladd building; it came down overnight. George was absolutely furious, and felt it was so important to get legislation passed so this wouldn't happen again.
"[Partner] Frank [Allen] and I were sitting with George in the office listening [on the radio] to the city council meeting discuss this legislation that George had worked on, when Commissioner Mildred Schwab questioned something. George said she was wrong, so he jumped on the trolley and next thing Frank and I heard was George walk into the council room and tell the whole story. And of course, Mildred apologized. George was a force. He had an amazing way of being able to do that, a very charismatic nature."
Portland's first landmark preservation ordinance, a six-page letter-size document, ensured the protection of historic buildings in the city from that time forward. McMath's championing of the document would help mark him in architectural minds as the father of preservation in Portland.
The 1968 ordinance created a historic designation process and offered zoning tools for protection of historic architecture.
McMath served as first chair of the Portland Historic Landmarks Commission, from 1968 to 1978. He was chairman for other organizations and committees, crafted laws to protect historic buildings, carried out surveys of Portland's architecture, personally worked on countless restoration projects, and always acted as a leader in preserving the city's architectural history.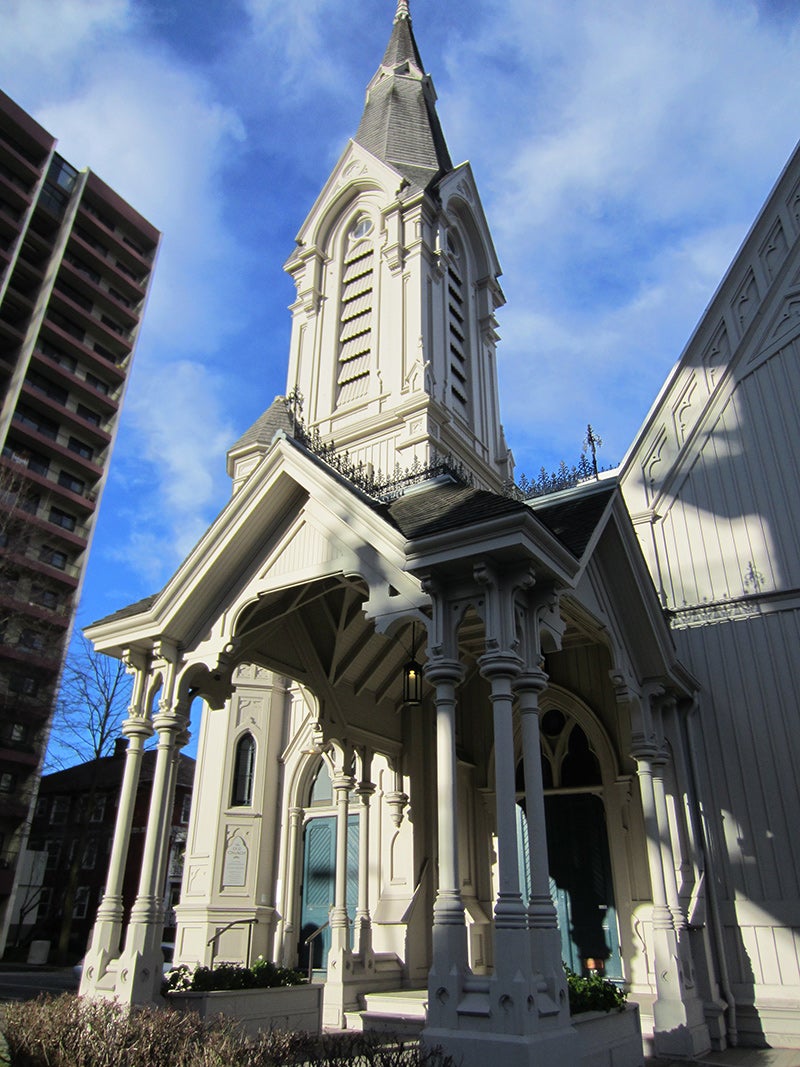 Above: McMath was on the first board for restoring the Old Church, circa 1882, in Portland. "He pushed and pushed in the early, very difficult days, to get the board established," Hawkins says of McMath. Photograph courtesy Bill Hawkins.
In 1970, he was responsible for the restoration and adaptive reuse of Portland's precedent-setting Pioneer Courthouse. The courthouse, originally completed in 1875, was the first restoration project by the U.S. government in the Northwest, and the positive response to its restoration led to preservation of other historic properties in downtown Portland.
The 1975 creation of the Skidmore/Old Town Historic District, one of only two national landmarks in the city, was another early example of the success of Portland's preservation ordinance. McMath's motivation to add the Skidmore district to the National Register of Historic Places was to save a rare, remnant historic material.
"George was working feverishly to nominate the Skidmore District as a National Historic Landmark, the main emphasis being the uniqueness of Portland's cast iron architecture," Hawkins said. "Portland had been at the center of cast iron architecture because it was founded in the 1840s when cast iron was the building material due to its being fireproof, so we had one of the unique cities in the country that was all cast iron. The East Coast had some areas here and there but not an entire city, and San Francisco had lost all theirs in the earthquake and fire. We thought that if Portland were to reconstruct what it had, it would be a significant cultural feature of the city. We had twelve years of great fun buying artifacts."
Today Portland has ten historic districts, all of which can be attributed to McMath's tenacity.
McMath also influenced a number of younger architects, prompting some, such as Hawkins, to change the course of their careers.
Before meeting McMath, Hawkins recalled, "I was highly influenced by Louis Kahn, Paul Rudolph, and others. That all changed in the '60s on meeting George, which as a total delight. I volunteered to work on his book (A Century of Portland Architecture) and shortly after that I was asked to join the firm. "
One of Hawkins' favorite projects with McMath was the New Market Theater, which brought forth one of McMath's great strengths, Hawkins said. "He drew beautifully, was a great delineator. It was pure fun to draw that beautiful façade, and the pleasure of seeing those arches go back to their original place was wonderful. The Old Church was a huge satisfaction, very successful. George was on one of the first boards for the Old Church [that] he pushed in the early, very difficult days, to get established."
McMath also secured the contract to work on what would become Fort Vancouver National Historic Site. "One of the most demanding, short-deadline projects we did were the 21 houses of Officers Row," Hawkins said. "The buildings were derelict so we had to decide how to make them useful, restore them, so they became Vancouver's historic district."
While McMath was serious about work, he was also a gracious and generous host. "Annette was very sociable," Hawkins said of McMath's wife. After several of their parties, Hawkins recalled, "people would find themselves asleep on their sofa the next morning."
McMath was also, those who knew him say, a man of great character. Longtime friend and architect Andrew Wheeler first met McMath as a boy during a BB gun skirmish, and the two grew closer as they raised their families as neighbors in Portland. After McMath's 1996 stroke, Wheeler and his wife Julie visited the preservationist every weekend. His sense of humor and his wit—traits prized by many who knew him—stayed strong throughout his life.
"We'd say, 'George, is there anything we can bring you?' " Wheeler said. "And he'd say, 'If you happen upon a new body, bring it along.' "
George McMath died October 24, 2007. Since 2009 his legacy has been recognized with the McMath Historic Preservation Award.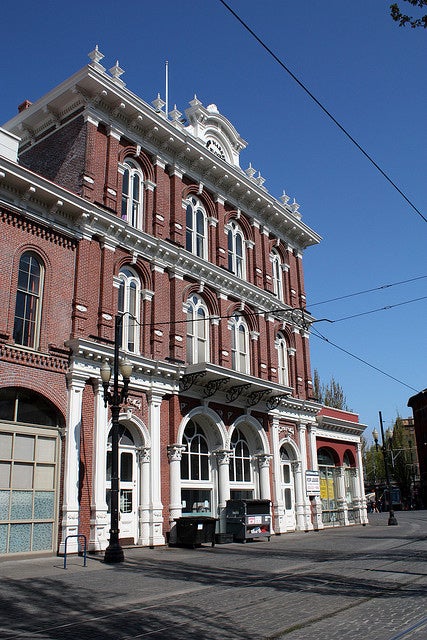 Above: Partners George McMath and Bill Hawkins were consultants on restoration of the New Market Theater in downtown Portland. "It was pure fun to draw that beautiful façade, and the pleasure of seeing those arches go back to their original place was wonderful," Hawkins says. Photograph courtesy Bill Hawkins.
Portions of this story were written by Alison Ryan and first appeared November 8, 2007, in the (Portland) Daily Journal of Commerce. Reprinted with permission. Marti Gerdes contributed to this story.
This story was published as part of the 100 Stories collection, compiled to celebrate our 2014 centennial and recognize the achievements and contributions of our alumni worldwide. View the entire 100 Stories archive on the College of Design website.