bachelor of architecture '66
First Asian-American to head AIA had longtime passion for architecture
Beginning in the 1960s when he arrived in Eugene as a 17-year-old architecture student, Gordon H. Chong's passion for the profession of architecture has been unwavering. More than four decades after his graduation, his career achievements speak to that.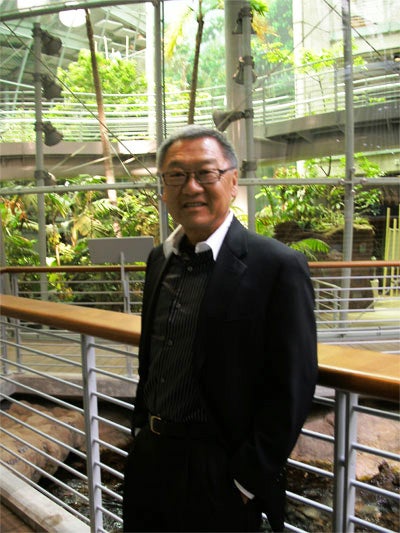 Above: Gordon Chong. Photograph courtesy San Francisco Business Times.
"Gordon is elegant, resourceful, thoughtful and driven," said Alison Rempel Brown, chief finance and operations officer at the California Academy of Sciences, which Chong collaborated on in 2008 to build a four-story Rainforests of the World exhibit. "He was able to bridge the requirements of design aesthetics and operational needs into a building that is beautiful and cutting edge. This project has met and exceeded all of our dreams," Rempel Brown told AsianWeek in September 2008.
Chong, BArch '66, FAIA, a third-generation Hawaiian of Chinese heritage, was the first Asian-American to attain the presidency of the American Institute of Architects, a position he held in 2002. Born and raised in Hawai'i, Chong's love for architecture came from his father, who was an artist.
"Growing up, my father would bring me to various buildings and discuss their composition and structure," Chong told AsianWeek reporter Angela Pang. "He was the one who encouraged me to be an architect."
Chong and the UO have evolved in a similar fashion: As with the UO's growing emphasis on sustainability, Chong's recent work includes a focus on energy-efficiency through green design. After earning his BArch from UO, Chong continued his academic research by traveling to Japan and Europe to study industrialized housing and "new town" planning.
Long a progressive voice within the profession, Chong advocates for architects to assume a greater strategic role in the shaping of public policy. He challenges architects to make the most of this opportunity by being generous in their involvement with their communities, committed to educating the nation's youth, and by being expansive rather than protective in their approach to professional services. Likewise, he stresses the benefits of diversity and inclusiveness, urging architects to reach out to allied professions within the design and construction industry.
He recalls his UO days as being demanding, both academically and personally. The lack of cultural diversity in Oregon made it challenging for him as an Asian-American.
"I immersed myself in the School of Architecture and Allied Arts, where I found a sense of family – a bond with a group who shared a common commitment and interest in art and architecture. It was a wonderful bond without the social and cultural baggage."
In the 1960s the UO's design studio program sometimes required students to spend seven to eight years to complete the five-year program. Chong credits this challenge with strengthening his tenacity and passion for architecture. In 1976, he founded what became Gordon H. Chong & Partners, growing the San Francisco firm from an individual practice to a staff of 125 with offices in San Francisco, Sacramento, and San Diego. His firm received recognition in 1998 as the third-largest minority-owned small business in the U.S. He sold the firm in September 2007 to Stantec, a Canadian architecture firm.
"The addition of Chong Partners is a significant step towards building a national architecture presence in the United States similar to what we have been able to achieve in Canada," Tony Franceschini, Stantec president & CEO, said at the time of the merger. "We are also excited about Chong Partners strong experience in the design of hospitals and related medical research and treatment facilities which will make the combined practice a North American leader in the healthcare design sector."
Chong's firm had focused on architecture, urban design and interior design, specializing in health care, university/academic, cultural and urban projects. His clients included Kaiser Permanente, the University of California, Stanford University, the City and County of San Francisco and United Airlines. He also worked on the Yee Fow Museum in Sacramento.
"This is indeed a wonderful time in history to be an architect and an agent of change in service to society," he says.
Chong earned his master's in architecture in 1969 from the University of Edinburgh in Scotland.
This story was published as part of the 100 Stories collection, compiled to celebrate our 2014 centennial and recognize the achievements and contributions of our alumni worldwide. View the entire 100 Stories archive on the College of Design website.