master of architecture '92
Launching UO's DesignBridge just the beginning of sustainable career
During his youth, Gunnar Hubbard, FAIA, MArch '92, lived in central Vermont in a log cabin built by hand by his family, who spent summers constructing the home.
"We peeled every log ourselves," says Hubbard.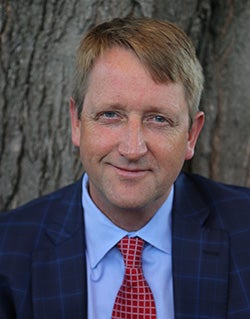 Above: Gunnar Hubbard, MArch '92. Photo by Amy Winton.
Given his future as a sustainable design consultant on projects in lavish locales like Las Vegas Strip, towers in Shanghai, and the White House, it seems incongruous that Hubbard's childhood years were spent in a home that lacked several modern amenities, namely a flush toilet, hot water, electricity, and television.
The lavatory was a composting toilet. The house relied on semi-passive solar energy for heat, a generator battery for power (which helped Hubbard play his Boston records), and gravity for running water.
One downside to using natural wood was that log cabins aren't conducive for good insulation, so Hubbard learned the hard way how to design houses with decent insulation.
"What my parents did to me, while it was clearly child labor — I joke — was really amazing," he says. "[They introduced me] to the idea that you can use local materials, live with less, and live a simple life."
This left a deep impression on Hubbard's life and career, which he says drove him to study sustainable design and architecture.
Since he graduated in 1992 from the UO School of Architecture and Allied Arts with a master's degree in architecture, Hubbard has continued his environmental stewardship as a designer and consultant for projects around the globe, including in United Arab Emirates, Jordan, China, Bahrain, Germany, Saudi Arabia, England, and Sweden. He's taught design at several schools around the country, including at the Yestermorrow Design/Build School in Vermont, as well as undergraduate and graduate ECS classes at Cornell University and design-build classes at Ball State University.
At University of Vermont, Hubbard majored in environmental studies, focusing his thesis on solar architecture. After graduating, he worked a few years as a draftsman before deciding to get a graduate degree in architecture. He wanted a school offering coursework in environmentally responsible architecture.
"Oregon was top of my list," says Hubbard, who was accepted to both University of Washington and the UO. "I fell in love with Seattle as a city, but Oregon as a school."
Above: The Hubbard family's log cabin, where Hubbard grew up, located in Hancock, Vermont. Image courtesy Gunnar Hubbard.
In Vermont, he had met Brook Muller, now interim dean for A&AA. Both had studied environmental studies at their undergraduate alma maters, and both worked a short summer internship under Norman Saunders, whom Muller says was "a passive solar guru and engineer."
The following summer, Muller and Hubbard convoyed out West in their Volkswagen Rabbits. It was August 1989.
By the time they got to Eugene, rental housing was scarce. Muller recalls huddling inside a phone booth with Hubbard, scanning classifieds ads in a newspaper and calling about houses for sale. They eventually purchased a tiny two-bedroom home at the corner of West 12th Avenue and Almaden Street in West Eugene.
The cramped 20-foot-by-30-foot home needed to be expanded so the pair took it upon themselves to fix it up. "Being in graduate school for architecture and renovating a house is a lot of work, but we did it," Muller recalls. They organized work parties and invited friends to knock down walls. "We'd give our friends sledgehammers."
Both enrolled in a class on construction, where, eager to start hands-on work rather than drawing details in class, Hubbard asked Donald Corner, then head of the Department of Architecture and the course's instructor, when the students could actually build something. Corner suggested Hubbard come up with his own idea.
So Hubbard formed a team of other graduate students and nationally renowned design-builders to create a two-week intensive, design-build program. The team constructed an open-air pavilion outside the Millrace Studios within two weeks. Hubbard's self-initiated design-build program continued for many years and morphed into the DesignBridge program, which allows UO students to work on real-world projects.
"Gunnar has more connections than anybody I've ever known. He used that to do some extraordinary things," Muller says. "[The school] was really a vibrant place at that time. Lifelong friendships formed. We started the master's program in '89, and the cohesiveness of that cohort was really fun."
Hubbard also served as director of the Solar Energy Information Center, which later became the UO's Ecological Designer Center (EDC).
During another seminal initiative, Hubbard asked Professor John Reynolds how to secure more finances for the A&AA lecture series. Using Reynolds' suggestions, Hubbard pulled some strings with the local utility sponsorship and ultimately doubled the amount of funding.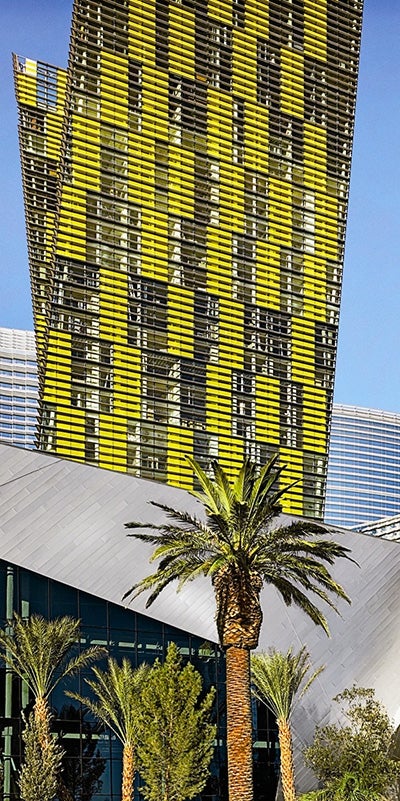 Above: The Veer Tower in the Las Vegas CityCenter. Photo courtesy Gunnar Hubbard.
He and Corner then booked lecturers whose talks focused on sustainable design; this series later dovetailed into creation of the Holistic Opportunities for Planet Earth Sustainability (HOPES) conference in 1994, two years after Hubbard graduated. HOPES celebrated its 22nd consecutive year in 2016 and remains the only ecological design conference developed and managed solely by students.
During his summers as a UO student, Hubbard returned to Vermont to work as a teaching fellow at the Yestermorrow Design/Build School in Waitsfield, Vermont. At age 28, he was hired as the school's executive director. Within three years, the school's enrollment doubled, its curriculum expanded, and sustainability was infused into the school's courses.
"He was an unknown quantity, but we knew he had the energy for the task. It turned out to be a great move," says Yestermorrow founder John Connell, who has known Hubbard for more than 35 years.
While Hubbard was Yestermorrow's director, he was contacted by a friend working on Bill Clinton's environmental policy. During an Earth Day speech, Clinton remarked that Americans ought to view The White House as a symbol of a clean government and environment, and said the White House would undergo energy and environmental audits.
Hubbard participated in a multiday green building charrette on the White House and the Old Executive Office Building. Spearheaded by the American Institute of Architects' new Committee on the Environment, along with nearly 100 experts, the charrette involved in-depth assessments of White House energy efficiency, landscape maintenance, air quality, and water management.
"That was basically one of those times when in life you have dumb luck and good relationships and sometimes they collide," Hubbard says. "I met some of the foremost green building leaders who inspired me to advance and shape my career. Many of them I am still close with today."
After leaving Yestermorrow, Hubbard worked as a research scholar at the Rocky Mountain Institute with a group called Green Development Services. His consultancy involved design charrettes for clients such as the US Navy and Habitat for Humanity. He flew to Singapore with a group of experts to "green" an international school's design and educate the local government on improving the country's infrastructure for sustainability.
Hubbard and fellow UO graduate Ned White, MArch '93, founded the firm McCoppin Studios in San Francisco, where they worked for four years. Hubbard met his wife in San Francisco, and eventually moved back to the East Coast after the birth of their first child. They landed in Portland, Maine, and in 2002, he started Fore Solutions, a green consultancy firm.
While a relatively new firm, Fore Solutions won a commission for CityCenter on the Las Vegas strip. The massive, 76-acre, seven-building, $8.6-billion complex — the largest private construction project in the history of the United States — took four years to complete; Hubbard served as sustainability consultant. The project was ultimately certified LEED Gold, surpassing the original goal of LEED Silver. Hubbard says LEED certification had never been achieved at this scale before.
Hubbard has since taught green building workshops in China, United Arab Emirates, Sweden, England, Denmark, and throughout the United States.
Today he works as principal and sustainability practice leader for Thornton Tomasetti, the international engineering firm that purchased Fore Solutions in 2012. He was inducted as a Fellow in the American Institute of Architects in 2015.
His current projects include a tower in San Francisco, the 5-million-square-foot Shanghai Stock Exchange, and the Harvard University Allston Science Complex.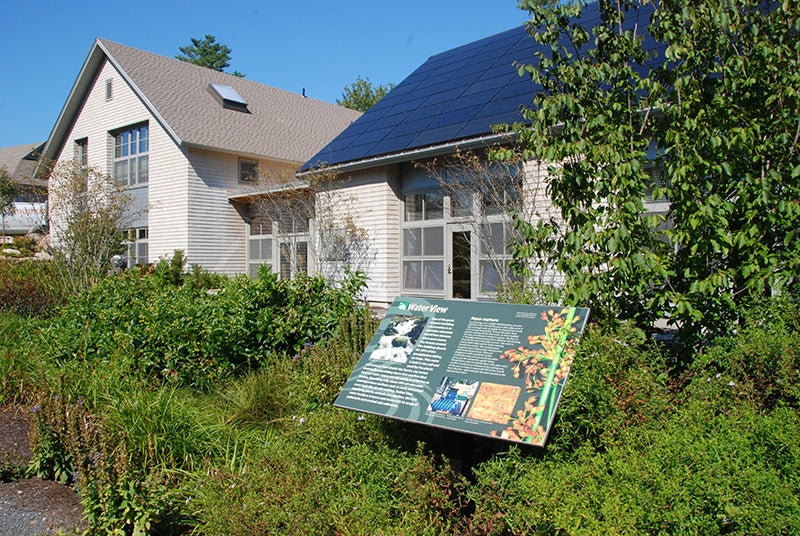 Above: Bosarage Family Education Center at the Coastal Maine Botanical Gardens in Boothbay, Maine. Net Positive energy and LEED Platinum. Designed by Maclay Architects & Scott Simons Architects. Image courtesy Gunnar Hubbard.
This story was published as part of the 100 Stories collection, compiled to celebrate our 2014 centennial and recognize the achievements and contributions of our alumni worldwide. View the entire 100 Stories archive on the College of Design website.