Sessions | Tuition & Credits | Financial Assistance | Accommodations | Travel | Sponsors | How to Apply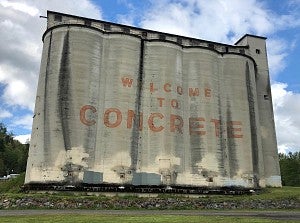 Applications are now being accepted for the 2021 Pacific Northwest Preservation Field School in Concrete, Washington. See the "How to Apply" section below for the link.
Located in the foothills of the North Cascades, Concrete, Washington, is best known for its history of Portland cement production with numerous industrial and commercial buildings constructed using its namesake material. This year's Field School activities will center on an early cast-in-place concrete building, the historic Baker Club House. The 1914 building was once a social venue and offices, with a Portland cement laboratory in the basement! The Field School will also explore the surrounding industrial landscape, which includes remarkable cast-in-place concrete silos, a crusher plant, and fence posts. Come join us at Field School in Concrete where we will explore historic concrete preservation and industrial landscapes!
The PNWPFS continues to monitor the Covid-19 situation and to take necessary precautions for the safety of all participants including following all state and local Covid-19 guidelines. Any changes to the schedule or postponement updates will be posted here. We will keep registrants apprised of new developments via email notifications.
All 2021 Field School participants will be asked to complete an attestation that they are (or will be) fully vaccinated against Covid-19. Alternately, participants may request a waiver for medical and non-medical reasons. Field School and University of Oregon staff will contact those requesting a waiver to discuss next steps.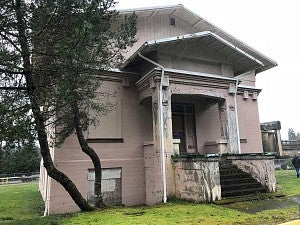 Sessions
During three one-week sessions in September 2021, students will participate in rehabilitation projects on and around the Baker House site. While each session has a specific theme, all include hands-on work, documentation, a field trip, and nightly lectures from cultural resource professionals. Evening lectures from preservation professionals will examine the history, theory, and practice of historic preservation in the Pacific Northwest.
Session 1
August 29–September 3
Materials Intensive: Concrete
The first week will focus on the preservation and rehabilitation of historic concrete including casting, patching, building forms, and repair of concrete elements on site. Workshops may include industrial archaeology and condition assessment. This session is ideal for those who would like to learn more about current practices in historic concrete repair.

Session 2
September 7–10
Specialized Preservation Maintenance
Week two will have a maintenance and repair focus with projects including concrete casting and patching, wood window repair, and masonry cleaning and maintenance. This session is ideal for those working in the field of historic structure maintenance and rehabilitation.

Session 3
September 12–17
Preservation Primer
This session is intended as an introduction to historic preservation and the preservation trades. Participants will be introduced to historic cast concrete repair and wood window restoration with possible workshops in cultural landscape studies and industrial archaeology. This week is recommended for all incoming students to the University of Oregon's Historic Preservation graduate program and for those who are new to the preservation field.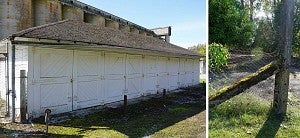 Tuition and Credits
Sessions 1 and 3:
Tuition: $900
Tuition and Two (2) Undergraduate Credits: $1,150
Tuition and Two (2) Graduate credits: $1,250
Session 2
Tuition: $600
Tuition and One (1) Undergraduate Credit: $750
Tuition and One (1) Graduate Credit: $825
---
Financial Assistance
The Peting Scholarship Award is generously provided by PNW Preservation Field School founding faculty member Don Peting. It covers the cost for one field school session and a $100 travel allowance (up to $1,350). This scholarship is awarded to an individual pursuing professional training in historic preservation. It is open to all field school participants. To be considered for the award, applicants are asked to submit a brief essay accompanying their application. More information is provided in the application. Submissions must be received by July 23, 2021.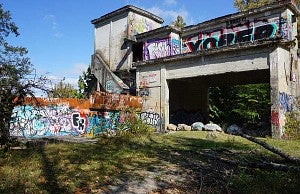 Accommodations
Accommodations will be provided at the Baker Lake Lodge. Participants will have shared rooms and bathrooms, and a large common area with a cozy fireplace! Meals are included.
---
Travel
By Car: Accommodations (Baker Lake Lodge) are located approximately 6 hours from Portland and 2 hours from Seattle. Address and directions will be provided for participants driving themselves.
By Plane: The closest airport is Seattle-Tacoma International Airport.
By Train: The closest train station is King Street Station in downtown Seattle.
Transportation from the University of Oregon Portland campus will be arranged during session three for incoming graduate students.
If you plan on receiving transportation from the Seattle airport, Seattle train station, or from the White Stag in Portland (session three only), please wait until you receive the Welcome Packet for the specific pick up times from each location. Due to the distance of the site and limited Field School staff availability, the Field School will only be able to arrange one pick-up time per week from each location.
---
Sponsors
The Pacific Northwest Preservation Field School has been a partnership among multiple agencies for more than 20 years.
University of Oregon
National Park Service
Idaho State Historical Society
Oregon Parks & Recreation Department
Oregon State Historic Preservation Office
Washington State Parks & Recreation Commission
Washington State Department of Archaeology & Historic Preservation
Puget Sound Energy
---
How to Apply
The Pacific Northwest Preservation Field School is now accepting applications.
The Field School is open to everyone. Curriculum is designed to include all those interested in historic preservation, architectural history, archaeology, cultural resource management, interior architecture, landscape architecture, public history, and historic building trades and maintenance.
The Field School is intended for anyone who is seeking hands-on experience working with preservation craftspeople in the spectacular Pacific Northwest. Students live, work, and participate in hands-on work at the Field School, with various additional educational sessions, evening lectures, tours, and special projects throughout the week
---
Contact Us
Email us with any questions or concerns: pnwfs@uoregon.edu