Sessions | Tuition & Credits | Financial Assistance | Accommodations | Travel | Sponsors | How to Apply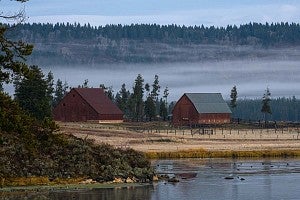 The 2022 Pacific Northwest Preservation Field School will be held at the Railroad Ranch, Harriman State Park in Idaho. Applications are now open.
Located on the west side of the Grand Teton range in northeast Idaho, Harriman State Park is on the traditional lands and territory of the Shoshone and Bannock peoples. In 1902 Union Pacific Railroad investors established a working cattle ranch and private retreat for the Harriman and Guggenheim families on the site. The Harriman family donated land to the state of Idaho in 1977 as a founding portion of the Idaho State Park system. Today the ranch is part of larger 16,000 acre wildlife refuge. The rustic landscape overlooked by Grand Teton peaks and not far from the Yellowstone National Park west entrance, is a mecca for hiking, mountain biking, flyfishing, and horseback riding.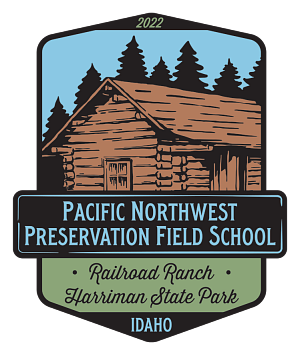 Field School activities will be based around the historic Railroad Ranch, featuring twenty-seven surviving buildings including barns, a cook house, granary, and cottages. Seventeen are listed in the National Register of Historic Places. A preliminary list of projects includes log rehabilitation, masonry work on stone chimneys and foundations, shingle and metal roof repair, window repair and reglazing, and condition assessment and landscape survey workshops.
Come join us at the Railroad Ranch for an exciting week of preservation training and education.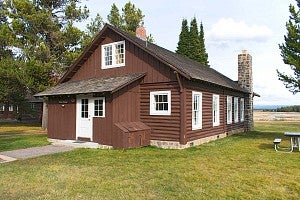 The PNWPFS continues to monitor the Covid-19 situation and to take necessary precautions to ensure participants' safety. Current University of Oregon Covid regulations require all Field School participants to either be up to date with COVID-19 vaccines or have a medical or religious exemption. More information can be found here.
Sessions
Session 1
August 28–September 2
Preservation Focus:  Wood
Session 2
September 6–9
Preservation Focus:  Preservation Maintenance and Repair
Session 3
September 11–16
Preservation Primer
Sessions will be led by professionals specializing in the techniques and materials involved. Past faculty at the Field School have come from the National Park Service, U.S. Bureau of Land Management, Oregon State Department of Parks & Recreation, Oregon State University, the University of Oregon, Washington State Parks & Recreation Commission, Washington State Office of Archaeology & Historic Preservation. Instructors have included professionals from preservation, architecture, and engineering firms throughout the Northwest.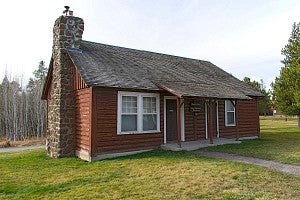 Tuition and Credits
Tuition includes all training sessions, evening presentations, field trip, meals, and lodging. For an additional fee, Field School participants can earn two graduate or undergraduate level credits from the University of Oregon Continuing and Professional Education for each repeatable one-week session. Grading is on a pass/no pass basis. Students entering the UO Historic Preservation program are required to take two field school graduate credits.
Sessions 1 and 3
Tuition (no credits): $900
Tuition and Two (2) Undergraduate Credits: $1,150
Tuition and Two (2) Graduate credits: $1,250
Session 2 (shortened for Labor Day holiday)
Tuition (no credits): $600
Tuition and One (1) Undergraduate Credit: $750
Tuition and One (1) Graduate Credit: $825
---
Financial Assistance
The Peting Scholarship Award is generously provided by PNW Preservation Field School founding faculty member Don Peting. It covers the cost for one field school session and a $100 travel allowance (up to $1,350). This scholarship is awarded to an individual pursuing professional training in historic preservation. It is open to all field school participants. To be considered for the award, applicants are asked to submit a brief essay accompanying their application. More information is provided in the application. Submissions must be received by June 20, 2022.
Accommodations
Participants will stay in the newest building at the ranch, a 1980s Dormitory. The Dormitory has single enclosed spaces (divided by partitions) with bunk beds on one side of the room and a shelf and clothing bar on the other. It features recently remodeled bathroom facilities on the first floor, three common spaces for lounging and a working wood stove. Accommodation and meals are included in the Field School tuition.
For an additional daily fee, Field School registrants may stay additional days in the Dormitory (after Session 1, before or after Session 2, or before Session 3). Contact the Field School for additional information.
---
Travel
Harriman State Park is located just outside of Island Park, Idaho. Participants may drive or carpool to the Field School site. For those traveling by air, the Field School van will pick up at the Idaho Falls Regional airport (IDA), the closest airport to the Field School, on the Sunday (for Sessions 1 and 3) or Monday (for session 2) beginning Field School. The driver will meet all arriving parties at a central location. Tentative departure time from IDA is 3:30pm. The van will return air travelers to the same airport on the Saturday ending Field School. Tentative arrival time at IDA is 7:30am. Final departure and arrival times will be confirmed and posted soon. There are many flights into Idaho Falls from various airlines carriers, including direct flights from Portland, Seattle, Salt Lake City, and Denver.
---
Partners
The Pacific Northwest Preservation Field School has been a partnership among multiple agencies for more than 25 years. Current partners include:
University of Oregon
National Park Service
Idaho State Historical Society
Idaho State Parks & Recreation
Oregon Parks & Recreation Department
Oregon State Historic Preservation Office
Washington State Department of Archaeology & Historic Preservation
Washington State Parks & Recreation Commission
---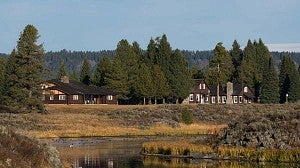 How to Apply
Applications for the 2022 Pacific Northwest Preservation Field School are now open. The Field School is an inclusive learning opportunity open to all, whether or not you have previous preservation experience, whatever your age. You do not need to be a student or affiliated with the University of Oregon.
---
Contact Us
Email us with any questions or concerns: pnwfs@uoregon.edu