Senechal Biggs, bachelor of landscape architecture '95
Cathleen Corlett, master of landscape architecture '96
Alumni duo wins honors in landscape preservation challenge
Seventeen years ago, a class project by landscape architecture students laid the groundwork for award-winning work in 2010. Two alumni received second place honors in the Historic American Landscapes Survey (HALS) Theme Park Challenge for Oregon's Enchanted Forest.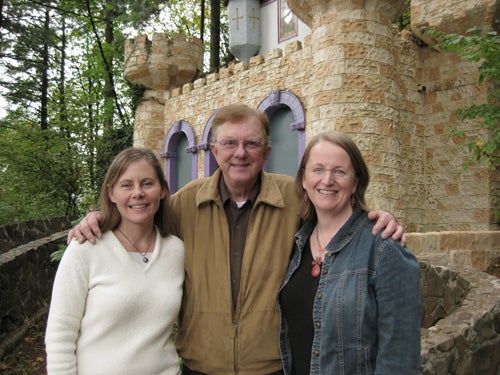 In 1993, as students in Professor Kenneth Helphand's History of Landscape Architecture, Jean Senechal Biggs, BLA '95, and Cathleen Corlett, MLA '96, were part of a five-member student team that also included September Vhay, BArch '93, Sarah Lewis, BArch '94, and former landscape architecture student Michael Warren. The students chose to study the Enchanted Forest, a storybook theme park that has been continually owned and operated by the Tofte family since 1964. "Kenny was enthusiastic about our choice for the assignment to document an Oregon landscape. Disneyland may be the best-known of all U.S. theme parks, but the Enchanted Forest is distinctly Oregon and is treasured by many," says Senechal Biggs.
Helphand connected Corlett and Senechal Biggs with HALS liaison Laurie Matthews, MLA '01, who encouraged them to enter the Theme Park Challenge. The two realized that their student work was the foundation a HALS submission. In June 2010, they revisited the site and interviewed the park's founder, Roger Tofte, to complete their inventory.
Now in its tenth year, the HALS program is a partnership between the National Park Service, the American Society of Landscape Architects, and the Library of Congress. The program depends on volunteers to systematically document a variety of historic American landscapes. "Until we have permanent, secure funding for HALS, we depend greatly on such wonderful donations," says Paul Dolinsky, HALS chief at the National Park Service.
First place honors in the Theme Park Challenge went to a faculty-student team from Virginia Tech for their documentation of Glen Echo Park, Glen Echo, Maryland. Documentation of Sonoma Traintown Railroad in Sonoma, California won third place. Winning entries will be featured on the Library of Congress website in 2011.
Originally published Nov. 12, 2010, this story is part of the 100 Stories collection, compiled to celebrate our 2014 centennial and recognize the achievements and contributions of our alumni worldwide. View the entire 100 Stories archive on the College of Design website.