bachelor of interior architecture '72
Multifaceted career keeps love of color, textures, in forefront
In September 1984, Portland's Paramount Theater began a new life as the Arlene Schnitzer Concert Hall, an elegant hall seating 2,800. Jody Mohney, '72 BIArch, then-senior designer at Boora Architects, was charged with preserving the architectural character of the 1928 northern Italian rococo structure. The architects and consultants were challenged with restoring the grandeur of the theater's movie palace days while enhancing the acoustics and upgrading support systems.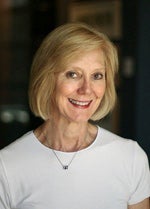 Combining expertise with color consultants and craftspeople, Mohney worked to restore the terrazzo, scagliola, and crystal, and developed a paint scheme that included fifty-four colors. Custom carpets were designed that abstracted from the building's ornamentation. The Arlene Schnitzer Concert Hall now serves as the anchor for the Portland Center for the Performing Arts. Mohney's contribution to the success of the hall's interior is apparent to all who visit.
The career for Mohney, IIDA, LEEP AP, has spanned more than four decades, including work as interior designer with two of Oregon's major architectural firms: Boora Architects (1978 to 1984) and GBD Architects Inc. (1984 to 2010). At GBD, she was a principal for sixteen years and the principal-in-charge of interior design for twelve of those years.
After she graduated from UO, Mohney immediately moved into her professional career, relocating to Pittsburgh to work in graphic arts and interior design. At this early juncture, she found value in working with a team-based approach and discerned significant demand for her skills in signage and graphic design. In the 1970s, she relied on what she calls her "old fashioned" handcrafting skills of drawing everything by hand and using tools such as pastels and pencil to convey ideas.
It was early in her UO studies and work career that Mohney discovered her great love of "color and the play of patterns." Calling upon this interest and ability, her career blossomed. She returned to the West Coast in the late 1970s to begin work with two highly significant Oregon architectural firms, Boora Architects (1978-1984) and GBD Architects Incorporated (1984-2010) where she held the positions of principal for sixteen years and as principal-in-charge of interior design for twelve of those years.
Commercial design has remained her key focus. Her projects include such notable clients as the Atlanta Hawks basketball team, the Portland Center for the Performing Arts, and sports clothing giants Nike and Columbia Sportswear. Several have won Portland Chapter AIA and IIDA design awards and have been published in numerous magazines. She has participated in twelve LEED platinum or gold certified projects.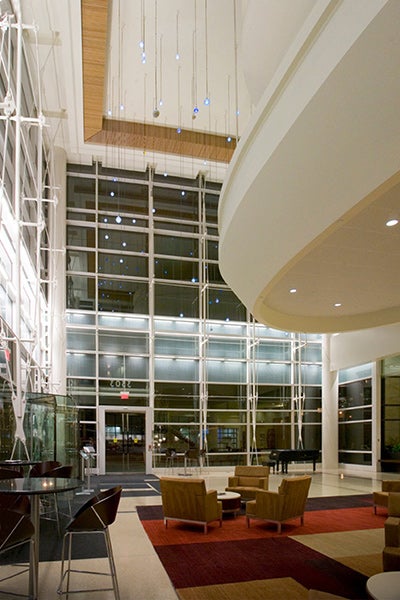 Above: Mohney's design for the Center for Health and Healing, in Portland, Oregon. Photo by Jamie Forsythe.
In 2012-2013, she served as the UO Margo Grant Walsh professor in interior design at UO, leading a UO studio in law office design and current design trends. She was also the UO 2012 Gunilla K. Finrow lecturer, giving presentations in Portland and Eugene that reflected upon her long-ranging career and her guiding philosophy as a designer.
During her lectures, Mohney discussed her range of work incorporating independent interior projects such as those at elegant Portland accounting firms and law offices. She recalled that she remained true to her own design philosophy whether designing way-finding signage for a stadium or the exclusive interior of a highly prestigious law firm: The importance of designing to the individual personality of the firm or the business always remained at the forefront.
"You always start with a concept and it originates with a client," she says. "For me, not only the creation of the plan and the volumes of the space become unique, but stylistically the interiors become unique for each client because [each client has] a unique personality and culture within their firm. It's [also] very important to be a team member of the client and try not to force them into something that doesn't fit them."
As time passed and her career continued, Mohney began to realize changes in the field and practical changes in the greater societal situation that would have consequences for how she worked and what she designed. In the early 2000s, she saw a shift in how people would relate to a building and how the interior design could be used to create spaces conducive to stimulating creativity.
This was a change Mohney had seen emerging about a decade earlier. As the 1990s had progressed, she noticed there was a transition occurring from traditional design to design that was more responsive to change and to the creation of warmth in spaces –spaces that could foster person-to-person interaction, collaboration, and conversation.
As the economy and global marketplace evolved, Mohney saw opportunities to integrate the newly renovated spaces of previously industrial buildings into simple and contemporary spaces, blending extant structural elements into a beautiful, raw part of the entire program. Patina-coated steel columns would become exposed, a testimony of history and permanence and be combined with a new concrete structure to produce a relaxed and informal atmosphere encouraging teamwork. 
In semi-retirement, Mohney shares her time between Oregon and Montone, Italy, where she finds pleasure in photographing and drawing the fields and farmland. This rural Italian paradise provides Mohney with plenty of time to discover history, art, architecture, and landscape, and she enjoys depicting her environment by hand in pastel, appreciating and being "enthralled by the seasons, the colors, the patterns."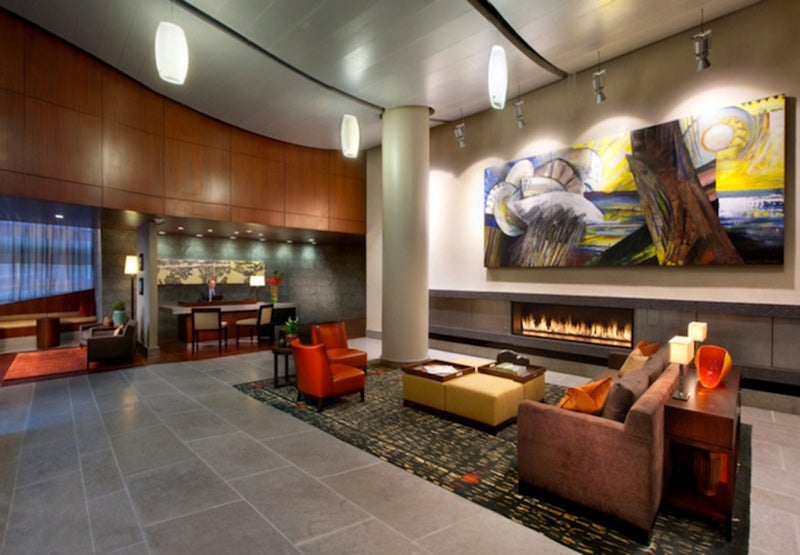 Above: Bellevue Towers in Belleview, Washington, was designed by Jody Mohney. Photo by Michael Mathers.

Above: Columbia Sportswear Headquarters in Beaverton, Oregon, is another Mohney design. Photo by Michael Mathers.

Above: "Poggiolo," a pastel sketch by Mohney of a fall scene in the countryside at a villa in Chianti, Tuscany.
This story was published as part of the 100 Stories collection, compiled to celebrate our 2014 centennial and recognize the achievements and contributions of our alumni worldwide. View the entire 100 Stories archive on the College of Design website.