Lawrence Medal '98,
bachelor of architecture '67
Johnpaul Jones is a leader in culturally and environmentally sensitive architecture
With a career spanning 40 years, Johnpaul Jones, FAIA (BArch '67) has learned to design with cultural and environmental sensitivity. This deep understanding of nature and native people, combined with a series of excellent projects designed by his firm, Jones and Jones, has propelled him to the forefront of his field.
In 2014, at a White House ceremony, President Barack Obama bestowed one of ten National Humanities Medals on Jones. Obama selected Jones for honoring the natural world and indigenous traditions in architecture through fostering awareness through design and creating spaces worthy of the cultures they reflect, the communities they serve, and the environments they inhabit.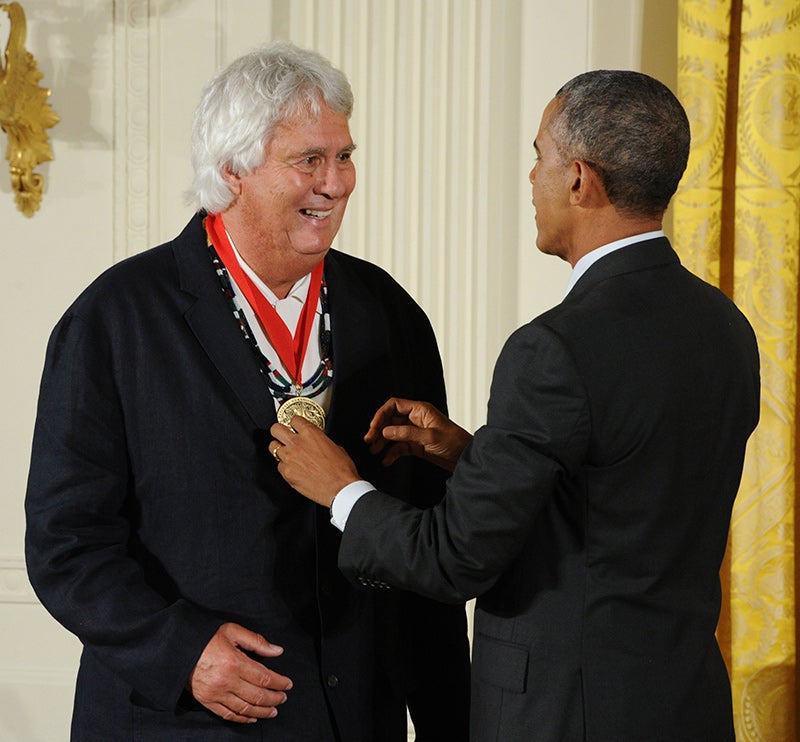 Above: President Barack Obama presents the National Humanities Medal to architect and UO alumnus Johnpaul Jones at a White House ceremony on Monday, July 28, 2014. Photo by Jocelyn Augustino, courtesy of the National Endowment for the Humanities.
Jones' expertise led his firm to be chosen as design architect for the Smithsonian Institution's National Museum of the American Indian, located on the National Mall in Washington, D.C., and opened in 2004. The challenge was to design a building that expressed the commonalities among all tribes in the United States. Jones found elements like the seasons, traditions such as gathering around the fire and storytelling, and shapes like the circle to be held in common among native people. He incorporated these into the design, which ultimately led to an exterior that resembles rock shaped by the wind and water over thousands of years.
The chance to design a building in the shadow of the U.S. Capitol building came after a distinguished career that began at the University of Oregon. Jones was born in Oklahoma to a Choctaw/Cherokee mother and a Welsh father and quickly became interested in the arts and particularly architecture. After high school, Jones started architecture school at the UO. "Coming here was the best thing," says Jones. "This school mixes all the arts and I love that." During his time at the UO, he noticed something missing in the teaching of architecture. "The difficult thing was that there wasn't any discussion in the history of architecture classes about native architecture and the rich heritage we have in this country."
After graduating, Jones' first job was remodeling a space used by the American Indian Women's Service League in Seattle. They gave him his first job and a mission for the rest of his career. "They said, 'You went to school, you got an education, you have some abilities now. It's payback time. You have to pay back your community.' "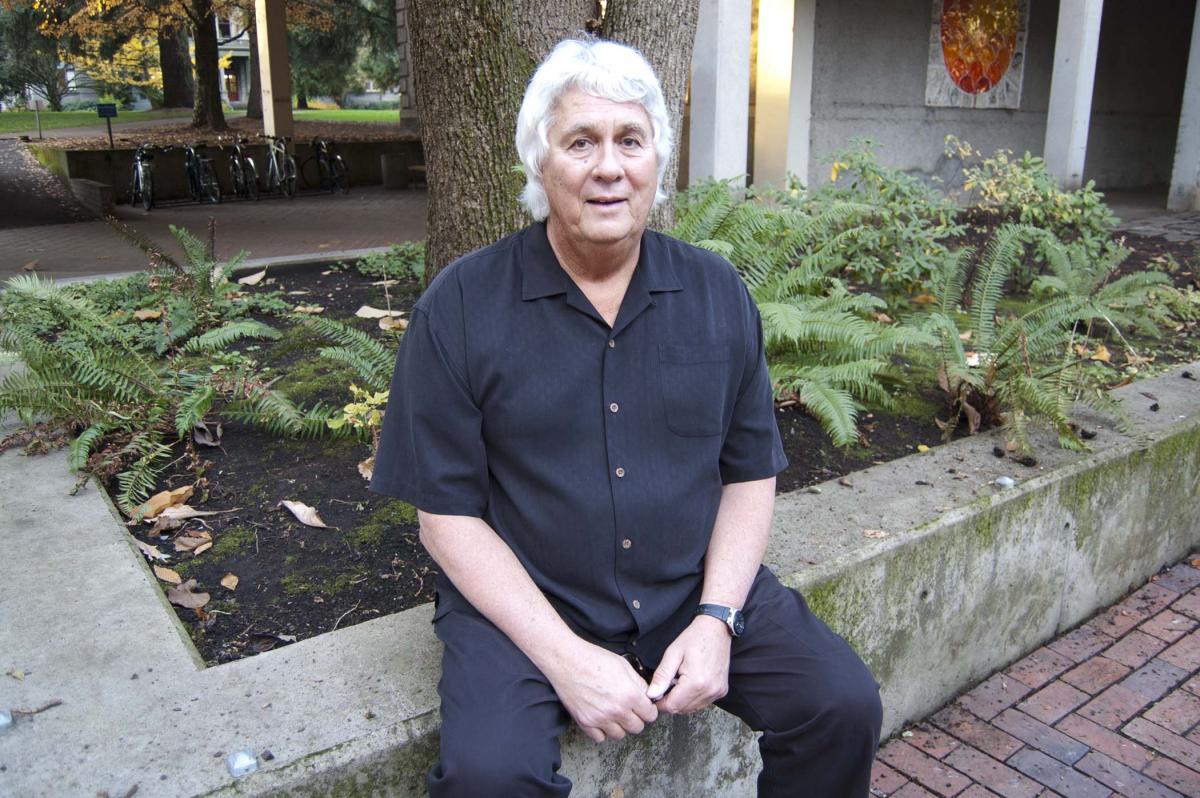 Jones spent the rest of his career paying back his community and advancing the field of native architecture. When he began practicing in the 1970s, nobody was thinking about how to take traditional native architecture and interpret it for the 20th century. He learned how to listen to tribes, understand their cultural backgrounds, and design modern buildings that respect their traditions and practices.
This culturally sensitive design process translated well into the education and environmental sectors, as well. Prior to the 1970s, zoos were full of caged animals that were often disconnected from their habitat and often separated from their family. Jones' firm revolutionized the design of zoos in the 1970s and 1980s by understanding and respecting the needs of animals, their communities, and their habitats. His firm also has cornered the market on environmental education centers that respect nature and help humans interpret and appreciate their surroundings.
In 2011, Jones had the opportunity to rectify the gap he saw in architectural education when he was selected as a Pietro Belluschi distinguished visiting professor at the UO. He used his seminar course, studio course, and two lectures to share his culturally sensitive approach to architecture with architecture students and faculty. "I'm teaching them that this is something they can apply to all projects. When they do work with native people, it is essential."
Originally published in 2012, this story is part of the 100 Stories collection, compiled to celebrate our 2014 centennial and recognize the achievements and contributions of our alumni worldwide. View the entire 100 Stories archive on the College of Design website.