bachelor of architecture '67
Bruton's design excellence comes from vision, details
ZGF Architects Design Partner Larry Bruton, FAIA, has nothing if not a diverse professional background. For four decades, he has been involved with commercial, residential, institutional, and industrial buildings, as well as providing oversight for the administration of technical design and quality control. His focus is rooted in the understanding that design excellence stems as much from the care with which buildings are detailed and crafted as the vision that inspired them.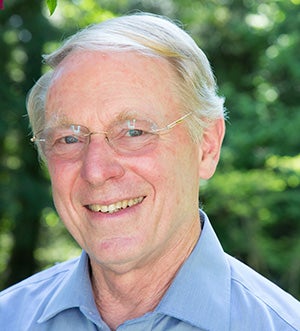 As principal and partner of the ZGF, Bruton had his hand in building a successful company. He joined ZGF in 1971 and was made partner in 1987 as ZGF grew to one of the largest and most widely regarded firms in the nation. As the firm expanded from Portland to Seattle, then to Los Angeles, and Washington, D.C., Bruton was involved in major projects for clients including the Fred Hutchinson Cancer Research Center in Seattle and the Mark O. Hatfield Clinical Research Center at the National Institutes of Health in Bethesda, Maryland.
His Oregon portfolio includes projects ranging from Crown Center's "Link" pedestrian bridge in Kansas City to the Oregon Convention Center Headquarters Hotel in Portland. He has also worked on various projects for the Port of Portland, multiple buildings at Reed College, and the Twelve | West Mixed-Use Building in Portland.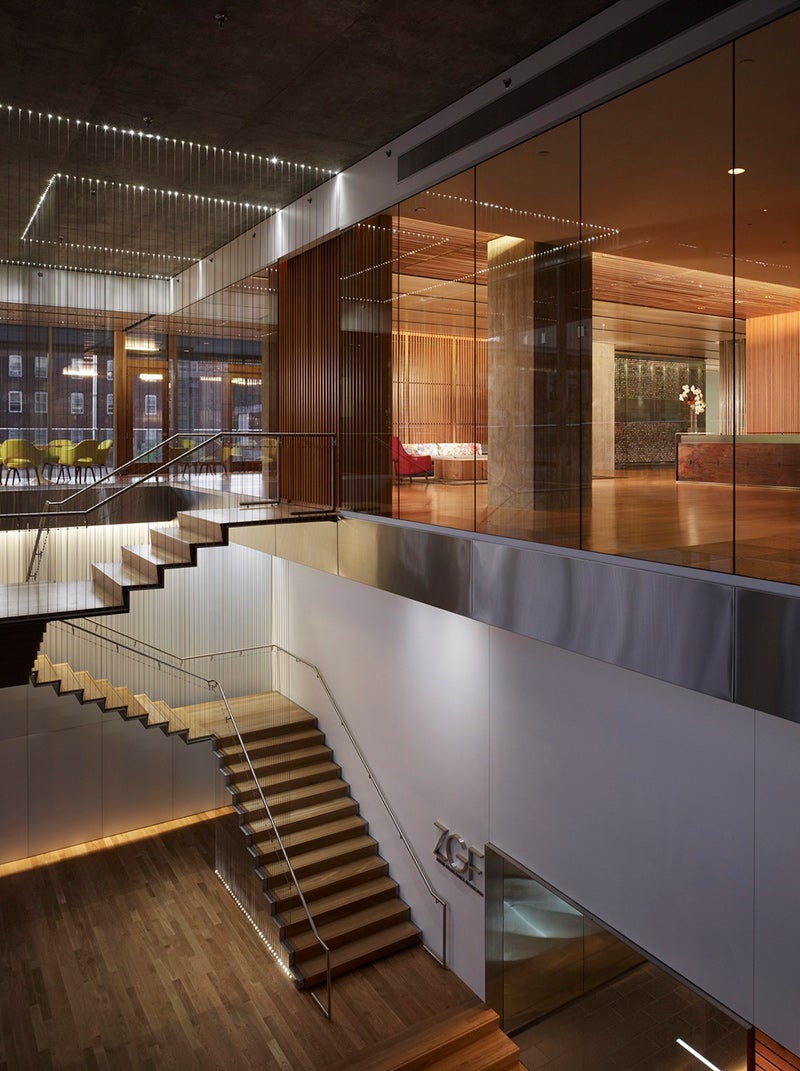 Above: Twelve West mixed-use building, ZGF Architects headquarters interior, Portland, Oregon. Image courtesy of ZGF Architects LLP © Nick Merrick, Hedrich Blessing.
He served on numerous design award juries around the country, and on a variety of boards and steering committees at the University of Oregon, most notably the Boad of Visitors and the UO Foundation Board of Trustees. He has continuously coupled his professional activities with teaching, serving as an adjunct professor of architecture at UO, where he received a bachelor of architecture in 1967. He also holds a master of architecture from the University of California, Berkeley.
When asked to reflect on his UO education, Bruton talks about the transformation of new faculty members and ideas and how that fueled his passion to study architecture.
"Midway through my professional education at UO, there was a significant change in the faculty that involved an infusion of several new, dynamic, bright, and challenging people into the longstanding tradition of the program. I cannot help but believe that the contributions of these people greatly enriched my education, broadened my horizon, and ultimately helped me find much greater professional success and personal satisfaction with my career in architecture," he says. "It was like the barn doors opened up and I wanted to see the world.
Seeing the world for Bruton included becoming lead architect on projects including airport renovations, a specialization that helped him early in his career. These included the master plan for the Ronald Reagan National Airport in Washington, D.C., and design for expansion of the Philadelphia Airport. He was able to turn this work, along with good networking skills, into a position working on the new international airport in Stockholm. It was the Portland airport expansion and the new position at ZGF Architects that convinced the Brutons to make Portland their home in 1971. 
The initial partners of the firm, Norm Zimmer, Brooks Gunsul, and Bob Frasca, helped found the modern firm that became Bruton's home for so many years.
"We have focused on the 'three legs of the stool,' with business, design, and technical as the structure," says Bruton. "We steered away from the studio structure that some other firms practice, and, instead, worked to develop a team of the most diverse group of people. We had to be able to compose for each project an outstanding team. ZGF has always been a very collaborative firm."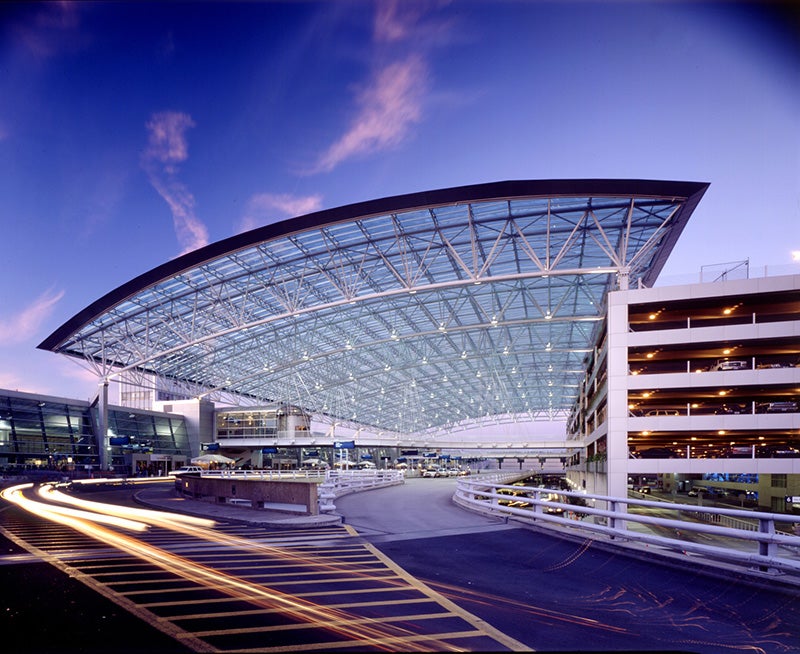 Above: Portland International Airport terminal expansion project, Portland, Oregon. Image courtesy of ZGF Architects LLP © Eckert & Eckert.
His contribution to the firm is evidenced by a body of work that was instrumental in the firm receiving the top award given by the American Institute of Architects—the AIA Firm Award, in 1991.
Bruton retired from ZGF in November 2012. 
In 2013, Bruton and his wife, Janice Bruton, made a commitment to UO that will make a difference for the School of Architecture and Allied Arts for years to come. The couple made a $5 million deferred gift commitment to aid faculty recruitment and retention, keeping the future leaders of architecture, design, planning, policy, and the arts at the UO.
This legacy donation is a testament to their commitment to Oregon, to higher education, and to the faculty and students in A&AA.

Above: U.S. Environmental Protection Agency, Region 8 headquarters, Denver, Colorado, atrium detail. Image courtesy of ZGF Architects LLP © Robert Canfield.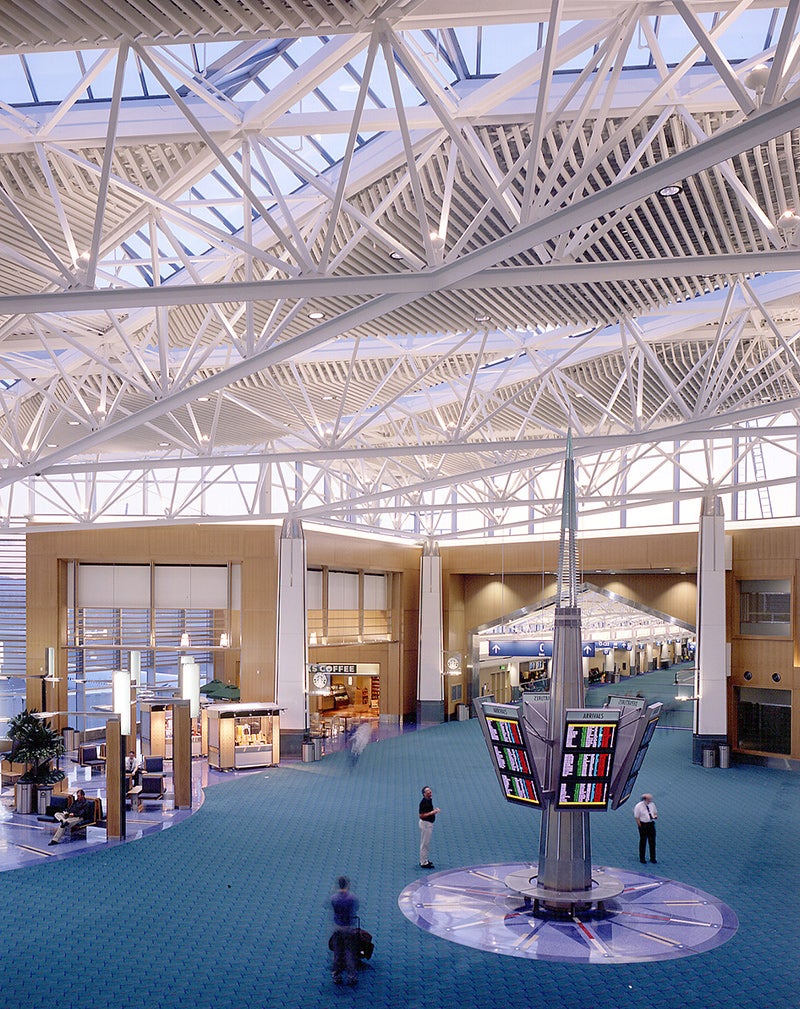 Above: Portland International Airport terminal expansion project. Images courtesy of ZGF Architects LLP © Eckert & Eckert.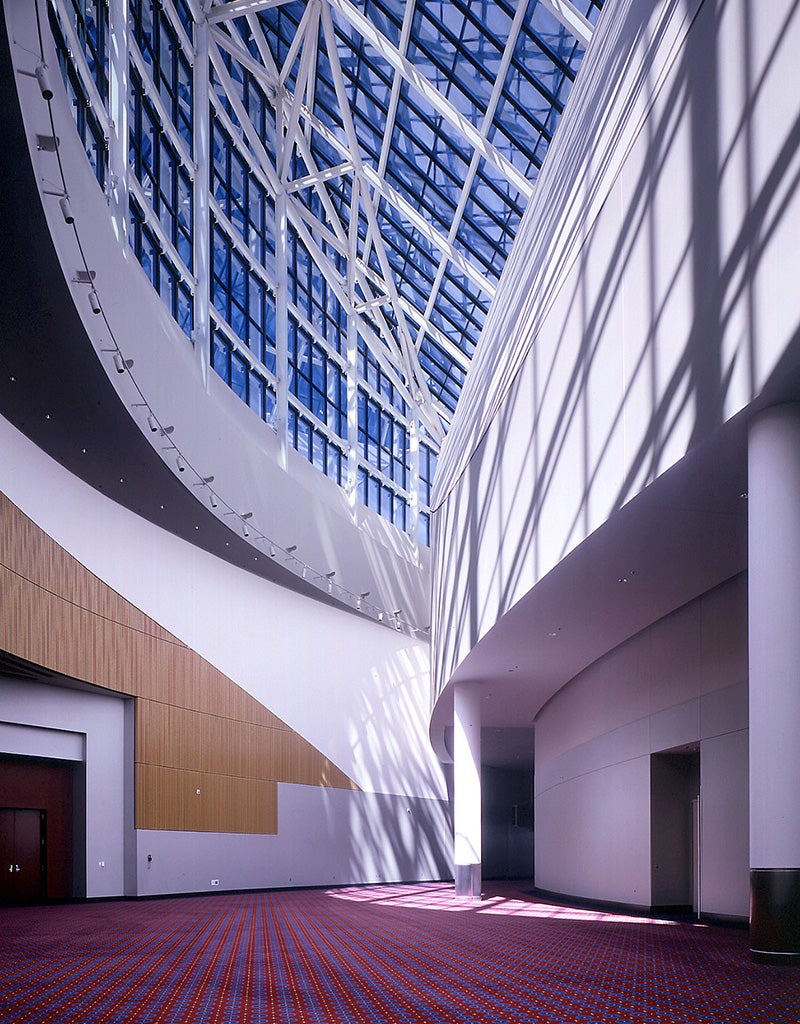 Above: Oregon Convention Center expansion interior view, Portland, Oregon.
This story was published as part of the 100 Stories collection, compiled to celebrate our 2014 centennial and recognize the achievements and contributions of our alumni worldwide. View the entire 100 Stories archive on the College of Design website.