master of architecture '08
International education, work inspire start-up firm's founder
The long nights and marathon days spent in the Lawrence Hall studios are all too familiar to many architecture students, although one graduate of the master in architecture program took his devotion to a new level.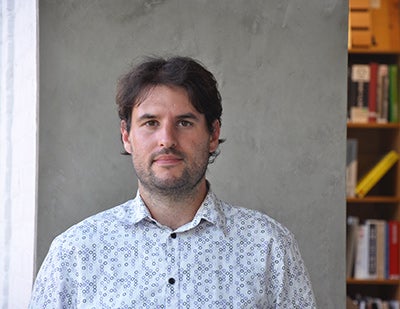 Since Lucas Gray graduated in 2008, he has designed buildings in Germany, China, Thailand, and the U.S, and now manages Propel Studio, his own start-up firm, in Portland. He recalls spending time in studios from A&AA professors Howard Davis, Jim Givens, and Brook Muller.
"I was there probably 99 percent of every day," says Gray. "I love the studio environment. I love being surrounded by other people and exploring different ideas, talking with professors and sharing the different problems you're facing."
Gray worked on his thesis project and would be in the studio into the early hours during the final two weeks of the program. It would take another twenty minutes to bike home to the Whiteaker district where he slept in a basement room. So he devised an alternative plan: he pitched a tent on the fourth floor balcony outside Lawrence Hall and spent the nights there. In the mornings, he showered in the Student Recreation Center.
"I was there until four in the morning anyway, so I figured I might as well curl up there rather than commute back to my apartment," he says. "It was great. Just being able to look up and see the mountains was really nice, rather than waking up and being in the dark basement. I was working so much anyway that just dealing with the commute back and forth, even if it was only an hour, saving that time allowed me to get work done."
He spent his undergraduate career at McGill University in Montreal, Canada, where he graduated with a bachelor's degree in architecture. It was the middle of winter and it was cold, he says, and he wanted to go on an adventure. Gray moved to Bangkok, Thailand, for a year and worked with an international construction engineering company. He then moved to Shanghai, where he lived for another two years working at a boutique design firm.
Living in Asia steered Gray to focus on sustainable design, so he looked for a master's program that would fit his interests.
"[UO] has obviously a great reputation when it comes to sustainable architecture theory and design," he says. "That's what drew me to apply there."
While his undergraduate studies were very design-focused with responses to modernism in architecture, Gray found UO's curriculum to be more conceptual about what it means for design to be sustainable or to use spaces that improve the natural environment.
"[Gray] had a really strong critical and intellectual perspective and a set of theoretical interests, and yet very much connected with the ethos of the school," says Brook Muller, one of Gray's former professors at UO. "He was very interested in social equity issues and environmental justice issues. He was a fairly ambitious intellect but connected to real problems and real issues that he was interested in."
Gray took a sustainable architecture seminar under Muller, who influenced his decision to apply to the prestigious Glen Murcutt International Architecture Master Class. Only 30 people from around the world are invited to participate in the two-week program in Australia led by Australian architects.
Muller, an alumnus of the program himself, helped Gray with his application.
"[The program's teachers] were very interested in sustainability, so Lucas was an obvious match, given their work and his interests," Muller says.
The program's first week takes place in Riverdale, Queensland, and focuses on research and analysis. The second week expounds on the research as teams develop their designs at the University of Australia in Sydney, the capital of New South Wales.
Students are tasked with creating a sustainable, low-impact design that could house around thirty people. Gray's team, composed of architects from New Zealand, Malaysia, Norway, and Poland, identified the areas of the site damaged by human activities, and sited their buildings to mitigate further damage and address environmental issues.
Following the Glen Murcutt program, Gray's world travels continued as he backpacked from Japan to Berlin over land, and by sea, by way of Russia, the Baltic Sea, Finland, Estonia, Latvia, and other countries.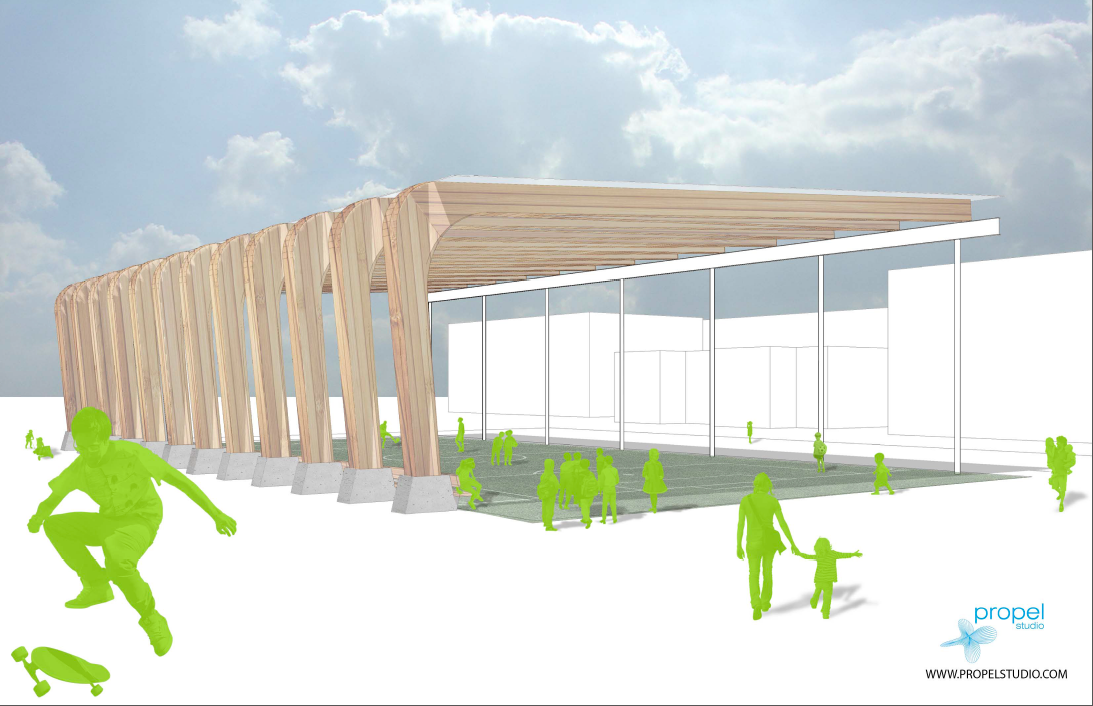 Above: Propel Studio's design work for Vernon Elementary School in northeast Portland. For the school, Propel designed an outdoor classroom, community garden expansion, and a pavilion to cover their basketball courts and would-be futsal court. With a concept developed and $12,000 secured for funding, the next goal is to submit the project as a design-build studio course to get UO architecture students involved.
The UO Betty Peting Traveling Fellowship and the Fletcher Farr Ayote Scholarships both endorsed Gray's travels to Australia for the Glenn Murcutt program and his subsequent trip around the world to explore vernacular architecture.
He worked for small boutique design firms in Berlin for two years before he was drawn back to Portland. Muller again helped Gray get a job with Opsis Architecture, whose three partners are all A&AA alumni.
Gray worked for Opsis for three years before he decided to pursue personal creative work rather than work for a large firm. Straub Hall, a building on the UO campus located south of the Erb Memorial Union, was his final project for a collaboration with Opsis.
Gray now works as co-founder of Propel Studio with Nick Mira, whom he met through connections he made while playing Ultimate Frisbee in China.
"[Nick] had the idea that he was starting the firm with a strong philosophical focus on sustainable building along with a collaborative design process," Gray says. "A lot of [our] ideas aligned. We had different skill sets that really complement each other, so we thought it would be a good partnership to make."
As a start-up, Gray says, Propel is still building a portfolio of work to be showcased. Propel's website lists environment, economics, and people as its core sources of inspiration. Gray says "public work" is a major focus for the firm and that balancing environmental sustainability with social sustainability is key.
No projects have been completed yet, although the firm has many projects in development, including an accessory dwelling unit currently under construction, a street eat for Bonfire Lounge, an art installation for Lents Town center, and some pro-bono work for Vernon Elementary School in northeast Portland.
The firm designed for the elementary school an outdoor classroom, community garden expansion, and a pavilion to cover their basketball courts and would-be futsal court. With a concept developed and $12,000 secured for funding, the next goal is to submit the project as a design-build studio course to get UO architecture students involved.
Propel was awarded a grant from the Portland Design Commission to do an urban installation on a vacant lot and to redevelop an under-appreciated neighborhood.
"It's about building them back up and giving them an identifiable place for the community to gather," says Gray, "activating an underused space in our community to help make our city a better place to live."
In southeast Portland, the firm is doing a "Street Seat," in which two or three parking spots are being replaced with built-in lounge and tables, so the bar can expand into the street.
"I'm proud of the accomplishments Propel's made in such a short time," says Gray. "I think it's the most fun I've had practicing architecture. I'm really proud of the diversity of experience I've had in my career and feel they lay a great foundation on which Propel will grow and succeed. It is incredibly satisfying to see the fruits of our labor start to show as our early projects are becoming a reality."
Gray's education in sustainable design from A&AA still influences his practice today. The times spent sleeping in a tent outside Lawrence Hall remain some of the most valuable education he's received.
"One thing that I learned from being at UO both from students and faculty was that sustainability is really more of a holistic concept," he says. "It's not just about what happens in your building, it's about energy consumption and production and water filtration and all these larger systems that are bigger than one place. It definitely helps the way we [Propel Studio] approach design to our practice."
You can find out more about Lucas Gray and his firm Propel Studio on their website and on Facebook.
This story was published as part of the 100 Stories collection, compiled to celebrate our 2014 centennial and recognize the achievements and contributions of our alumni worldwide. View the entire 100 Stories archive on the College of Design website.