bachelor of architecture '95
California preservation awards recognizes alumna's hard work
Everyone is aware of the late nights endured by architecture students at the University of Oregon. Lyn Travis Hooper, B.Arch.'95, even recalls hearing that Lawrence Hall was listed somewhere as a free overnight stay in Eugene. But Hooper also knows of the amazing results that come from those long nights and hard work.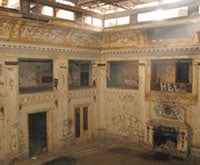 Above: Antlers Hotel Lobby: Present Condition.
As a licensed architect for McCandless and Associates Architects, Inc. in Woodland, California, Hooper focuses on historic building rehabilitation. She works on buildings that have sheltered legends ranging from gold miner John Sutter to President Richard Nixon. While her role is mainly to care for the legal material and research, old, "really dangerous but really cool" buildings such as dilapidated hotels are preserved and renewed, thanks to Hooper and her associates.
Hooper and her team have earned two prestigious awards. Hooper, her consultants and the building owner won a 2008 Preservation Design Award from the California Preservation Foundation for their work on the Antlers Hotel in Lemoore, California. In addition, Hooper and her team won a 2008 Governor's Historic Preservation Award from the California Office of Historic Preservation, based on the Hotel Fresno Rehabilitation Feasibility Study conducted for the city of Fresno. Both jobs helped to revive activity in the surrounding areas and helped to preserve a piece of local history.
Hooper took a winding road to reach this point in her life. In fact, Hooper did not start at the University of Oregon. She began her education at a junior college in Davis, California, pursuing law. Hooper quickly found that law was not her passion. Not until a family trip to the South did Hooper discover her true love: historic rehabilitation.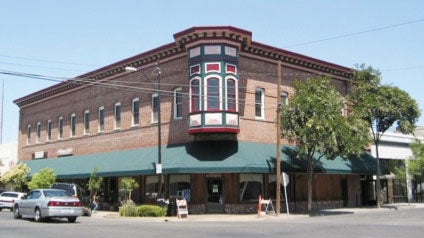 Above: Antlers Hotel.
While touring the South, Hooper picked up a book on old homes of the area. Hooper became frustrated when she discovered that many of the classic Civil War-era homes she adored had been or were in line to be demolished. Hooper did something about her concern for those old homes. She researched architecture programs and found a perfect fit at the UO.
While rigorous, the program gave Hooper a path. Two professors, Jenny Young and Peter Keyes, had a lasting effect on Hooper's career because of their constructive criticism. According to Hooper, Young took the time to appreciate how Hooper could "implement ideas from the past and make them new." Hooper never forgot Associate Professor Peter Keyes's frank but effective praise and his positive responses to her work.
Now, Hooper, in true Oregonian fashion, is pushing for "green." She would like to help historic building rehabilitation be seen by sustainability groups as a form of recycling; oftentimes, these groups argue that old buildings should not be used because of their energy inefficiency. However, Hooper will bridge the gap. After all, her job is to change the way people regard abandoned ideas.
–Jennifer Kane
Q&A with Lyn Travis Hooper
Q:  What were your areas of study at UO?
A: Architecture with minors in Architecture History and English Literature
Q: What class years were you at UO?
A: 1990-1995
Q: Did you have an on-campus residence?
A: I lived  off campus all five years.
Q: Were you involved in student activities/clubs?
A: Intramural softball and I coached Kidsports girls softball in the Eugene community for three years
Q: What would you say were issues on campus at the time?
A:  Desert Storm — The war broke out during my first year at UO and people were concerned about our troops in the Gulf. OJ Simpson shocked the world and DNA became a household acronym. Then the incident at Waco which lead to the Oklahoma City bombing. I was preparing for my last midterm review in my  terminal (final) studio for my bachelor of architecture the morning of the Oklahoma City bombing and, despite the tremendous amount of drawing I still had left to do for that afternoon's pin-up, I couldn't take my eyes off the television. And, of course the Ducks in the Rose Bowl!!! I stood in line at the Casanova Center from shortly after the Civil War win on Saturday night until Monday morning when the student tickets went on sale. My friends and I were among the first seven people in line that braved the freezing temperatures and the overflowing port-o-pots to secure our seat at the first UO Rose Bowl in more than half a century. I'll be there again when we make it back.
This story was published as part of the 100 Stories collection, compiled to celebrate our 2014 centennial and recognize the achievements and contributions of our alumni worldwide. View the entire 100 Stories archive on the College of Design website.