Lawrence Medal '02,
bachelor of interior architecture '60
Remarkable career leads from Great Plains to global design work
Recognized as a leader in interior design, real estate, and management, Margo Grant Walsh shaped a profession, a design firm, and the lives of countless aspiring designers and students in more than forty years of professional achievement. She was selected by School of Architecture and Allied Arts faculty to receive its highest honor, the Ellis F. Lawrence Medal, in 2002.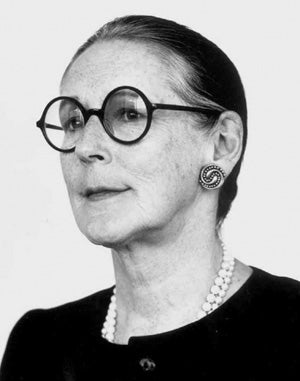 Born on the Blackfoot Indian Reservation in Fort Peck, Montana, Walsh earned a bachelor of science in 1959 and a BIArch in 1960 from UO as well as Phi Beta Kappa and summa cum laude honors.
Walsh's career is a remarkable journey from the Great Plains to the Northwest to cities around the world. Along the way, she has had an impact on the interior design of corporate headquarters, financial institutions, and law offices as well as an integral part in the development of one of the world's largest architectural firms. She served as vice chairman and managing principal of the New York office of Gensler, joining the firm as Director of Interior Design in 1973. She founded the firm's offices in New York, London, Boston, and Washington, D.C., with her initial staff of two growing into a force of 143 designers in New York and Washington.
Her participatory and supervisory work on top corporate installations include major spaces for: Mobil Oil Corp., Goldman Sachs & Co., Newsweek, Cadwalader Wickersham & Taft (featured in the May 1987 issue of Interior Design), Davis Polk & Wardwell, Morgan Bank headquarters, and others.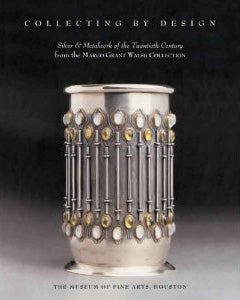 Above: In 2008, Walsh produced a book documenting her collection of silver pieces, "Collecting by Design: Silver and Metalwork of the Twentieth Century from the Margo Grant Walsh Collection."
A business colleague said in Interior Design about Margo Grant's stewardship: "By sheer force of her personality and talents, she has established Gensler as a leading design firm in this city . . . she is a formidable saleswoman whose staff, without exception, credits her with providing the best learning experience because she takes such great interest in her work."
Walsh's early career began in San Francisco with Skidmore, Owings, & Merrill. Large projects took her to Hawaii for the Mauna Kea Beach Hotel and to Australia for the Wentworth Hotel in Sydney. She was put in charge of the interior design of Bank of America world headquarters in San Francisco, a large and significant project in her early career.
Gensler offered her an opportunity to work on Pennzoil Place in Houston, Texas. With the booming oil business, designing corporate headquarters for the oil industry led the Gensler/Houston team across the south and beyond. In 1979, the New York office of Gensler opened. As a manager as well as designer, Walsh sums up her preparation for this dual role by noting that "my career experience from early on proved that management and client skills are every bit as important as design talent."
At UO she studied under the founder of A&AA's interior architecture program, Professor Brownell Frasier, a keen influence and mentor. The Brownell Frasier Memorial Scholarship Fund was established by Walsh to provide financial support for interior design students.
In October 2001, the School of Architecture and Allied Arts was proud to announce the establishment of the Margo Grant Walsh Professorship in Interior Architecture. This distinguished professorship supports a prominent visiting designer, architect, or educator to teach, lecture, and mentor future generations of design students.
"My professional history has been an odyssey of long hours, hard work, remarkable opportunities, wonderful friends, and many good times! It has meant many cities, projects, airplanes, and challenges," she said. In 2008, Walsh produced a book documenting her unparalleled collection of silver pieces. "Collecting by Design: Silver and Metalwork of the Twentieth Century from the Margo Grant Walsh Collection," published by the Museum of Fine Arts, Houston, is available at amazon.com.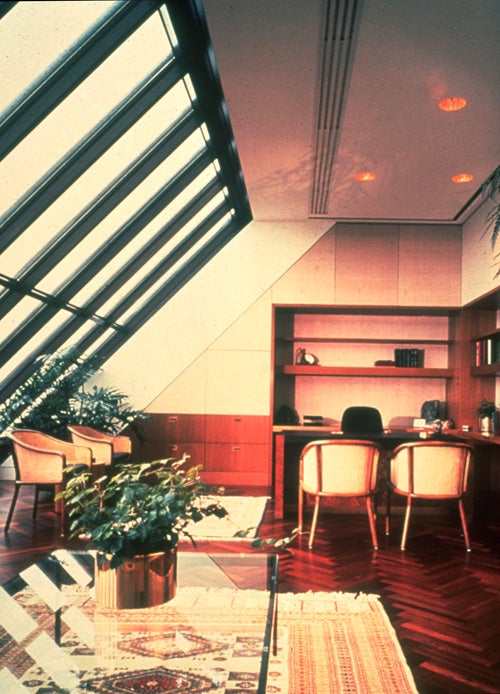 Above: Margo Grant Walsh was responsible for the interior design of Gensler's first major commission, Pennzoil Place, in Houston, Texas, in 1976. Photograph by Philip Johnson.
This story was published as part of the 100 Stories collection, compiled to celebrate our 2014 centennial and recognize the achievements and contributions of our alumni worldwide. View the entire 100 Stories archive on the College of Design website.