bachelor of architecture '55
A mentor for youth, a role model for architects
Determination, communication, respect, and encouragement are the cornerstones of the life and work of Seattle architect Mel Streeter, AIA (BArch '55).

Since establishing his own firm in 1967, Streeter has accomplished a 45-year portfolio of major civic, athletic, and industrial design projects with clients including the Federal Aviation Administration and the U.S. Navy. His civic buildings include a 50,000 square foot city hall in Auburn, Washington, with offices, public meeting rooms, police and fire central operations, and court facilities. Streeter says the responsibility to "design with nature in mind" was the most influential design value instilled in him at UO. His firm has developed expertise with industrial buildings such as waste water treatment plants that protect the environmental health of citizens and satisfy community concerns about aesthetics through thoughtful design.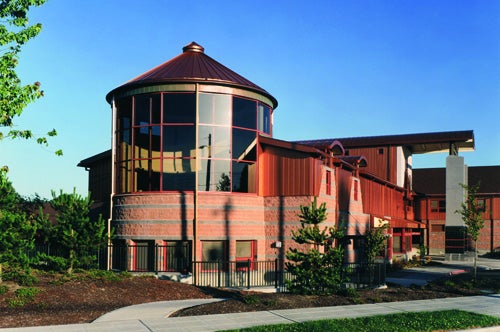 Recently Streeter & Associates Architects designed facilities for the Seattle School District's new African American Academy which provides an African-centered education to 650 multicultural students in kindergarten through eighth grade. He focused on material and form to generate a uniquely Afrocentric cultural building.
Streeter is regarded as a leader for his work on initiatives within the American Institute of Architects to increase diversity in the profession. Remembering the mechanical drafting and algebra teachers in junior high who helped him chart a path into architecture, he is a committed mentor to youth in his Seattle community.
"It's about encouragement," Streeter reflects at age 75. "I think of who gave me encouragement, how timely it was to me and my path. I believe such actions make the most difference." He recalls the support of UO professors Ray Hawk, Bob Ferens, Wally Hayden, Victoria Avakian, and Fred Hannaford; classmates De Unthank and Bob Small; and first client, Peter DiPaolo.
A talented basketball player, he had turned down invitations to USC and UCLA because of his interest in the architecture program at UO. He was a student-athlete for UO from 1950 to 1952. "It wasn't easy to study architecture and be on the basketball team since we traveled so much. The professors would ask me, 'Are you a basketball player or a student of architecture?' Once they saw that I could draw, that was not an issue," Streeter recollected.

In 2004 Streeter was honored by the Seattle chapter of AIA with the community service award in recognition of his work mentoring youth, architecture students, and emerging professionals from minority and disadvantaged backgrounds. A founding member of the AIA Seattle Diversity Roundtable and co-chair of the chapter's Architects in Education program, Streeter has led his colleagues to engage youth with the profession through his idealism and enthusiasm.
"Lack of diversity has been a big deal at the AIA in recent years," comments Gordon Chong, A&AA Board of Visitors member and former president of the AIA. Of its architect members, approximately 2% are Hispanic/Latino, 3% are Asian, and 1% are African American. Women represent approximately 12%. AIA studies have shown that the most successful approach to increasing diversity is exposing minority youth to the profession as Streeter has done throughout his career.
This story was published as part of the 100 Stories collection, compiled to celebrate our 2014 centennial and recognize the achievements and contributions of our alumni worldwide. View the entire 100 Stories archive on the College of Design website.