bachelors of architecture, '94
Adaptive reuse focus keeps winning awards for Emerick Architects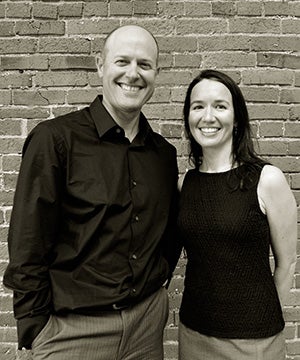 Above: Brian and Melody Emrick met as undergraduate students at UO and went on to develop an award-winning firm with a focus on adaptive reuse. All photos courtesy Emerick Architects.
For Brian Emerick and Melody Burghard Emerick, everything began at the University of Oregon School of Architecture and Allied Arts. They met at UO just before classes began in fall 1989, learning in the first week that they had attended the same high school in Hillsboro, loved art, and had their sights on becoming architects. From that first week on they were inseparable.
They became newlyweds in summer 1992, and graduated from the five-year BArch program in spring 1994. Their lives together and their love for architecture kicked off a whirlwind of life events: internships in Portland, licensure by 1998, and opening the doors to their own firm, Emerick Architects, in December 1999. Sandwiched in between were daughters born in 1997 and 1999. As creative sounding boards for each other for more than two decades, Brian and Melody live, work, and dream together much like they did while architecture students at UO.
Brian and Melody have shaped Emerick Architects into an award-winning firm known for great design. Having worked at firms that commissioned projects all over the nation, Melody and Brian purposefully wanted to take on projects and change the built environment in their own town of Portland, Oregon. Their firm is small, but its footprint is huge; their team has worked in every neighborhood in Portland.
At the heart of their firm is adaptive reuse. To them this is the best first step in environmental design. Whether bringing back to life an abandoned warehouse or adding space to an old house in an existing neighborhood, Brian and Melody are historical experts with a fresh twist.
Back when their company was formed, adaptive reuse of historic buildings was a fringe idea in architecture. From the outset, Emerick Architects took on old buildings and gave them new life. Rather than tearing a building down, Brian and Melody were motivated by their belief in the social, environmental, financial, and aesthetic value of existing places. When done right, they believe, the restored building can tell a more compelling story as an authentic, finished project with both a history and a future.
Their firm was chosen as the Main Street architect for Portland, guiding the program though its pilot years in concert with the National Trust for Preservation and the Portland Development Commission. Emerick Architects authored the Portland Main Street Design Handbook, available on PDC's website.
UO's architecture program stressed community involvement, collaboration, and leadership in design. Melody and Brian have taken this belief and realized it in many different forms. Emerick Architects' work ranges from being entrusted to restore the oldest building in Portland to creating one of the first LEED-certified, stand-alone residences in the nation to meet Gold status.
Brian and Melody have also both earned key positions of leadership. As a member and now chair of Portland's Historic Landmark's Commission, for seven years Brian has donated hundreds of hours to this important cause. Melody was named a 2014 Daily Journal of Commerce Woman of Vision. Professional associations and city leaders have turned to Brian and Melody as speakers and consultants. For instance, Melody made a presentation to the American Institute of Architects at their Portland Center on what it's like to balance family with being a woman and business leader in today's profession.
Brian brought his historical yet modern wisdom to the City of Beaverton as an expert speaker for the Beaverton Downtown Association. He promoted information about storefronts, signage, and lighting as Main Streets across the country continue to be revitalized. Brian has worked around the region as a consultant applying his "Main Street Architect" knowledge to help the Portland suburb of Hillsboro. He also shared his experiences reimagining old buildings through a lecture series with Metro with a theme of improving front door experience for better business. Emerick Architects was also named the 2014 Portland Business Journal's Best Place to Work—Small Business—Innovation category.
The Emericks' commercial building projects garner national and regional brand clients. They are collaborating with customers such as Apple, Trader Joe's, and Ann Sacks as well as local gems such as Grand Central Baking Headquarters, Andina Restaurants, Bremik, and Bike Gallery.
In addition, several of the firm's dramatic home renovation projects have received national attention such as a 2014 Best Kitchen Space, Professional Category on Remodelista. Emerick Architects earned the prestigious "Best of Houzz" 2013 and 2014 design award. The firm's Division Street project earned two awards at the 2013 IIDA gala—one for Best Residential and one for the People's Choice Award.
The firm's designs make them a tour favorite, the 2014 Architectural Heritage Center's Kitchen Revival Tour and the 2014 AIA Portland Homes Tour to name just two. Magazines close to home and those with national readership have featured Brian and Melody's projects on their covers and in detailed articles.
Brian and Melody are grateful for the education they received at the University of Oregon. They are grateful for the fellow students they worked side by side with in studio. Just like in school, these peers continue to be their inspiration. They are grateful for the professors who stressed collaboration, innovation, and hard work. At the base of Emerick Architects is a love of design. The love of design Brian and Melody discovered at A&AA and the skills taught there that help them continue to grow and thrive in the profession of architecture.

Above: Participating in the U.S. Green Building Council pilot program, this home is the first LEED certified stand-alone residence in Portland and among the first in the nation to meet Gold status. It is located on a one-acre parcel 750 feet above the west bank of the Willamette River just minutes from downtown Portland, Oregon. The property is embedded in 300 acres of Terwilliger Parkway, a Pacific Northwest rainforest preserved by the Olmsted Brothers' "City Beautiful" vision in the early 20th Century.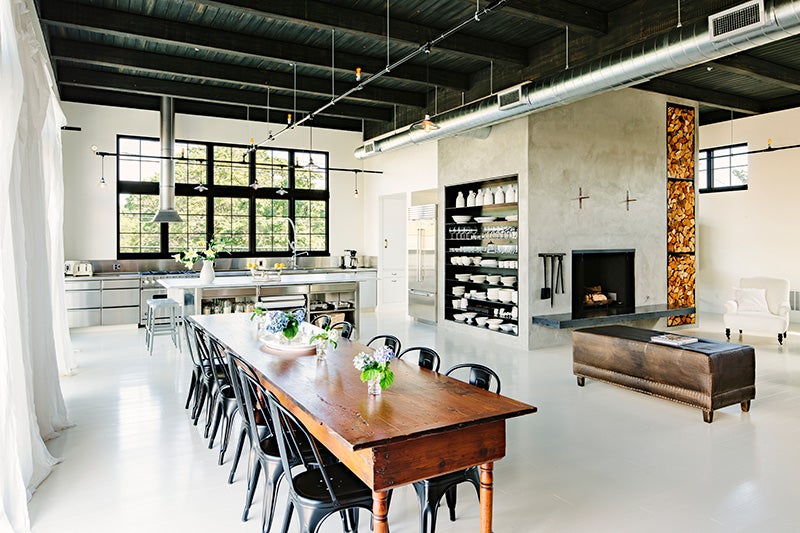 Above: The firm's Division Street project earned two awards at the 2013 IIDA gala—one for Best Residential and one for the People's Choice Award. With an open plan and exposed structure, every interior element of the project had to be beautiful and functional. The massive concrete fireplace defines four areas. On one side is a wood-burning fireplace with firewood as its artwork. On another side is additional dish storage carved out of the concrete for the kitchen and dining area. The last two sides pinch down to create a more intimate library space at the back of the fireplace.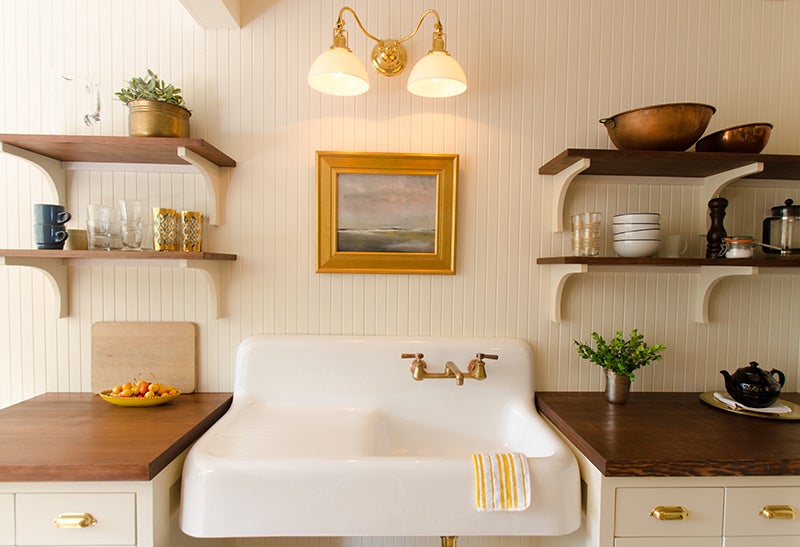 Above: This cabin kitchen needed to be efficient but not overwhelming—as well as sunny, welcoming, and easy to organize. The raw brass/copper faucet and vintage stove and refrigerator add an authentic touch.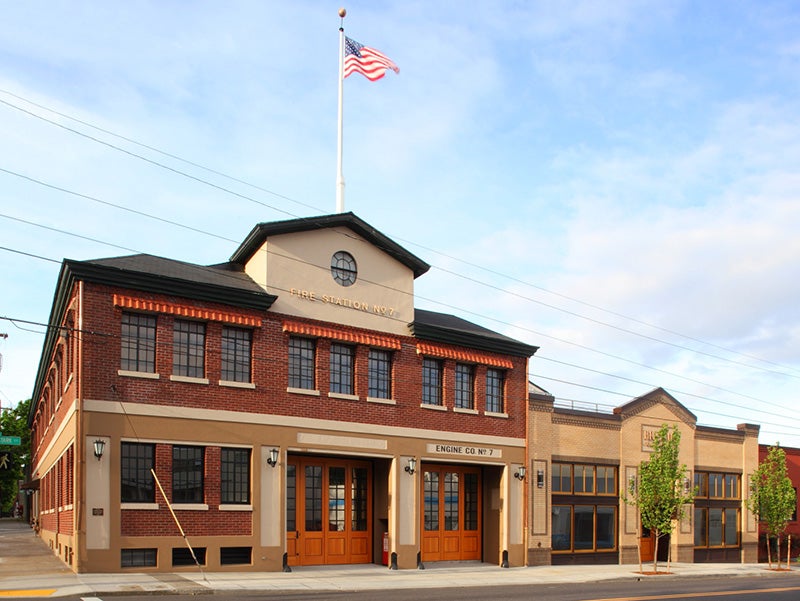 Above: Fire Station No. 7 in Portland was the 2014 DeMuro Award Winner. The award honors extraordinary historic rehabilitation projects and compatible infill development across Oregon, whether residential or commercial, urban or rural, private or public.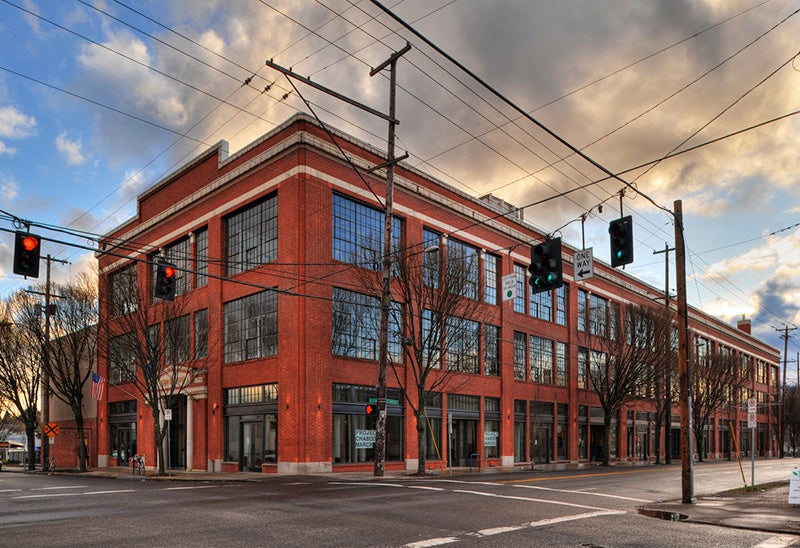 Above: This existing 1914 Ford Model-T Factory is one of a few remaining manufacturing buildings that embody Henry Ford's ground breaking "Assembly Line" concept. The Southeast Portland building helped Ford make automobiles affordable for America, leading to a nationwide transportation revolution. After a massive adaptive reuse project, the building is now a factory for creative professionals and indie retailers leading the artistic revolution of Southeast Portland.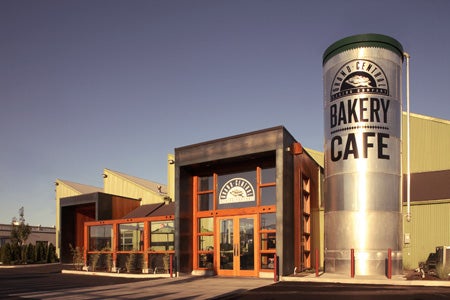 Above: Visible to 30,000 cars a day, Grand Central Bakery's flagship location is a production bakery, café, and corporate headquarters. Located adjacent to a busy highway, the facility is a welcome sight to motorists, bicyclists, and people working in this industrial part of Portland.
This story was published as part of the 100 Stories collection, compiled to celebrate our 2014 centennial and recognize the achievements and contributions of our alumni worldwide. View the entire 100 Stories archive on the College of Design website.