Bachelor of Architecture '71
Wilkes' firm known for design excellence, sustainability
During a family vacation at the age of 12, after he walked the campus, Michael Wilkes told his parents that he wanted to study architecture at the University of Oregon. Wilkes graduated from the University of Oregon in 1971 with a bachelor of architecture degree.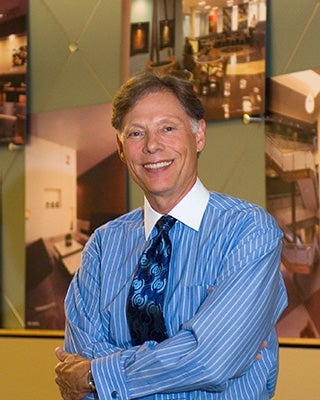 Wilkes joined Delawie, Macy, Henderson Architects in San Diego immediately after graduation. He advanced to associate in 1977 and was named a principal in 1980. The firm recognized this advancement with the addition of his name, Delawie Bretton Wilkes Associates. He practiced for forty years, retiring as a principal and CEO in 2012. During his leadership, the firm grew from thirty-five to more than seventy architects and professionals.
Wilkes served as the president of the American Institute of Architects, San Diego Chapter, as an officer of AIA California Council, and as a member of committees and task forces at the national level. Other leadership roles included serving multiple times as president of both the San Diego and California Architectural Foundations.
In 1991 he was named a Fellow in the American Institute of Architects for design excellence and in recognition for service to the institute. Approximately 100 architects receive this honor annually. Wilkes was awarded the AIA California Council Presidential Citation in 1992.
The San Diego Chapter of the AIA honored Delawie Wilkes Rodrigues with the "Outstanding Firm" award in 2006, 2007, and 2008 and nominated the firm for the AIA California Council Firm of the Year. Wilkes' firm is recognized for design excellence and sustainability, and has received more than seventy-five honors from regional, state, and national entities.
Wilkes credits the emphasis on environmental design in the Oregon studios during the late '60s for his development of sustainable solutions early in his career. He was the design principal for the first LEED Gold project in San Diego County. In the mid-1980s he served as principal designer for the First San Diego River Improvement Project. The design resulted in the restoration of 2.5 miles of degraded river, returning it to a natural state. His most recent LEED Gold projects completed in 2011 are the Tamarack Apartments at Muir College and the NOAA Southwest Fishers Science Center at the University of California in San Diego.
Wilkes focused on design of projects for universities and research clients. These included the Universities of California in San Diego and Irvine, the University of San Diego, and National University.
In 2009 he was selected to design Tamarack Hall, an eleven-story apartment project in the historic John Muir College campus at UCSD. The nationally recognized architecture was designed by two of his idols, Dale Nagle, FAIA, and Robert Mosher, FAIA. He is proud that as he concluded his career he was awarded the opportunity to design the final project in the historic campus.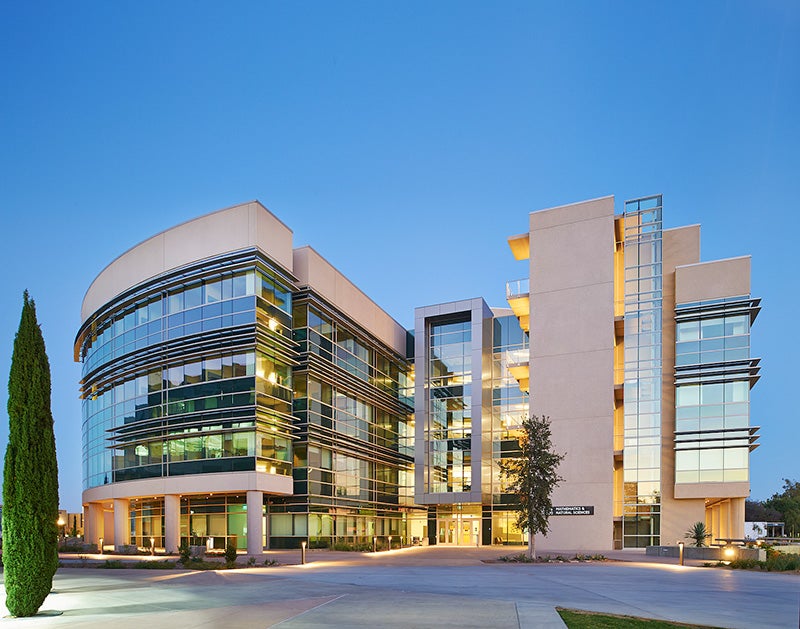 Above: One of Delawie Wilkes Rodrigues' projects was the Mesa College Math and Science Building, Mesa Community College, San Diego, California.
Wilkes codesigned the James R. Mills Building in San Diego in 1989. Formerly a piece of derelict land, it was transformed into a dynamic transit crossroads for buses and trolley lines. The firm received the Urban Land Institute Award of Excellence for Large Buildings and seventeen other awards for excellence. It created a ten-story design above the trolley line, thus realizing the potential for the transit headquarters and county offices. Wilkes adds, "We were about a decade and a half ahead of the Ballpark and Gas Lamp districts that revitalized south downtown."
Wilkes' designs include La Jolla Institute for Allergy and Immunology, the first project in the UCSD Science Research Park. Other research clients include Pfizer and the Scripps Research Institute.
For more than fifteen years, he has mentored architecture and interior architecture students at the University of Oregon. Wilkes is a frequent studio reviewer and in-studio mentor. In 2011 he served as an adjunct instructor for an undergraduate architecture studio. He also mentors UO students after graduation and advises on career development.
"Architecture students I mentor at the University of Oregon break the bonds that limit my paradigms on design, creativity, and the world," said Wilkes in an interview with La Jolla Light.
In the same interview, Wilkes' favorite quote is the Nike slogan, "Just do it." "There are many things that prevent us from achievement, but the biggest obstacle is our own inertia," he says.
In 2012 Wilkes began his second career as a fine arts photographer. His focus is the built environment; his exploration of spatial compression to create confusion and chaos in the built environment is the foundation for his collection titled "Chaos Theory." Wilkes' photographs received the Juror's Special Commendation Award in 2008, 2010, 2012, and 2014 in the AIA national photography competitions. The AIA competition is the premier fine art photography competition for architects. Rizzoli included his photography in publications on five occasions. Work by Wilkes may also be found at mbwilkesphotography.com.  In addition he hosts mightyoregon.blogspot.com. This site captures all aspects of the University of Oregon from sports to architecture.
Wilkes and his wife, Penny, are passionate ambassadors for the university. He is a trustee on the UO Foundation Board and emeritus member of the AA&A Board of Visitors. Penny is a past member of the College of Arts and Sciences Advisory Board. They sponsor scholarships for architecture, nature writing, and theater students. Both are volunteer instructors and mentors to students.
Michael and Penny reside in La Jolla, California. They live part time in Oregon and enjoy Oregon football, women's volleyball, and track and field. 

Above: In retirement from architecture practice, Wilkes has embraced fine arts photography. His "Bending Light" features the Walt Disney Concert Hall, Los Angeles, California.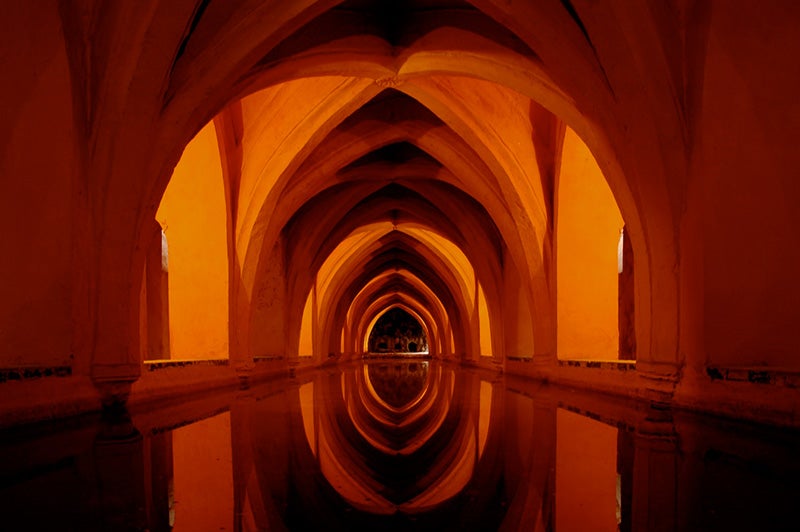 Above: Wilkes' travels in retirement have taken him to Europe, where he shot "The Moor's Reflection," The Alcazar Real, in Sevilla, Spain.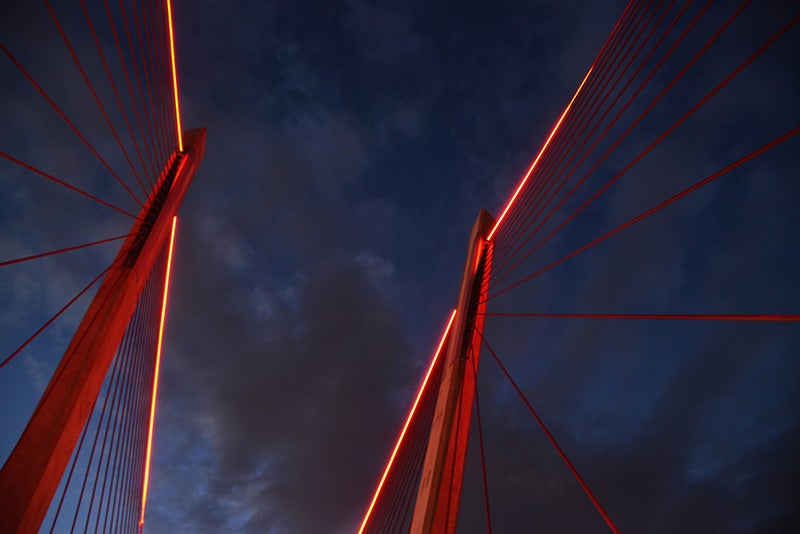 Above: "The Devil's Slingshot," Delta Highway Bridge, Eugene, Oregon, is another example of Michael Wilkes' fine art photography.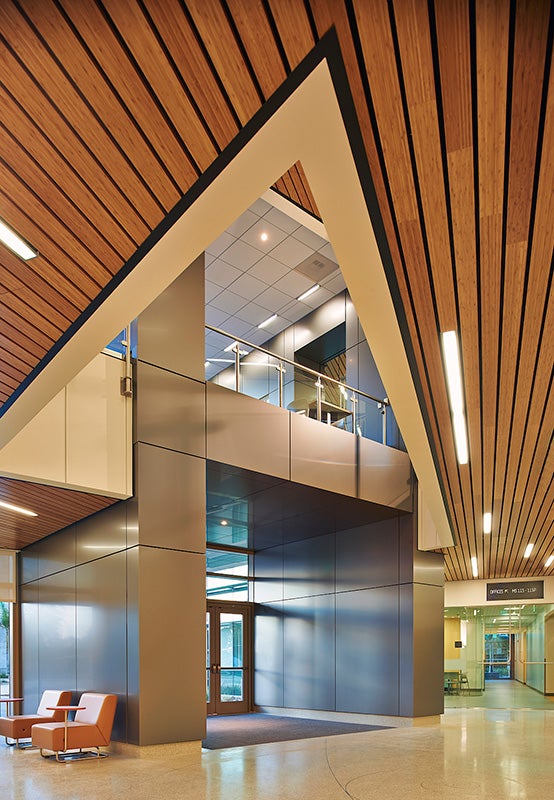 Above: Interior of the Mesa College Math and Science Building, Mesa Community College, San Diego, California.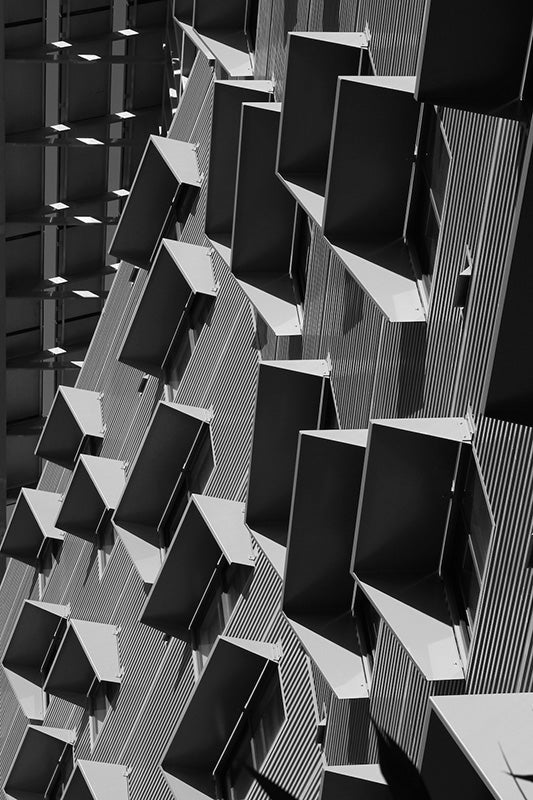 Above: "Chaos Theory V1.0," by Wilkes, won a Juror's Special Commendation in the 2014 National AIA Photography Competition, the premier fine art photography competition for architects. Wilkes' exploration of spatial compression to create confusion and chaos in the built environment is the foundation for his collection "Chaos Theory."

Above: Wilkes' "Gehry's Geometry Experiment" also garnered a Juror's Special Commendation in the 2014 National AIA Photography Competition.
This story was published as part of the 100 Stories collection, compiled to celebrate our 2014 centennial and recognize the achievements and contributions of our alumni worldwide. View the entire 100 Stories archive on the College of Design website.