bachelor of architecture '99
WeWork cofounder employs architectural design skills in global 'startup' valued at $16 billion
Tales of sanity slowly slipping away during long nights in Lawrence Hall architecture studios are all too common to Miguel McKelvey. Take, for instance, his classmate who built a shed around his desk, took off all his clothes, and stayed inside.
"I'm still friends with that guy," laughs McKelvey.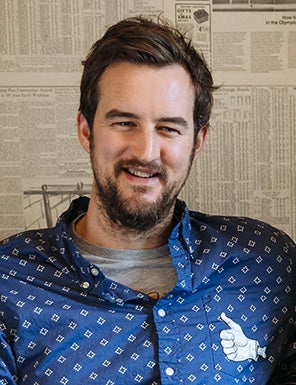 Above: Miguel McKelvey, chief creative officer of WeWork. All photos courtesy WeWork.
Not only was McKelvey, BArch '99, slogging through studio assignments, but he also was on the Ducks basketball team for two years (he rarely played, only when the Ducks were losing or winning by a lot), which meant he slept very little. At six-foot-eight, McKelvey says he stood somewhere in the median height compared to the other players.
"There were so many times that I didn't know what day it was or what time of day it was," he says. "It could have been midnight or noon and I wouldn't have known the difference.
McKelvey says he would often sit in the studio with headphones on, listening to the same song on repeat 50 times in a row.
"I have no idea why," he says. "I guess it put me into a zone of suspended consciousness or whatever before I realized, 'Whoa, I was listening to that for four hours.' I remember that bewildered feeling all the time."
The nocturnal work routine proved advantageous for McKelvey, who continued his nighttime productivity in the early days of his massively successful business, WeWork. McKelvey drafted WeWork's first website, logo, and fliers in one night, from midnight to 7 a.m.
McKelvey founded WeWork in 2010 in New York City with business partner Adam Neumann. WeWork leases cooperative workplaces to many start-up businesses, freelancers, displaced workers, and entrepreneurs around the globe.
WeWork offers a tiered price-based system in office complexes that include the usual amenities such as fast WiFi and coffee, but also conference rooms, bike storage, showers, and common spaces with sofas and table games. The business has grown to more than 50,000 members operating from WeWork's seventy-seven locations, including most major US cities as well as Tel Aviv, Berlin, Amsterdam, Montreal, Shanghai, and London.
Fast Company ranked WeWork No. 1 in the magazine's World's Top 10 Most Innovative Companies of 2015, and the company has been featured in Forbes, The Wall Street Journal, and Business Insider.
In March 2016, WeWork received $430 million from Chinese investors, which will help its expansion and development of more office locations in China.
"I'm super excited" about the Chinese expansion, says McKelvey. "I think it's an extraordinary time in China; it's an inflection point, certainly. I think the move to their economy and startup business is just getting off the ground, and I think we can be a meaningful part of that."
But despite WeWork's proven success, McKelvey still considers the business –valued at $16 billion, according to Wall Street Journal – to be a startup.
"The reason we continue to refer to ourselves as a startup is because we feel like we're still figuring it out," says McKelvey. "We still feel like we're working hard to figure out the full spectrum of ways we can help our members. It's about our approach every day to continue to grow and evolve. Rather than saying we've got it all figured out, we're still building the ship. We're not just trying to keep it afloat."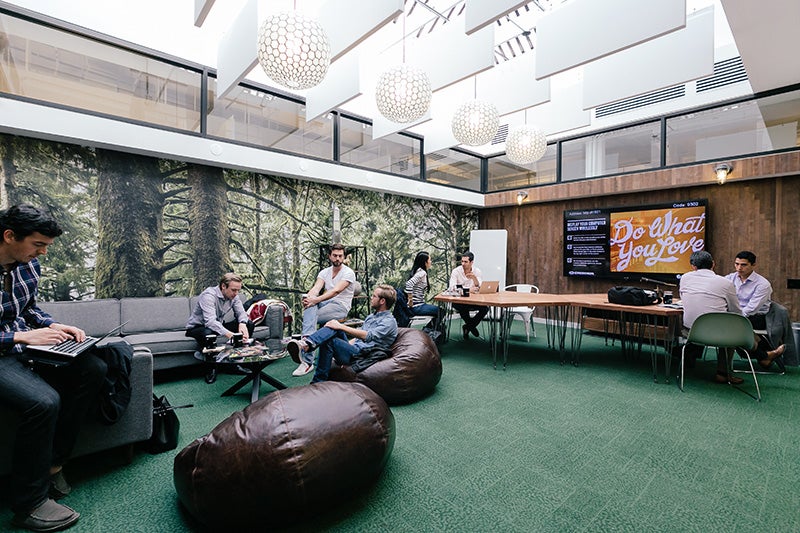 Above: The West Broadway WeWork space in New York. All photos courtesy WeWork.
After graduation, McKelvey began a string of business startups, a process that evolved after he moved to Tokyo with less than $2,000. McKelvey and a friend spent their time going to clubs, deconstructing American pop lyrics to locals, and ultimately started their first company, "English, Baby!" in his apartment. The website, which is still in operation, offers vocabulary quizzes, grammar lessons, and a social network in which English-language learners can connect with English-fluent peers. The site's punchy tagline reads: "Learn English. Find friends. It's cool."
McKelvey left the company to move to New York. He worked at a three-person design firm, but his less-than-glamorous responsibilities included retrieving equipment and inspecting a rat problem.
McKelvey also embarked on a business project, Green Desk, with Neumann. A close precursor to WeWork, Green Desk is also a month-to-month office rental service, but McKelvey says the premise behind Green Desk is fundamentally different from WeWork, which aims to foster communities of likeminded businesses and individuals.
"I think many people fail because they're not in the right environment," he says. "Many businesses are different, but you always need help. I can't imagine there's ever been a business that's been successful that's been locked in a room by itself."
"Whether it's collaborators, advice, customers, future employees, being in a rich environment made up of a lot of smart, energetic people plays a huge part in your evolution and growth."
McKelvey advises UO students to have the perspective "that they're creating their life's work."
"It's a WeWork tagline," says McKelvey, "but it's true. You should feel like you're progressing toward something that's going to make you feel successful and happy with your life. If you feel like you're not making progress, then you're in the wrong place."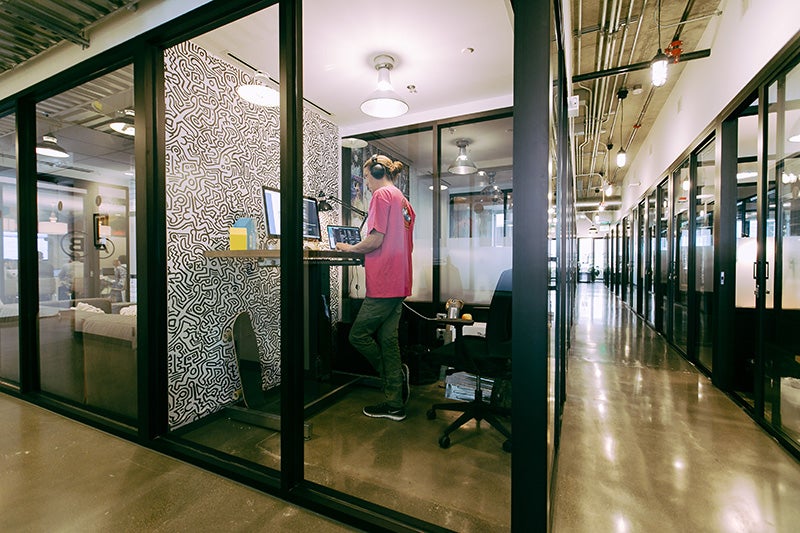 Above: The South Lake Union WeWork space in Seattle.
One of McKelvey's business philosophies is what he calls "benevolent populism" – the idea that all design requires human context. He likens the idea to a standard cubicle system, perhaps once considered to be a "populist approach" to a workplace, where all employees have "their own people-sized cubes."
"My feeling about design and architecture when I first [considered 'benevolent populism'] is that there was an elitist attitude about design and architecture," he says. "I think about making well-considered experiences available to everybody, to not make them available to a specific group of people to experience. … It's design for the people. It's positivity and thoughtfulness for everybody."
As McKelvey learned, entrepreneurship and architectural design are not very far apart, and the cycles of work are very similar. His long nights in Lawrence Hall studios forced him to develop a design, refine it, and iron out complex problems before presenting it for critiques. And sometimes, he says, the criticism is "super harsh." The design process is directly comparable to entrepreneurship, he says.
"One of the first things you learn in architecture: You can't fall in love with the first good idea. You have to push it further. You have to be willing to stand in front of someone and defend it," he says. "I had no fear of that cycle. For me, that's an incredible preparation for entrepreneurship."
Kassia Dellabough, director of A&AA's office of Professional Outreach and Development for Students (PODS), says McKelvey's career trajectory is an inspiration to design students.
"The reason WeWork is so successful is because they've used the principles of design to make a really unique community where people want to be," she says. "He wants others to imagine what's possible and realize their ambitions."
Brook Muller, a UO architecture professor who served as A&AA interim dean, echoed this sentiment.
"Miguel uses design thinking as an incredibly powerful business development tool," he says. "It makes you think a little bit differently about how we prepare our students and what kind of possibilities might be before them, if we were to think along the lines that he thinks. He's a spectacularly successful example of what we wish for our graduates."
McKelvey was raised in Eugene and attended South Eugene High School. He says he still pines for the Willamette Valley way of life – hiking Spencer's Butte or Mount Pisgah, riding his bike around town, and going to Ducks football games. He loves the fall in Eugene, he says.
"There's that smell from the changing leaves," he says. "The changing seasons in Eugene is one of the things I miss the most, being in a concrete jungle."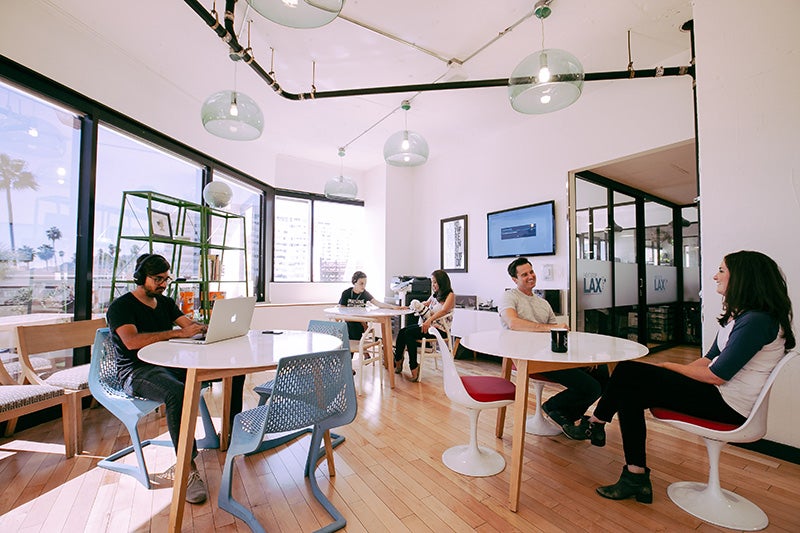 Above: A WeWork space in Hollywood.
This story was published as part of the 100 Stories collection, compiled to celebrate our 2014 centennial and recognize the achievements and contributions of our alumni worldwide. View the entire 100 Stories archive on the College of Design website.