bachelor of landscape architecture '79
Hamm steered Portico's designs, connecting with nature, culture
"Portico" not only represents one architecture firm's name, but their environmental philosophy. The word denotes the gateway or threshold between the interior – the architecture – and the exterior – the landscape environments.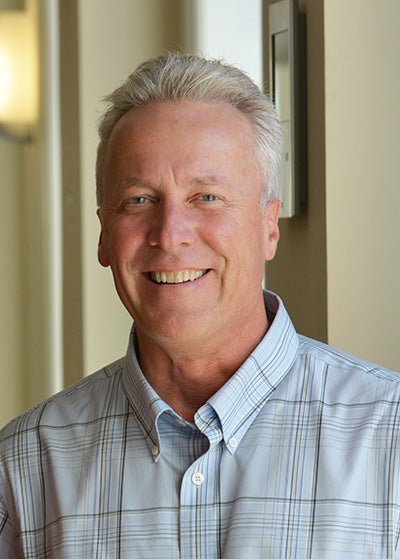 Above: Mike Hamm, BArch '79, CEO, Portico Group.
Mike Hamm, who spent half his tenure with Portico Group as president and CEO, co-founded the Seattle-based firm in 1984 with the other principal architects and landscape architects. April 2014 marks Hamm's final involvement with the firm as he steps down.
"I've been in the practice for 35 years and loved every moment of it, but you realize at a point in time there's still many things one wants to do and see," says Hamm, who graduated from University of Oregon's School of Architecture and Allied Arts in 1979 with a degree in landscape architecture.
Zoos, aquariums, arboretums, museums, visitor centers, and public gardens for city, state, federal, and nonprofit foundations around the world have helped to build the firm's design reputation. Portico's work has appeared in five continents, from a zoo in Mumbai, India, to the expansion of the North Capital Campus called Heritage Park in Olympia, Washington, to a recent concept design for an aquarium in Seoul, South Korea.
"We're not schooled in architecture school to know how to run a business," he says. "It's not part of the curriculum, so that's a whole other life story. That's been rewarding and energizing as a learning experience."
Hamm was raised in St. Paul, Minnesota, and came to Eugene for school. He met his future wife in Lawrence Hall; Ellen Hamm worked as an assistant in the A&AA Library and graduated with a degree in art education.
Former landscape architecture professor Gene Bressler taught Hamm in site analysis, design theory, and computer analysis courses. Hamm cites Bressler as an major influence on his work, and Bressler remembers Hamm well.
"Over the years I've had opportunities to observe the talents of this once extraordinary former student continue to evolve, mature, and raise the bar of landscape architectural practice," wrote Bressler in an endorsement letter.
Hamm was inspired to start his own firm when principals from the firm Jones & Jones Architects and Landscape Architects in Seattle visited Lawrence Hall in the late 1970s. They spoke about their zoo designs, and advanced work in ecology and river system analysis and planning. Hamm says he was enthralled with the work they were doing and made up his mind then and there to work for them.
He spent a year at the SWA Group in Laguna Beach, California, a firm with a strong focus on sustainable design before working at Jones & Jones for two years. There, Hamm met his future Portico partners.
"What I have learned the most from Mike has been from observing his leadership as a founding principal and President and CEO of Portico Group," says Portico partner Dennis Meyer, who also graduated from UO with Hamm.
While employed at Jones & Jones, they decided to start their own firm.
"I looked early on at the profession and realized to go somewhere, you really need to be in the firm," says Hamm. "I met the right people at the right time with the right energy. We were naïve enough to jump ship and try it out, and it's been a great success."
While Hamm has been with Portico, the firm's architects have designed a number of award-winning buildings, including the USS Arizona Memorial Visitor Center in Pearl Harbor, Hawaii, for the National Park Service and the National Historic Oregon Trail Interpretive Center in Baker City, Oregon, for the Bureau of Land Management.
Hamm says when working on a project, Portico is drawn to historical commemoration.
"There's a story to be told if it's a sacred or endangered site," he says. "We do everything to preserve, conserve, and tell that story."
Portico also repaired exhibits at the Conservatory of Flowers, the oldest public conservatory in the western hemisphere, in Golden Gate Park in San Francisco. A major storm damaged the building in 1995 and forced it to shut down for seismic upgrade, until it reopened in 2003.

Above: The National Historic Oregon Trail Interpretive Center in Baker City, Oregon.
Unforeseen consequences with natural disasters have been a recurring issue for Portico, which frequently embarks on restoration. Construction on "Ocean Wonders – Shark!" a New York aquarium on Coney Island, was delayed when Hurricane Sandy swept the east coast in 2012.
"When that happened, the city of New York had to go back and look at the codes and guidelines for construction," says Hamm.
Flooding damaged the aquarium site, and building codes were modified. Design drawings had to be recalibrated to withstand any future storm. The aquarium has cost roughly $100 million to build. Portico won the 2012 Design Excellence Award from the New York Design Commission for its work.
Hamm says the Las Vegas Spring Preserve Project for Las Vegas Water District was his most challenging and innovative project while at Portico. The project developed 180 acres of remaining open space in Las Vegas – located three miles west of the Las Vegas strip – as a cultural and historical attraction and model of sustainability.
The National Register of Historic Places referred to the site as the "Central Park of Las Vegas." The area features both cultural – Native American archaeology – and biological – endangered plant species – resources in southern Nevada. The project incorporates sustainability design principles and achieved LEED Platinum status.
Currently, Portico is designing a 10-acre exhibit, "Journey to Churchill," at Assiniboine Park in Winnipeg, Canada. The project, which has cost roughly $90 million, includes a public education program and research institute on the Arctic environment and polar bear conservation efforts. Orphaned or injured polar bears are rehabilitated and sent to qualifying institutions.
The site includes a massive geothermal field, constructed of underground pipes that will both heat and cool the building.
"It has a return on investment in terms of a pay back period. It's basically free energy," Hamm says. "There's a capital cost up front to build it, but it's in the earth to heat and cool."
Portico's corporate mission is to design by creating opportunities that connect people with nature and culture in meaningful ways, Hamm says.
"I think we've worked to fulfill our mission," he says. "It's been some fabulous projects and some great travels. I don't think I'd have that experience if it wasn't for that kind of work we do."
After he leaves Portico, Hamm and his wife plan to take an eco-tour to the Galapagos to scuba dive, and the Amazon to learn about the ecosystem and pursue environmental conservation efforts.
"I love doing travel that's environmentally related," says Hamm. "I'm really interested in the oceans and conservation and finding the right organization to put some work into. I want to take my knowledge from what I've learned from this kind of practice and applying it to an organization."
Hamm adds that, with his departure, it's time for the firm to evolve.
"That's why we didn't name it Hanson, Hamm, Roberts, and Mayes, as many firms do," he says. "We decided to call it The Portico Group because we wanted to be a firm that would have a future that would go beyond its original owners. It was intentional from day one."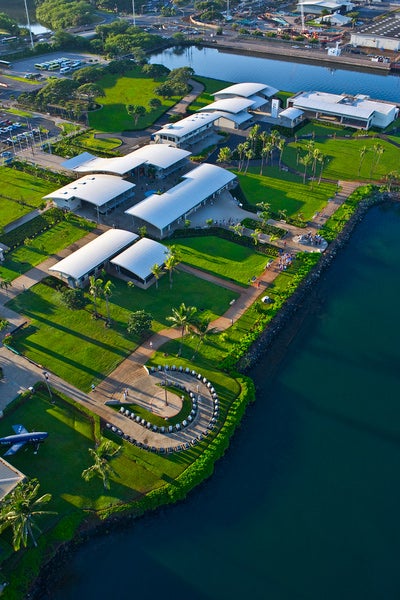 Above: Portico, under Hamm's guidance, designed the USS Arizona Memorial Visitor Center in Pearl Harbor, Hawaii, for the National Park Service. Photo courtesy Portico.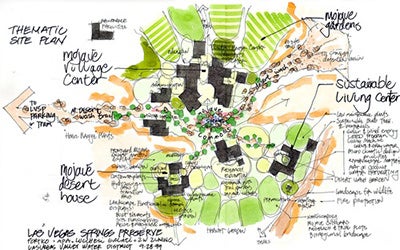 Above: Plan for the Las Vegas Springs Preserve, by Portico. Photo courtesy Portico.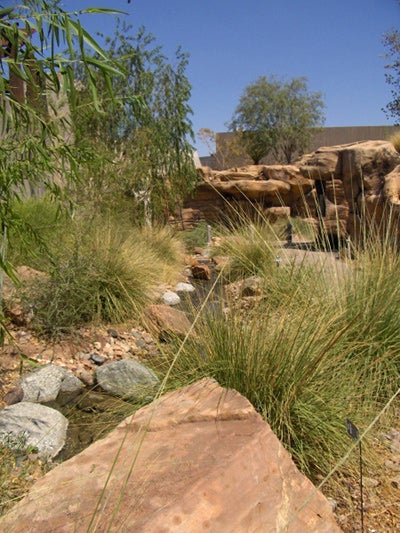 Above: The Las Vegas Springs Preserve, by Portico. Photo courtesy Portico.
This story was published as part of the 100 Stories collection, compiled to celebrate our 2014 centennial and recognize the achievements and contributions of our alumni worldwide. View the entire 100 Stories archive on the College of Design website.