bachelor of interior architecture '85
Designer shifts to fragrances
Developing an unconventional link between perfume and architecture launched Miriam Vareldzis on a career she never imagined while an undergraduate in interior architecture at the University of Oregon.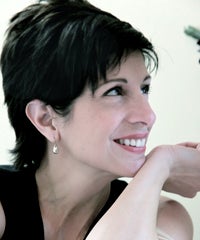 Vareldzis, BIArch '85, launched her luxury perfume collection in 2009 to the delight of the niche fragrance market, and she hasn't looked back since.
Her background in design and architecture was a plus for working in the perfume industry, she says.
"Fragrance is so similar to art and design," says Vareldzis (pronounced va-REL-zis), Principal and Creative Director of 40notes. "It's basically liquid art. It is an aesthetic experience and creative process that can be appreciated by anyone. The structure of fragrance is like a building – the amount of design and creativity required parallels each other."
After graduation from UO, Vareldzis moved to New York City and over the next twelve years worked for several architecture design firms, including Skidmore, Owings & Merrill, before discovering the city's burgeoning perfume and cosmetic industry.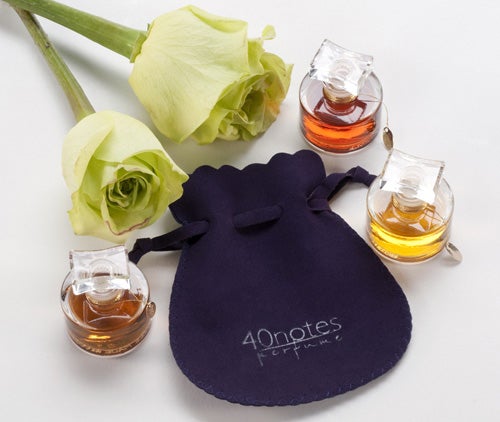 "The fragrance world is so centered in New York and Paris. Before my move to the big city, I had never known that such a world existed," explained Vareldzis. "Coupled with my desire of wanting more from design, I became very interested in the art of perfume as a way to combine the two creative ventures."
After realizing her passion in perfumery was stronger than the pull to stay in corporate architecture, Vareldzis made a career change. It wasn't easy; her application was rejected by all fourteen cosmetics companies she applied to initially. But, with summer retail experience in the cosmetics/fragrance department at Meier & Frank (now Macy's) years earlier as a student, she was eventually hired as an assistant at Gryphon Development, a division of the company that includes The Limited, Bath & Body Works, and Victoria's Secret.
Her background in interior design and a mindset for creativity made her an unconventional but well-equipped candidate for the perfume industry and it was at Gryphon, says Vareldzis, that her natural instinct for scents took over. She met and became mentored by Ann Gottlieb, an industry leader and "nose" within the fragrance industry, and learned the art of olfactory evaluation.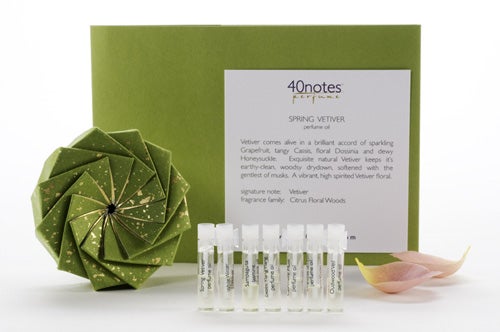 Just as multifaceted as the art of wine tasting, Vareldzis studied the differing "layers" and ingredient balances of perfumes. From the percentage of naturals to how to include exquisite "essentials" in the chemistry of a perfume base, Vareldzis gained ground in fragrance knowledge. From her training, Vareldzis went on to International Flavors & Fragrances, where she worked with world-renowned perfumers and developed sustainable, high quality, and unique fragrances.
After twelve years in New York she returned to her native Santa Barbara, California, and began formulating how to turn her passion for perfume into a business enterprise of her own. Her journey included influences from travel destinations that included Bali, China, Paris, Buenos Aires, Greece, Egypt, Nepal, Zimbabwe, and South Africa, giving her opportunities to study precious ingredients, experiment with blending, and seek out rare materials.
In 2002, the idea of a luxury perfume collection came to her. She chose the name "40 notes Perfumery" because of the symbolic attachment of the number 40 to many spiritual traditions around the world as well as the age where her life took a new direction. She wanted the collection to be a luxury item fit for niche and indie fragrance companies.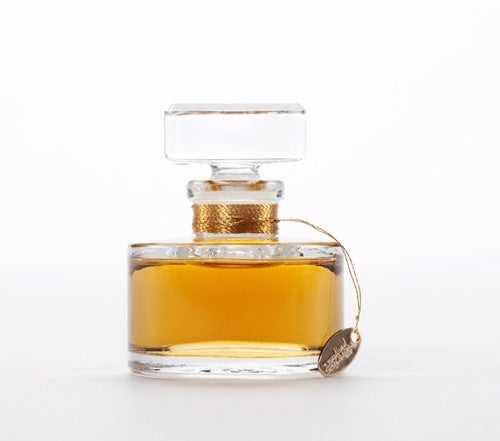 Her seven-fragrance collection launched in 2009. Since then, she says, she's received only positive feedback from her clientele, who claim the high quality of the perfume oils makes for unique and unforgettable scents. The oils, says Vareldzis, are highly concentrated and contain a high level of essentials, making for a smooth scent and an opulent feel.
"I wanted the line to feel elegant and stylish," says Vareldzis. "It's a throwback to a very modern interpretation of early 20th century luxury perfumes. The glass bottles come with little glass stoppers surrounded with a gold thread-wrapped neck and a 14K gold embossed '40notes' charm dangling off it, all within a suede bag. I wanted that artisanal quality to come through."
As she reflects over her evolving career path, she says she learned some valuable life lessons she wishes she had known as an undergraduate.
"I think it's important to always be aware that careers can morph and change and to realize that somewhere along the line, you can be creatively inspired to launch into a different phase," says Vareldzis. "It's OK to explore your inspirations and it's important to look into different pathways your career can take you."
Her career most recently took her to Portland, Oregon, where she now bases her business. More information about 40notes Perfumery can be found at 40notes.com.
This story was published as part of the 100 Stories collection, compiled to celebrate our 2014 centennial and recognize the achievements and contributions of our alumni worldwide. View the entire 100 Stories archive on the College of Design website.