bachelor of science '47
Dickel helped bring Modernism to Northwest interiors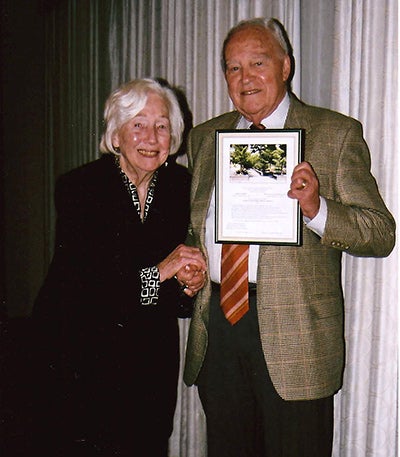 Mirza Dickel and her husband, Wallace Huntington, accept the Marion Dean Ross Service Award from the Pacific Northwest Chapter of the Society of Architectural Historians in 2009.
Interior architect Mirza Dickel designed interiors for more than half a century, many in the Portland metropolitan area, where her client list included some of the most well-respected names in town. In 1964, based on her growing renown in West Coast architecture circles, and in particular for her Modernist leanings, she was invited to design spaces in the Pavilion of American Interiors at the 1964 World's Fair in New York.
"Calculated looks and fashionable imitations were not in Mirza's vocabulary," Portland author and family friend Sara Perry told writer Bridget A. Otto in a story for The Oregonian after Dickel died in December 2012. "Classic design and craftsmanship were the words she lived by. … Everything was in the details for Mirza," Perry said.
Dickel worked in the spirit and vein of Northwest architects such as Pietro Belluschi, John Yeon, and John Storrs, developing a Pacific Coast-inspired sense of Modernism as she crafted contemporary interiors for the well-heeled. As Lisa Radon wrote in Portland Spaces (December 2008-January 2009):
[Dickel] installed the first leather floor in Oregon and early on chose cork floors for their ease and durability. She used low-voltage lighting when it was new technology, embracing it for the flattering light it cast. "I hate to use the words 'good taste,' but she has had a lot of style in the way she has done things," says interior designer Henry Brown. "Those early architects Mirza worked with developed a whole different way of approaching residences that really suited living in the Northwest. Prior to that people were living in traditional Colonial or Georgian homes. Mirza was one of the leaders in bringing that modern feel to Portland."
An early advocate for restoring historic homes rather than razing them, Dickel wound up living for decades in the 1859 William Case House near Champoeg, Oregon. The Greek Revival home was a dilapidated relic on the National Register of Historic Places when Dickel was asked by its new owner, Wallace Kay Huntington, to make it livable, and honorable, once more. While the project architect, Gil Davis, worked on practicalities such as heat and electricity, Dickel tackled more nuanced challenges. As Radon noted:
Her decision to hide the modern refrigerator in a nook off the kitchen is a typically clever solution. The project garnered a 1979 American Institute of Architects (AIA) preservation award for Davis (who insisted that Dickel's name be added to the award); on a more personal note, it also resulted in Huntington and Dickel's marriage.
Dickel and Huntington lived in the house for more than thirty years.
The Case House was not her first historic house project, however; nor was it where she first worked on an intensive project with Huntington. Roughly a decade earlier, Dickel worked with Huntington—a landscape architect and architectural historian—to restore the historic Bybee-Howell House on Sauvie Island north of Portland.
Otto noted in her obituary about Dickel that her son, Paul Dickel, an architectural designer, said that "to understand his mother's drive and pursuit of excellence was to know her mother. His grandmother, he says, was extremely strong-minded, setting the pace for young Mirza, who willfully followed in her mother's footsteps, 'just fierce to do a better job,' said Paul Dickel, Mirza Dickel's son from her first marriage to George Dickel."
Through University of Oregon ties, Dickel and Huntington were close friends of UO Professor Marion Dean Ross, who encouraged them to become members in the Society of Architectural Historians, for which Dickel served as Northern Pacific Coast chapter president from 1980-1982. She then served on the board of directors at the national level from 1982-84. She and Huntington, who also served as an SAH chapter president, were honored as joint recipients of a Marion Dean Ross Service Award during the annual conference of the Marion Dean Ross/Pacific Northwest Chapter of the SAH held in Portland in 2009. Dickel also served as president of the Portland chapter of the American Institute of Interior Designers.
This story was published as part of the 100 Stories collection, compiled to celebrate our 2014 centennial and recognize the achievements and contributions of our alumni worldwide. View the entire 100 Stories archive on the College of Design website.