bachelor of landscape architecture '74,
master of landscape architecture '75
Influenced by the "Oregon Experiment"
In a career spanning more than three decades, Peter Rothschild (BLA '74, MLA '75), FASLA, has provided iconic plans for some of the most significant outdoor spaces in the country. A landscape architect and planner, he co-founded Quennell Rothschild & Partners, LLP in New York. He has directed many of the firm's largest commissions, including urban parks, waterfront developments, and campus and cultural institutions.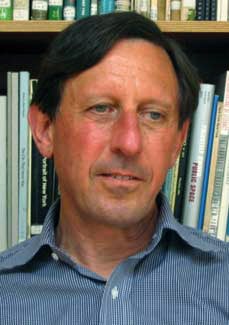 Rothschild says that what he learned at UO informs all his work. "My experience at Oregon inspired philosophical approaches to design that remain central to my practice today," he told Leslie McGuire for a story in LandscapeOnline. "I arrived just at the moment when the campus planning effort ¬– the Oregon Experiment – led by Chris Alexander, began," says Rothschild. "I worked harder, slept less and enjoyed myself more than ever before. It was participatory democracy for architects and we had the deep conviction that by involving this diverse community in planning its own future, the resulting environment would be more useful and appreciated in the years to come."
His grandparents had a deep interest in art, which inspired Rothschild's lifelong fascination with artistic endeavors. So did his scholastic experiences not only at UO but also at Harvard University, where he earned an undergraduate degree in 1968.
"When Peter Rothschild was a Harvard undergraduate, it was the last great era in the Bauhaus tradition," McGuire wrote. "Walter Gropius, the pioneer of modern architecture and founder of the Bauhaus School, taught at the Harvard Graduate School of Design" when Rothschild was a student there.
"Here were professors whose minds and careers were forming while Chekov was alive (barely), Pavlov was winning the Nobel Prize, Freud was publishing 'The Psychopathogy of Everyday Life' and Niels Bohr was proposing quantum theory," Rothschild told McGuire. "It was truly a transformative atmosphere for anyone who was even close."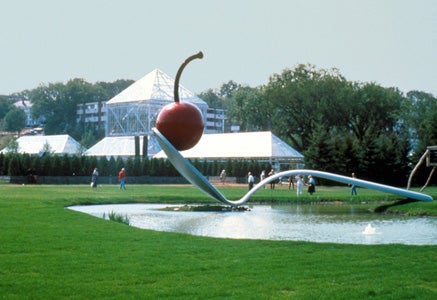 Above: Quennell Rothschild & Partners worked in close collaboration with eight artists on site-specific works at the Minneapolis Sculpture Garden, including a gigantic sculpture designed by Claes Oldenburg and Coosje van Bruggen.
At Harvard, Rothschild was still determining his career path.
"I thought I wanted to be a sculptor," he told McGuire. "The director of the Design Workshop at Harvard, Italian sculptor Mirko Basaldella, along with his brother, Afro Basaldella, took me under their wing. I was doing large relief sculptures and spending huge amounts of time with these icons. However, I ultimately decided the life of a sculptor was too impractical, so I branched into architecture."
That path led to UO and eventually to co-founding Quennell Rothschild & Partners, which since 2000 has served as landscape architects and campus planners for Princeton University. Rothschild has directed comprehensive renovation and redevelopment of the campus, comprising 500 acres and 160 buildings. His firm provided site planning and open space design for the University's billion-dollar building program and collaborates with individual project architects to develop a wide variety of new outdoor facilities.
Rothschild's early work included public parks in New York City. His firm was later commissioned to create a comprehensive redevelopment plan for the abandoned waterfront in Hartford, Connecticut. "Riverfront Recapture" became a ten-mile long park on the Connecticut River attracting hundreds of thousands of visitors each year.
In 1988 Rothschild designed the award-winning Minneapolis Sculpture Garden adjacent to the Walker Art Center. Working in close collaboration with architect Edward Larrabee Barnes and eight artists on site-specific works, the firm created a series of roofless outdoor galleries. Progressive Architecture said of the project, "The garden, which combines a public-sector accessibility with a private-sector intensity of vision, is a work of public art that is indeed a work of art."
In 1993, under his leadership, Quennell Rothschild was selected to prepare the master design plan for Manhattan's new Hudson River Park. For more than four years Rothschild served as a leader of the design team, developing a program of community workshops to create a broadly supported program to guide the park's design.
Rothschild is vice chairman of New Yorkers for Parks, board member of the Maine Community Foundation, and former trustee of the University of Oregon Foundation. He has served on the faculties of Harvard, Columbia, Tulane, UO, the Agricultural University in Upsala, Sweden, and the University of Newcastle-Upon-Tyne in the UK.
"I almost stayed on teaching at Oregon," Rothschild told McGuire. But "I got a Fulbright-Hays research fellowship, went to England for two years, taught at various English universities, then decided to rejoin Quennell. We became Quennell Rothschild & Partners."
In 2004, the UO School of Architecture and Allied Arts awarded Rothschild the Lawrence Medal, the school's highest alumni honor.
Quennell Rothschild's first assignment as campus-wide landscape architects and planners for Princeton University was to create a comprehensive restoration and improvement plan for the most historic part of the campus.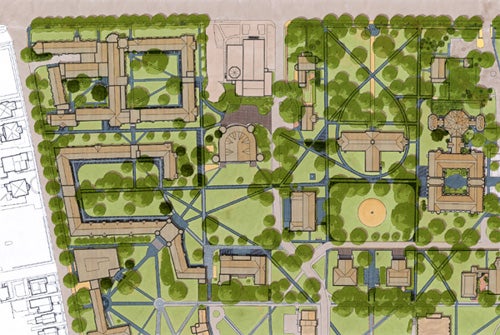 Above: A comprehensive restoration and improvement plan for the most historic part of Princeton University.
This story was published as part of the 100 Stories collection, compiled to celebrate our 2014 centennial and recognize the achievements and contributions of our alumni worldwide. View the entire 100 Stories archive on the College of Design website.