bachelor of architecture  '61
Arrigoni's projects include Skywalker Ranch, Library of Congress campus 
After a high school mechanical drawing teacher told Robert Arrigoni in 1954 that he should study architecture, Arrigoni asked him which college was best.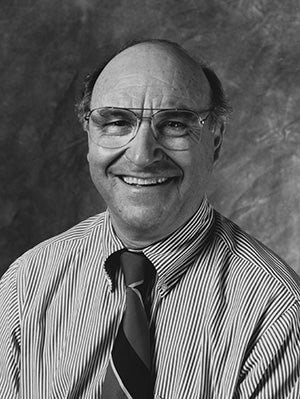 Above: Robert Arrigoni
"There are only two schools worth a damn in this country: one is Harvard and one is Oregon," the teacher replied.
Then Arrigoni told his high school counselor he planned to study architecture. The counselor looked at Arrigoni's transcript, shook his head, and told him, "I don't think you have the grades or ability"—and recommended he pursue manual labor.
Arrigoni went with the first set of advice and enrolled in the University of Oregon. There he met peers Howard Backen and Bruce Ross, who became his future colleagues as founding principals for the firm Backen, Arrigoni, and Ross, which evolved into today's BAR Architects, based in San Francisco.
BAR Architects has been commissioned for projects around the world in such disparate locations as California, Japan, and Italy. These include interior design for Apple campus buildings in Cupertino, California; George Lucas's Skywalker Ranch in Marin County, California; Sundance Resort for Robert Redford in Utah's Provo Canyon; and the Library of Congress Packard Campus for Audio Visual Conservation in Culpeper, Virginia.
In considering the span and depth of his career, Arrigoni says the UO School of Architecture of Allied Arts prepared him and his colleagues very well.
"I had an absolutely excellent education as far as I'm concerned. The U of O really turned out a lot of pretty darn good architects, and a lot of good architects came out of my generation. We were just at the right school at the right time and we had a lot of phenomenal professors with diverse points of view. They were very well educated themselves. The education was the most important part—sure—of my success."
BAR Architects started with the three aspiring architects working out of Arrigoni's mother's basement on Telegraph Hill in San Francisco. They needed clients to start producing designs, but they were all unlicensed.
"The rent was free. We couldn't afford anything; we [had] just quit our jobs. It was a big risk," says Arrigoni, but "we just wanted to be on our own. That was the most important thing; we wanted to have our own practice."
Backen found the team's first project—an apartment complex commission through a firm in Belmont, California. Between the time it took to submit work drawings for a building permit, each had to obtain an architectural license.
"We were under the gun, which was probably a good thing," says Arrigoni.
The Woodmont apartment complex in Belmont is six or seven stories total, but stands no taller than three stories at any level because it is built on a slope. Unique in appearance, the feedback was polarized. Some loved it; others hated it. The planning commission approved it despite some members calling it "the ugliest thing" they'd ever seen, says Arrigoni.
"We were lucky to get it approved and lucky to get it built," he says. "Just plain luck."
Despite the criticism, the team's first professional project won an American Institute of Architects Design Award.
Arrigoni found the firm's second assignment, another housing project, which won an AIA award as well. The firm received quite a bit of recognition for its hot streak.
"Very, very quickly, we managed to get some publicity and as a result we were on our way," Arrigoni says.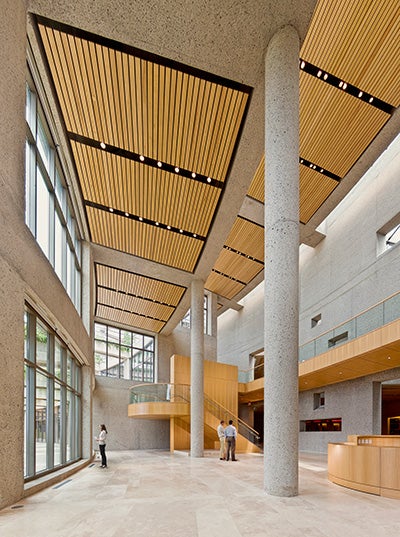 Above: The lobby at the Library of Congress Packard Building, designed by BAR Architects. Examples of BAR's work can be found on the firm's website or in their book,
The Place Itself – Selected Work of BAR Architects
. Image courtesy BAR Architects.
But that upward momentum changed during the 1980s economic recession. As the bottom dropped out of the housing market, few apartments—BAR's specialty—were being built. "Work was hard to come by, and it was hard to stay alive. Every political or financial problem became your problem very quickly because work dried up or money dried up."
During the 1980s, however, BAR's commissions included working with Leadership Housing Systems, a company based in Tustin, California, on a courtyard housing site plan called "The Californian." The plan was an urban pedestrian village, with cars relegated to the periphery. The interior courtyard featured an open space outdoors, similar to a European village.
In 1984, former President Ronald Reagan honored BAR Architects with the first Presidential Award for Design Excellence, for "The Gardens," a courtyard housing project built in San Mateo, California, and similar to "The Californian."
The firm survived other turbulent political and economic periods. With consistent recognition from multiple awards, the firm garnered a solid reputation and designed more residential projects, resorts, wineries, retail outlets, entertainment studios, restaurants, and more.
BAR was commissioned to design the campus for George Lucas's Skywalker Ranch, which includes the Technical Building, where Lucasfilm's post-production takes place, a barn with animals, a garden, vineyards, racquetball courts, a man-made lake (Lake Ewok), a 300-seat movie theater, and a scoring stage capable of accommodating 120 musicians. It is tucked away in Marin County, virtually invisible from the outside.
"The development is all very sensitively done for George's style," Arrigoni says. "He loves Victorian architecture."
Lucas purchased nearly 5,000 acres in Marin County to protect the surrounding land from single-family housing development. In a Contra-Costa Times article, Arrigoni is quoted as calling Lucas a "godsend."
"George coming into the place and buying it and doing a small, sensitive development on a small part of his land was the best thing that ever happened to this county because it basically preserved it," he explains.
BAR's Backen (BArch '62) was the lead on a design for Sundance Resort for  Robert Redford, located near Mount Timpanogos in Provo Canyon outside Provo, Utah. The firm designed facilities for the actor's Sundance Institute, a nonprofit community that promotes arts, culture, and recreation, as well as cottages for residents and guests.
"[Redford] was great to work with because he was very artistic and he was very receptive to just about anything we did and he participated closely, so it was always a fun experience," Arrigoni says.
Though now retired, Arrigoni keeps a hand in some designs by the firm, including an archeology museum in Italy. That commission developed from earlier projects with David Woodley Packard, president of the Packard Humanities Institute and son of Hewlett-Packard cofounder David Packard.
Packard has commissioned BAR for three major projects, including the National Audio-Visual Conservation Center, a campus extension of the Library of Congress, near Washington, D.C. It houses motion picture, broadcast recordings, and other documented sound archives of most anything ever filmed or recorded. In 2007, BAR Architects designed and built the campus.
"It's a state-of-the-art facility that is probably the most advanced of its kind in the world," says Arrigoni. "This was important to David Packard because he wanted to make sure all the original information was preserved for future generations to study."
BAR also finished the conservation center's second campus in Santa Clarita, California. And BAR designed an archeology museum in Italy, where Packard is also conserving the original Roman ruin of Herculaneum.
"We've been doing some really fascinating work, even in my retirement, so I haven't been totally retired," Arrigoni says. "It's pretty hard to turn work like that down. [Packard] awarded it to the firm on the basis that I was involved, so I had to do it. It's just been an amazing experience. He's a remarkable man in many ways. He's very bright and very interesting. Like the George Lucases and David Packards, it's work that you have to do."
Today, BAR Architects includes an 85-person workforce, 60 percent of whom are LEED accredited, and has more than 190 design awards to its name, including AIA California Council's Firm of the Year in 2000.
Examples of the firm's work can be found on its website or in their book, The Place Itself – Selected Work of BAR Architects.
Arrigoni is living proof to always take advice from a high school counselor with a healthy dose of skepticism.
"I feel very fortunate and very lucky that I happened to succeed," he says. "It could have easily gone the other way."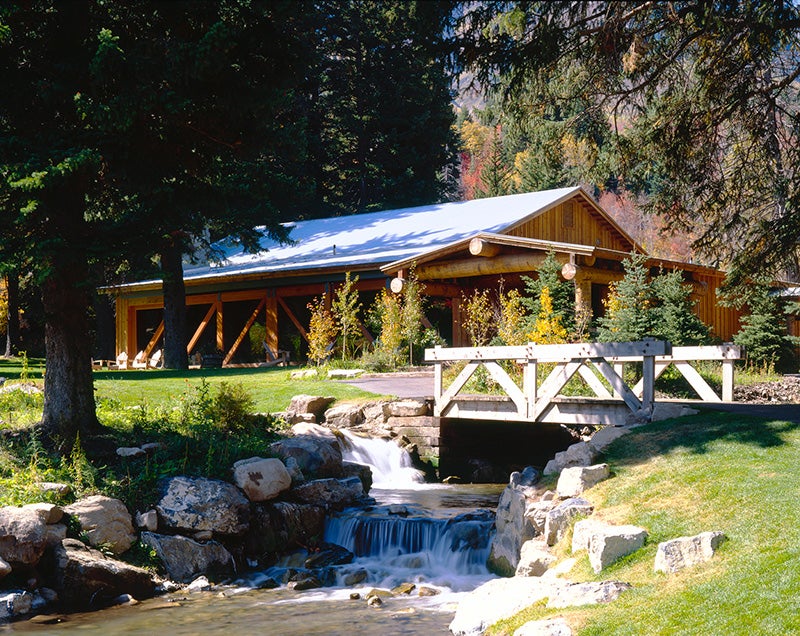 Above: The Screening Room at the Sundance Institute, designed by BAR Architects. Image courtesy BAR Architects.

Above: The Technical Building and Entertainment Space at Skywalker Ranch, designed by BAR Architects. Image courtesy BAR Architects.
This story was published as part of the 100 Stories collection, compiled to celebrate our 2014 centennial and recognize the achievements and contributions of our alumni worldwide. View the entire 100 Stories archive on the College of Design website.