bachelor of architecture '77
Thompson's design career continues its E-ticket trajectory
Robert Thompson, FAIA, was only 32 years old and had just three years under his belt as founder of a small architecture firm when his firm, TVA Architects, caught the attention of a growing Oregon company that wanted to build a world headquarters. Having already won several design awards, TVA was one of just five firms selected to compete for the headquarters design job—which TVA won.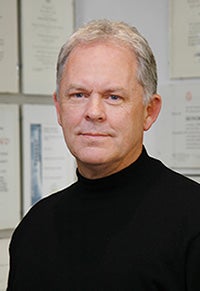 That project was the Nike World Headquarters Campus: 2.2 million square feet over more than twenty buildings, spread across 225 acres. TVA's Nike campus won numerous awards including a national American Institute of Architects (AIA) Design Award of Excellence. The Portland-based TVA has since garnered more than seventy AIA awards, along with a national honor award from the General Services Administration for Design Excellence in sustainability and adaptive reuse. TVA has amassed a noteworthy client list of major Fortune 500 companies worldwide, including Sony, Chico's, and Procter & Gamble, to name just a few.
In 1993, Thompson became the youngest architect in America to be inducted into the AIA College of Fellows, the institute's highest honor. No surprise, given that his career has been an E-ticket ride the whole way.
The Nike World Campus began for Thompson a "nonstop relationship" spanning three decades designing corporate projects for Nike, Inc.—the latest being the 800,000-square-foot Nike Eastern Headquarters in Shanghai—and personal projects for Nike cofounder Phil Knight and his family. Since its inception in 1984, along with projects for Nike and Knight, TVA has designed aquatic centers and office buildings, beach houses and mountain retreats, theater complexes and parking garages, banks and parks, museums and schools, and even air hangars (for Nike, Inc., as well as for Knight personally). Along with corporate work, Thompson notes that TVA has "a great passion" for residential design. "We've been able to not get typecast in the sense of the type of architecture we do."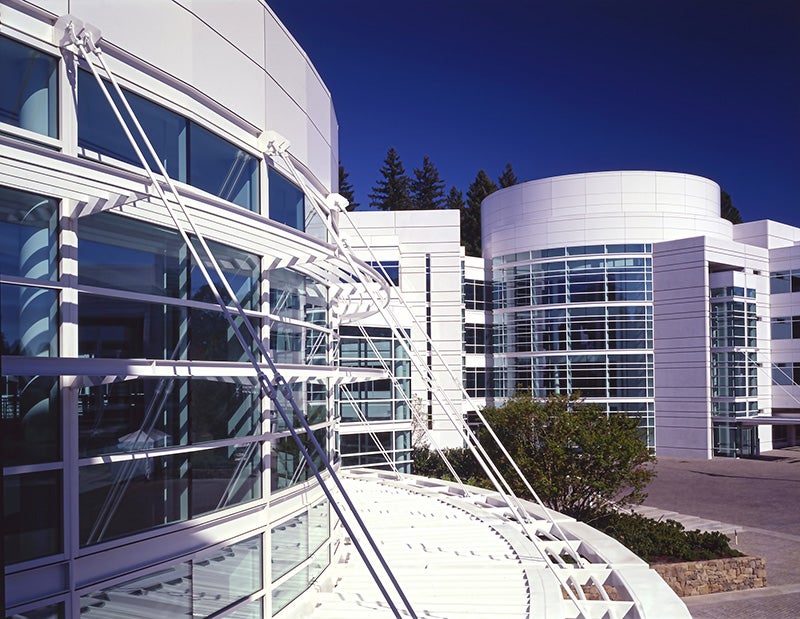 Above: The Nike World Campus in Beaverton, Oregon, began for Thompson a "nonstop relationship" spanning three decades designing corporate projects for Nike, Inc.—the latest being the 800,000-square-foot Nike Eastern Headquarters in Shanghai, China.
That holds true for UO as well, for whom Thompson has designed the Hayward Field Renovation, the Coaches Office Design, the Matthew Knight Arena, and the Ford Alumni Center. TVA even designed the Williams Bakery in Springfield, which replaced the Eugene Williams Bakery that emitted the baking-bread aroma so many UO alumni associate with their years at UO (and which was located where Matt Arena and the Ford Alumni Center now stand).
"Bob is among a very small group of architects I've worked with that I'd put in the genius category," said Bart Eberwein of Hoffman Construction Co., the contractor that built Matthew Knight Arena and many of Thompson's other designs, in a January 12, 2011, story in The Oregonian. "He sees the building in his mind. Things come to him like a poem would to William Blake."
Kurt Schultz, a former Thompson business partner, told The Oregonian that Thompson "could go home over a weekend and come back to work and have a building all figured out. He's the most naturally talented designer I've ever known."
For Thompson, that natural inclination started very early. "I knew when I was six years old that I wanted to be an architect," he says. "My parents nurtured that throughout my young life. When I was young, I was very good at drawing, I loved to sketch, I loved to sculpt. I built everything I could—models and anything like that. My mother was acutely aware of my passion for art so she had me enrolled in all sorts of extracurricular art programs around the city (Portland). The schools here had special programs that took young people who had a knack for drawing and they built on that passion. My mother was the foremost influence on making sure she gave me every opportunity to succeed in something she could tell I really enjoyed."
Thompson took that impulse to design and build to UO, where his architecture and art classes presented both boundaries and independence. "What I appreciated about UO is that it was very focused on problem solving," he says. "There was a great group of instructors very focused on the aspects of design related to the process, so to speak, of looking at and solving problems. There was a structure to it that I felt was not so much inhibiting of the creative process but teaching young people how to go about organizing their thoughts and organizing complex problems and breaking them into manageable ways of thinking about the parts. And then there was a freedom, in terms of thinking how you would reassemble those parts into a design. It was education focused around how to think about problem solving, which is pretty much what we all do."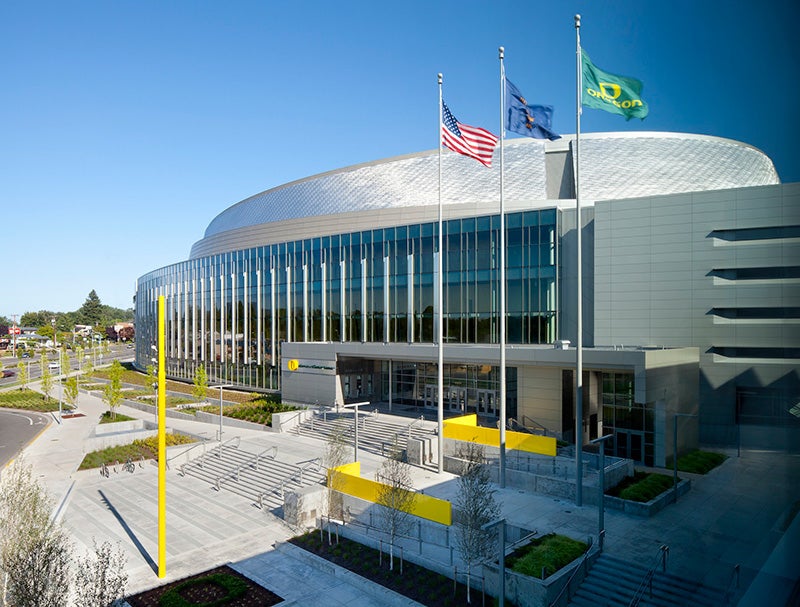 Above: Thompson's design for Matthew Knight Arena, on the eastern edge of the UO campus, was completed in 2011 to replace the historic McArthur Court. The 12,364-seat Matt Arena, as it's commonly known, is named for Phil Knight's son, Matthew.
An inspired student, his attitude and approach appealed to Skidmore, Owings and Merrill, a global architectural firm, which offered him an internship midway through his studies. "That was a real game-changer—taking my formal education and applying it to a more practical experience simultaneously really influenced my passion about the opportunities that architecture could present," he says. "That helped formulate, while I was in school, my view of architecture so it was more than just an academic view. To be able to see it all come together was very influential."
Thompson credits several faculty members at UO for helping shape his innate skills. "Earl Moursund was a brilliant instructor in terms of teaching young people to think about spatial composition, design, and the creation of space, and from a planning perspective. He was a master of that. He opened our eyes to spaces that the building collectively created from an urban standpoint that really got you to thinking about how you composed parts and pieces to create really interesting spaces and places to be. [Former Dean and Professor] Bill Gilland was also very influential, and Michael Utsey, especially from a painting and drawing perspective. Michael Pease was another. … The love of creating and the love of building—the university is that starting place that provides the opportunity to build that skill set."
Thompson has given back to A&AA in many ways since, including service on the Board of Visitors and, in the mid-1990s, "coming back to participate in a dialogue about the school and campus and university and the direction it was going. It was an interesting time—the school was very focused on the introduction of technology into the design process. Computers were beginning to show up. I was an advocate that young people not lose the ability to draw by hand. I still to this day think that's one of the unfortunate things that's been lost to the technology of computers, the ability to draw and convey your ideas, sitting there with clients, sketching on a pad. But computers do allow a much deeper level [of design] than we were able to do back then."
Thompson returned to campus in 2007 to begin designing Matt Arena, which debuted in 2011. "It felt very gratifying" to be asked to design such a high-profile building on the UO campus, he says. Especially at that location. "I used to live right across the street from what was the Williams Bakery back then. To be able to come back years later and sit on that same porch and look across and see the alumni center and the arena was a quiet sense of fulfillment and appreciation toward my education at the UO. It was nice to have the opportunity to participate in designing buildings like that on the campus of your alma mater. It was a good feeling."
He pauses a moment and adds, "I'd like to do another building on campus someday." Asked if that might be the much-needed new home for A&AA, Thompson doesn't hesitate. "It's time."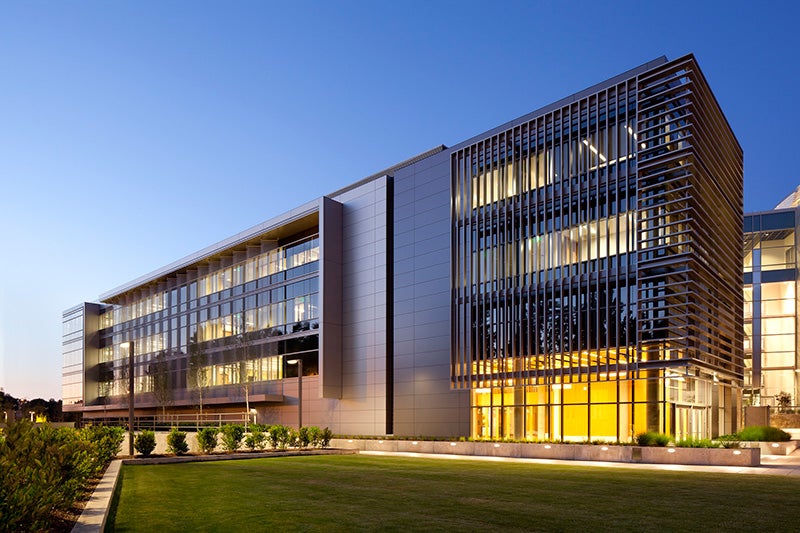 Above: UO's Ford Alumni Center is among the many buildings that Thompson's TVA has designed on the UO campus.

Above: Completed in 2000, Thompson's John Ross Tower, a condominium building in Portland's South Waterfront neighborhood, was completed in 2007. The building contains thirty-one elliptical-shaped floors, with a penthouse occupying the entire thirty-first floor and featuring a 360-degree view.
This story was published as part of the 100 Stories collection, compiled to celebrate our 2014 centennial and recognize the achievements and contributions of our alumni worldwide. View the entire 100 Stories archive on the College of Design website.