bachelor of architecture '81
Van der Veen crafts design and art into lifestyle
"I barely consider what I do a job," says Seattle architect Ron van der Veen, BArch '81, principal and design leader for DLR Group (named the No. 1 design firm in the U.S. by Architect in 2012). Along with architectural design, van der Veen writes a humor column for ARCADE magazine and plays in a band—and once turned down an offer to play professional basketball in Spain. His creative endeavors all "come from the same fundamental part of my soul," he says, contending that "tough love" from a UO architecture professor "turned my world upside down and brought me to where I am today." He also notes that UO architecture students "were doing LEED building long before it was ever invented. We just thought it was good design." A&AA learned more about van der Veen during the following Q&A.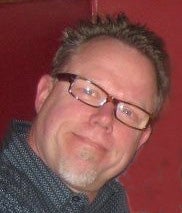 Above: Ron van der Veen. Photograph courtesy Ron van der Veen.
Q. How would you describe your career arc?
A. I came into the profession pretty circuitously. While in the School of Architecture and Allied Arts I got the bug for painting and sculpture. After graduation in 1981, I spent a year as an artist in Eugene and then moved to Europe for several years. Basketball had always been my athletic obsession and I almost ended up playing professionally in Spain, but turned down the offer. I also considered going to the Netherlands for an MFA, but then realized that my first love really was architecture so I moved to Seattle to pursue a career. My plan was to get my license and head back to Europe, but love, life, and family diverted all this and I have lived in Seattle for the last 27 years. (Editor's note: van der Veen studied history and architectural history at the Universidad de Santiago de Compostela from 1982-85. He speaks Dutch, Spanish, "and a tad of Portuguese.")
I have worked in a number of small and large firms, but spent most of my career as the design leader at Mithun in Seattle where I was involved in numerous amazing sustainable design projects around the country. A few years ago (December 2010), I jumped at the opportunity to become the design leader for the Seattle office of DLR Group. What attracted me to the firm was the idea of integrated design between architecture and engineering in sustainable design. It has been an amazing experience.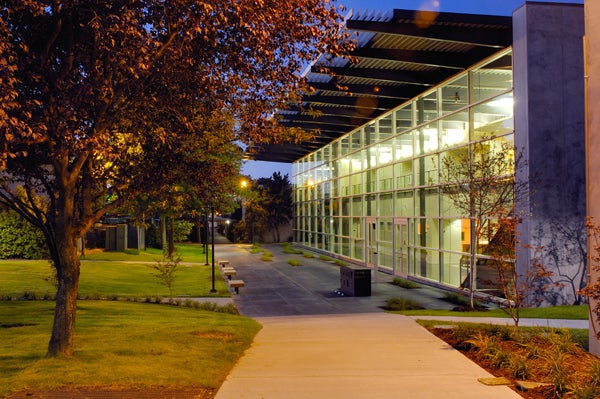 Above: UO alumnus Ron van der Veen designed South Seattle Community College University Center. Photograph courtesy Ron van der Veen.
Q. How did you become interested in architecture?
A: It all starts with my brother. My parents were both from Holland and I grew up in a typical immigrant family. They were "old school" and expected the boys in the family to learn a trade and work, and the girls to get married! My older brother was a bit too right brained and free spirited for their comfort. He was a wonderful musician and artist, and I did all I could to copy his drawings and paintings and music. He learned perspective drawing in art school and used to draw these really amazing modern buildings from his imagination. Of course I spent hours upon hours trying to mimic them and started to fall in love with forms and spaces, and the power of perspective. I was a poor student in grade school and got into my fair share of trouble, but these architectural drawings eventually turned into my own designs and models. Ha, they probably saved me from delinquency!
In high school, I had a drafting teacher who recognized my growing passion for architecture, and that of my best friend (Scott Douglas, also BArch '81). She actually set up an independent study class for us to explore architecture, and made damn sure we stuck with it. She had also studied architecture in college and was a very creative woman ahead of her time. I owe so much to her for getting me to the UO School of Architecture.
Q. Rumor has it that you are drummer in a band (THEmediocres). How did the band come to be, and does playing music influence your work as architect (or vice versa)?
A. Probably the most important single lesson I learned at the UO is that design and art is a lifestyle more than a profession. Someone recently asked me if my job was hard. It was a very strange question because I barely consider what I do a job. I know this is going to come across as corny, but my time at the UO unleashed this underlying creative spirit I didn't know existed. It was more than just architecture. Whether it is designing a building, creating furniture, painting, playing music, writing, I see this all as coming from the same fundamental part of my soul. I was just lucky enough to have it validated and encouraged.
So the band, well it started at my old office. I was talking with a buddy about our mutual love for music and we decided to have an office jam session. We were shocked when about 20 people showed up with all sorts of instruments, and one guy even came with sticks and a washtub. When we decided to have another jam I told the washtub guy he couldn't come unless he had a real instrument. I said to him, "We may be mediocre but we aren't crummy!" So we turned the adjective into a noun and nine years later THEmediocres are still playing around the area. Weird how those things happen.
I play the drums in the band and I love it. Playing music is soooo different than architecture. Yeah, they are both creative endeavors but the cadences are from different planets. You might not see a design in architecture constructed for years, and it's made by others. Music is immediate and visceral, and if you screw up something it won't be there for 50 years.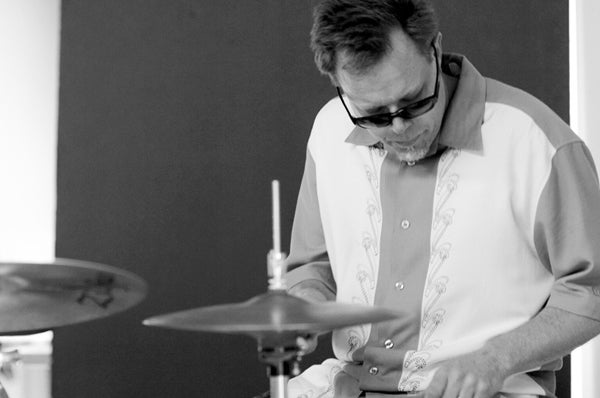 Above: "Playing music is soooo different than architecture. Yeah, they are both creative endeavors but the cadences are from different planets," says van der Veen, drummer for THEmediocres. "Music is immediate and visceral, and if you screw up something it won't be there for 50 years."
Q. I see that you write a magazine column.
A. Yes, I have become the notorious columnist for "sideYARD" in ARCADE magazine. This all happened serendipitously. I was on the board for several years and at one point we engaged in a number of focus groups to better understand what people wanted from the magazine. The number one comment from readers was more humor. Well, architects aren't really that funny, but I volunteered to attempt a humorous article about the profession. Before this I had never written anything for public consumption and considered myself a horrible writer. Funny thing is, the article went viral. After that I felt like I could come up with a few more quirky ideas (all of them have been at least semiautobiographical) and next thing you know it's eight years later and "sideYARD" has become a fixture in ARCADE. I never would have imagined it.
Here's an excerpt from van der Veen's Dec. 2011 column in ARCADE:
"When I left the University of Oregon in 1981, the US was mired in a recession not unlike what we are experiencing today. In some ways it was worse because we had both double-digit inflation and unemployment. My big mistake after school was deciding to stay in Eugene. Flint, Michigan and Eugene, Oregon, had the highest unemployment rates in the country, both over 15 percent. Much to the astonishment of my colleagues, I actually landed a drafting job in no time flat. It wasn't Richard Meier, but it was work … but it wasn't work for long—I was laid off within three weeks. After that I couldn't even get work at McDonald's! Stubbornly deciding to stay and eke out a living in Grateful Dead's ground zero, desperation finally drove me to become a door-to-door salesman, offering to paint or draw peoples' homes."
Q. How did your time at UO help you to succeed in your career?
A. Oh man, what can I say? When I came to the University of Oregon, I knew nothing about architecture. I came from a poor immigrant family and a college education wasn't even in our vocabulary. I needed someone to take me by the hand and explain to me what architecture was!  I still remember Pat Piccioni was assigned to critique my project early in my schooling. He was very hard on me, but this made me see that there was a deeper conceptual world of architecture I hadn't yet entered. This "Aha!" moment turned my world upside down and brought me to where I am today.
The way I design, the way I look at architecture, the way I draw, how I talk about architecture and the way it feels to me … all of this came from my education at the University of Oregon and has changed little since then. A wonderfully rich experience.
Q. Is your career what you expected it would be while a student?
A. I didn't expect so many recessions, cheap clients, construction budgets, getting laid off, marketing, chargeability targets, contracts, human resource issues, insurance, building codes, schmoozing, etc. Sometimes I joke with clients that after all is said and done architects get to design only five percent of the building so please don't take that away from us!
Q. Were there any particularly compelling issues on campus when you were here?
A. Environmental issues were starting to come to the forefront on campus and in the general culture. Of course the architecture department was a great laboratory for experimenting with what is now known as sustainable design. We were doing LEED building long before it was ever invented. We just thought it was good design.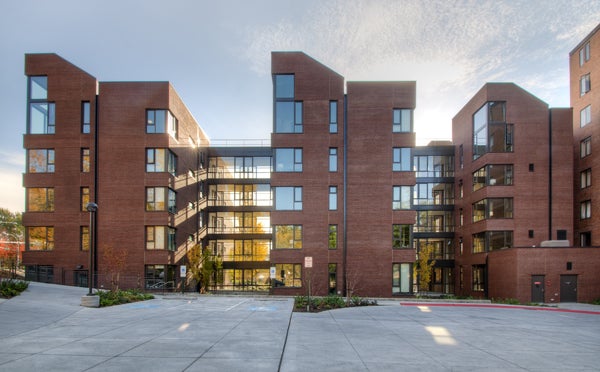 Above: Western Washington University Buchanan Tower Addition, a design by van der Veen. Photograph courtesy Ron van der Veen.

Q. Do you have a memory of a class or professor or other UO story to share?
A. Pat Piccioni once basically told me the design I had spent three months on was garbage, but I will never forget that moment. It was tough love, and it brought me to a whole different world as an architect.
There were many classes that had huge impact in my career, but probably the most important was my final design studio with Gary Moye. Gary would sit down with every student for at least a half hour a week and take conceptual notes on our design and conversation. He looked at design from a very rational standpoint as something that could be explained and diagrammed. His methodology is the basic way I design today. And I have saved his meeting notes to this day.
One funny story is about the "hydrostatic impact load tests" we used to do in the courtyard. We'd take old models and lay them on the ground. Then at midnight we'd fill 5-gallon ice cream buckets with water from the EMU and sneak up to the room of Lawrence Hall. Word would get around the test would be happening and there was usually a pretty good crowd. We'd light the models on fire and then drop the buckets from the roof-usually 4 or 5 simultaneously. We learned quickly if we dropped them in a balanced way no water would be spilled until they hit the models flat on. Cheap entertainment.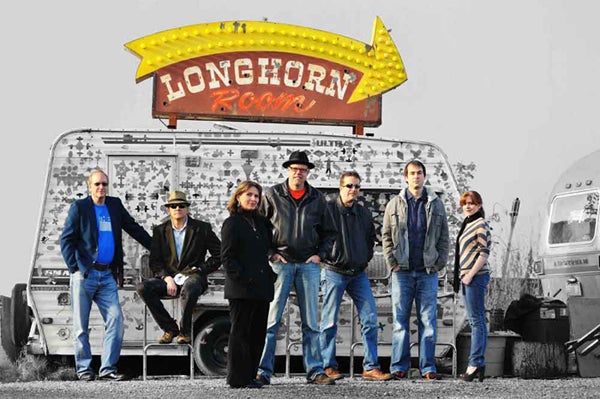 Above: Van der Veen's band, THEmediocres (van der Veen wears the black hat).
Q. What would you suggest students do to benefit most from their academic career?
A. Learn how to work in a team. Great design in the 21st century is a team effort. The issues we are facing are so complex today we need creative team players. Most architecture students will not have careers as lead designers but will be vital participants in design. Learning that design happens at all levels of a project can make for a very satisfying career.
Q. What are you most proud of professionally?
A. When I was a young designer I had a mean boss who told me I would eventually lose my passion for design and burn out. I am so happy that never happened. I am older but I am still so excited about the amazing opportunities we all have to create great places for people to work, live and play. This seems like a very exciting time for good design—I am just happy I can be a part of it. That probably sounds corny too.
This story was published as part of the 100 Stories collection, compiled to celebrate our 2014 centennial and recognize the achievements and contributions of our alumni worldwide. View the entire 100 Stories archive on the College of Design website.