bachelor of landscape architecture '88
Yimsut noted for service to global community
Under the "Specialties" tab of his LinkedIn account, Ranachith (Ronnie) Yimsut. lists just one item: "Humanity."
That one word succinctly alludes to lessons from a unique life in the truest sense of the word, the first years of which were lived in idyll near Ankgor Wat in Cambodia before descending into nearly five years of misery in Khmer Rouge work camps. The sole survivor of a Killing Fields attack that killed most of his family in Cambodia in 1977, Yimsut fled alone at age 15 to a Thai refugee camp and eventually settled in Oregon.
Today, he works as a senior landscape architect for U.S. Forest Service Region 9 in Milwaukee, Wisconsin, in an office that covers twenty states. A member of the Forest Service's Technical Service Team, Yimsut designs and plans National Forest recreation and tourist sites, conducts environmental impact studies on landscape ecologies and ecosystems, and works to preserve national forest scenic byways.
The Forest Service has been Yimsut's career since he graduated from UO in 1988 with a BLA. He initially worked as a summer intern in the Eugene USFS office then was hired full time into an entry-level assistant landscape architect's job in the Bend, Oregon, office. He worked his way up through the ranks for five years, then took a year off to work as an unpaid overseas volunteer consultant-instructor for NGOs in New York and Cambodia. A year later the USFS hired him back, this time as district landscape architect/planner in Bend, a job he held for twelve years. He was promoted to senior landscape architect in the Eastern Region in 2006.
In 2009, Yimsut was selected as one of the "Milwaukee Area's Most Influential People" for his local, regional, national, and international work. "Simply stated, the word for Ronnie is inspiration," Rick Kell, a USFS team leader who works with Yimsut, told the Milwaukee Business Journal in a story about Yimsut's civic award.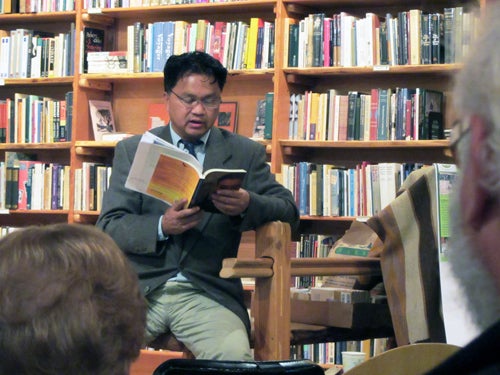 Above: Yimsut reads from his new memoir during a presentation at Tsunami Books in Eugene in December 2011.
For his part, Yimsut quipped, "I didn't know what I was getting into with the cold and snow," Yimsut told the Journal in describing his move from Oregon to Wisconsin; his personal blog always compares the temperature of Milwaukee to those of Bend or Portland, the two Oregon communities where he spent much of his life and where many of his friends and family still live.
During his off hours, Yimsut devotes his time, educational resources, and personal funds to redeveloping his hometown near Angkor, home to one of the most sacred archeological sites in all of Southeast Asia. His activist work has merited attention from human rights organizations. He has been the subject of documentary films by CBS News, NBC News, PBS, National Geographic Explorer, and others.
Much of Yimsut's energy is invested in building a technical college in Siem Reap, his Cambodian hometown. In 1993, he began formulating the idea for the school, now known as Bakong Technical College. His dream for the school is to provide training for those looking to enter the professional workforce. A handful of buildings have been completed by a team of volunteer and professional workers, and in 2012 he began promoting "sweatequitourism" to encourage participants to lend a hand in building additional buildings.
"Leaving a legacy for future generations is critically important for me," he says. His LinkedIn job listing for the technical college states his experience there as "Empowering the people through better and quality education for better social, economic, environmental, and political reform."
Yimsut's most recent book is a memoir, "Facing the Khmer Rouge: A Cambodian Journey." The book helped provide evidence in November 2011 during the ongoing Extraordinary Chambers in the Courts of Cambodia (ECCC), a United Nations-backed tribunal in Phnom Penh that since 2007 has heard testimony regarding the genocide, bringing to trial Khmer Rouge regime members charged with war crimes.
His other books include "Journey to Freedom," "In the Shadow of Angkor," "Life is a Poem," and "Children of Cambodia's Killing Fields."
Yimsut ends his resume with a section he calls "My Philosophy in Life." It lists four objectives, beginning with "Dream Big and Go Get Em" and includes this phrase, which alludes to how his life always has been, and always will be, shaped by the brutality of life under the Khmer Rouge: "Consider the past, present, and future, always."
Yimsut was awarded the Ellis F. Lawrence Medal by the UO School of Architecture and Allied Arts in 2012. The award is named in honor of the founder of A&AA, Ellis F. Lawrence, a Portland architect and educator. Recipients are individuals whose professional and personal achievements embody the integrity, educational philosophy, and commitment to their chosen fields as exemplified by Lawrence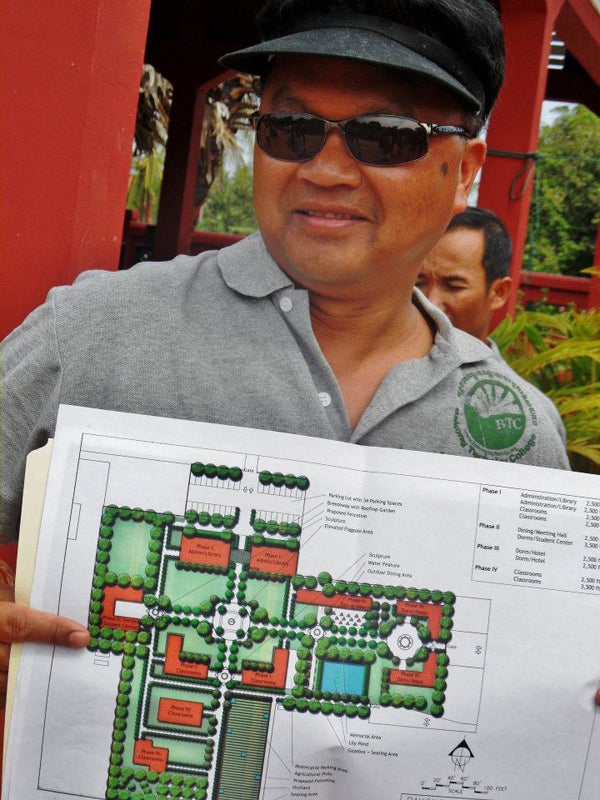 Above: Ronnie Yimsut shows a plan view of one of the buildings at Batong Technical College.
This story was published as part of the 100 Stories collection, compiled to celebrate our 2014 centennial and recognize the achievements and contributions of our alumni worldwide. View the entire 100 Stories archive on the College of Design website.