bachelor of architecture '05
Firm synthesizes science, design
Thomas Kosbau, BArch '05, founded ORE Design and Technology Group, a New York firm that's been winning awards since its inception in 2009. His Brooklyn-based firm combines architecture with visionary interdisciplinary eco-design projects based on biomimetics (where biological systems serve as models for design and engineering of materials).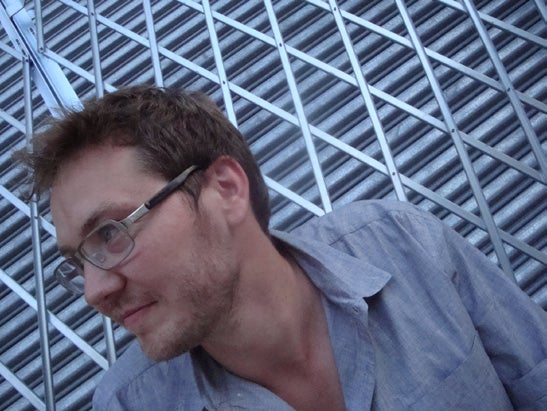 "The name ORE is partly an homage to my roots in Portland, Oregon, but also embodies our approach to finding and synthesizing the raw potential of new technologies and systems found in the natural world into design solutions," he says. "Our projects range from bioreactors to tea sets, from a desalinization system integrated into a skyscraper to a passively cooled Lower East-Side community garden. Our philosophy is that creative potentials in current scientific research and the natural world can be synthesized into architectural and industrial design solutions."
Melding biology with architecture isn't a stretch given Kosbau's background. His mother (Leslie Pohl-Kosbau, BFA '72, printmaking) is founder and director of the Portland (Oregon) Parks Community Garden Program, "so I was exposed to organic urban agriculture from the beginning," he says.
He was majoring in chemistry at UO when, during summer break in Amsterdam in 1999, "I came across an exhibition of the architect Kisho Kurokawa's models and sketches at the wing of the Van Gogh Museum he had designed. Kurokawa was a metabolist architect, a group known for their use of natural system geometry. Seeing his hand-carved walnut models of utopian cities made from a DNA double helix, or his design of the Nakagin Tower based around the organization of a plant cell, was the 'aha moment.'  I returned to the UO and changed majors that fall."
Having a science background as an architecture major, Kosbau says, "felt at first like something to overcome, as I had little experience with visual representation of my ideas, and was used to a more analytic process."
But that inner dilemma soon resolved itself. Kosbau represented Oregon for the 2002-2003 academic year at the University of Stuttgart, Germany, on a Rotary Ambassadorial Scholarship. There, "I was first exposed to biomimicry in architecture at the ILEK institute (Institut für Leichtbau Entwerfen und Konstruieren) under architect/engineer Werner Sobek," he says. He took that model into his private practice, using his roots in science and sustainability as ORE's director of design and technology.
"When I returned to Oregon to finish my BArch, the two halves (research and design) came together," he says, and in 2003 he won first place in the Royal Institute of Architect's 'Energy Revolution' competition with an entry submitted with fellow architecture student Tyson Gillard, BArch '05.
"Our scheme showcased a fairly unknown (at the time) process to organically farm hydrogen from green algae by growing the algae in glass tanks as a second skin of a residential complex. The entire complex was powered, heated, and received its potable water from this living tapestry of green."


Above: A section from Kosbau's design of a municipal desalination concept. Photo courtesy Thomas Kosbau.
In 2004, also while still a student, he won a gold medal at the Northwest Design Festival for a prototype of a homeless housing product, "Homefree," a jacket that converts into a tent. The design has since been adapted to be made from "broken umbrellas collected from the streets of New York after a hard rain."
From 2005 to 2009, he worked for other architecture firms while focusing after hours and on weekends on ideas that eventually became ORE. Kosbau and ORE have since gone on to win many awards and distinctions in just a few years. In 2009, ORE received second place for its adaptive re-use submission in a competition for the water department of Porto, Portugal. In 2008, ORE took second place in Metropolis magazine's Next Generation Competition with a zero-energy water harvester, again with Tyson Gillard, which then toured internationally.
In 2010, ORE won grand prize out of more than 4,000 entrants in the Incheon International Design Awards for ORE's biological alternative to asphalt.
In 2012 Kosbau returned to Holland, where ORE teamed with MVRDV, a Rotterdam, Netherlands-based architecture and urban design practice, on a major project to renovate Kingsbridge Armory in New York. ORE is also shortlisted as a "pioneering entrepreneur" in The Green Design Competition sponsored by the Dutch Ministry of Economic Affairs, Agriculture and Innovation.
Also in 2012, ORE won the top design prize in the 2012 William Turnbull Competition Drylands Design awards, which seeks long-term strategies for lands in the arid and semi-arid West.
Other ongoing ORE projects range from the DeKalb Market ­– a "pop-up" retail concept in Brooklyn ­constructed of eighty-four salvaged shipping containers ­– to Riverpark Farm, New York City's first portable farm, to a prototype for a new glass technology that amplifies light that shines through it.
The Dekalb Market brings together "local entrepreneurs into not just a market, but an outdoor community center that showcases Brooklyn's current economy and culture, while hinting at its heritage as a major manufacturing center and commercial port," architecture writer Leonel Ponce wrote in "Inhabit NYC". The market has since added a beer garden and a music venue.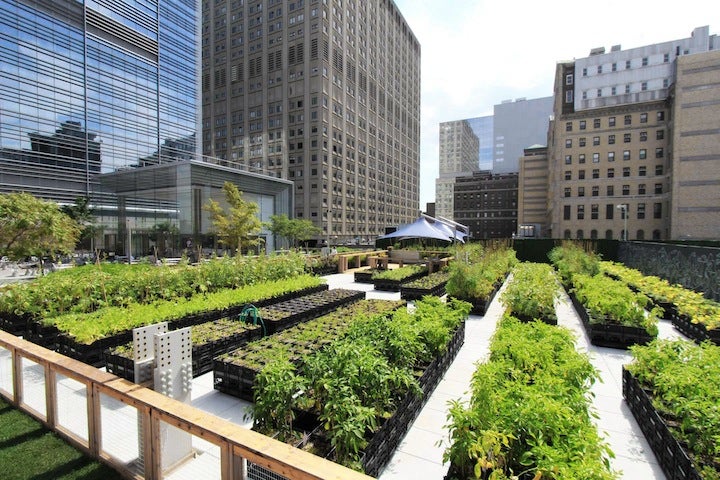 Above: The DeKalb Market ­is a "pop-up" retail concept in Brooklyn ­constructed of eighty-four salvaged shipping containers, a project designed by Thomas Kosbau's firm, ORE Design and Technology Group. Photo courtesy Thomas Kosbau.
Meanwhile in Manhattan, ORE designed Riverpark Farm, also as a portable concept but on an even smaller scale than DeKalb's shipping containers. The farm supplies a New York restaurant (owned by Tom Colicchio, head judge of "Top Chef," a reality television series) with fresh local produce, but instead of building on a rooftop as others have done, the restaurant opted for a nearby vacant construction site. The restaurant owners consulted with ORE on how to create a 15,000-square-foot farm that will eventually have to move when the site is developed. ORE proposed milk crates lined with landscape fabric then filled with soil. The farm now contains more than 7,500 milk crates with more than 100 types of produce, and employs two full-time farmers.
"From the beginning we've set out to use as many sustainable/salvaged building materials as possible," Kosbau says. For the DeKalb Market, "the most challenging part was determining how to treat temporary buildings that will stay on-site for up to ten years with the building authorities. We ended up treating our containers as permanent buildings for permitting, but have designed the project to be movable (complete with a self-contained plumbing system) once our lease has expired."
UO architecture Professor Nancy Cheng lauds Kosbau for his innovation and collaboration. "Thomas Kosbau's research projects embody the spirit of innovation, collaboration, and entrepreneurialism that works. He has identified crucial environmental problems and found partners with science, engineering and construction expertise to generate new solutions and create compelling stories about them."
Visit oredesign.org for more information about Kosbau and ORE Design, visit.
This story was published as part of the 100 Stories collection, compiled to celebrate our 2014 centennial and recognize the achievements and contributions of our alumni worldwide. View the entire 100 Stories archive on the College of Design website.