bachelor of science '43, bachelor of architecture '48
Whit Cox, FAIA, melded art, architecture seamlessly
Throughout the past century, UO A&AA's stated mission to engage "multiple disciplines to expand our perspectives and enrich our teaching, research, and creative practice" has meant different things to different people. For some students, it means the incorporation of art into all aspects of everyday life, both in professional practice and personally. Whitson "Whit" Cox (BS '43, BArch '48) was one of those students.
When he graduated from the UO architecture program, Cox left with more than a diploma. Throughout his long and impressive career, much of his work—and his other interests—was directly informed by his time in Lawrence Hall. His belief in the importance of fostering relationships between the worlds of architecture and art was most certainly influenced by professors at UO who held similar viewpoints, including renowned architect and educator W. R. B. Willcox.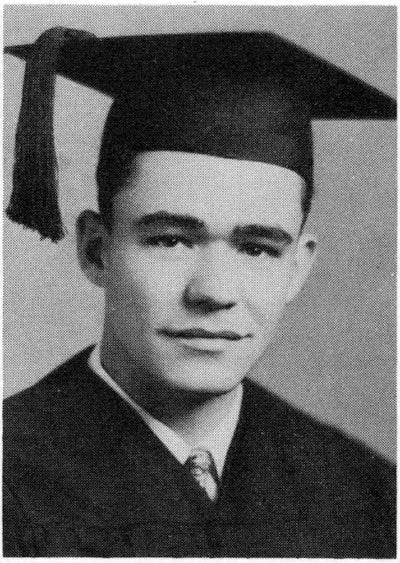 Above: Cox's senior yearbook photo, taken upon his graduation in 1943.
Cox spent thirty years with Cox, Liske, Lionakis & Beaumont, Architects and Engineers, a firm he cofounded in Sacramento, California. The firm grew to be one of the largest in Northern California, employing more than thirty architects and engineers and producing $30-40 million in annual construction volume. The group's biggest projects include the Sacramento Bee headquarters and numerous buildings for Pacific Telephone.
Cox worked as an architect and planner with a strong emphasis on government buildings, especially institutions of higher education, including many schools in the California State College and University system. Over the years, Cox would constantly reaffirm his belief in public buildings as sacred spaces for art, both in his capacity as an architect for his own firm and during future pursuits working for the California government.
This emphasis on the necessary connection of art and architecture had much to do with Cox's 1983 nomination to the position of California State Architect. He served as a coadministrator of The Art in Public Buildings program with the California Arts Council, as well as acting as a juror for numerous art and architecture organizations, all while overseeing a staff of 300 who offered designing and management services for more than 400 projects per year throughout the state.
Of those contracts, 60 to 70 percent went to California architects, which led Cox to become highly knowledgeable about the work of his peers. As a result, Cox was also well regarded by that same peer group.
Additionally, he was an accomplished visual artist. His watercolor paintings have been exhibited in many national and European traveling exhibits, and his work was shown in more than forty one- and two-person exhibits throughout Northern California.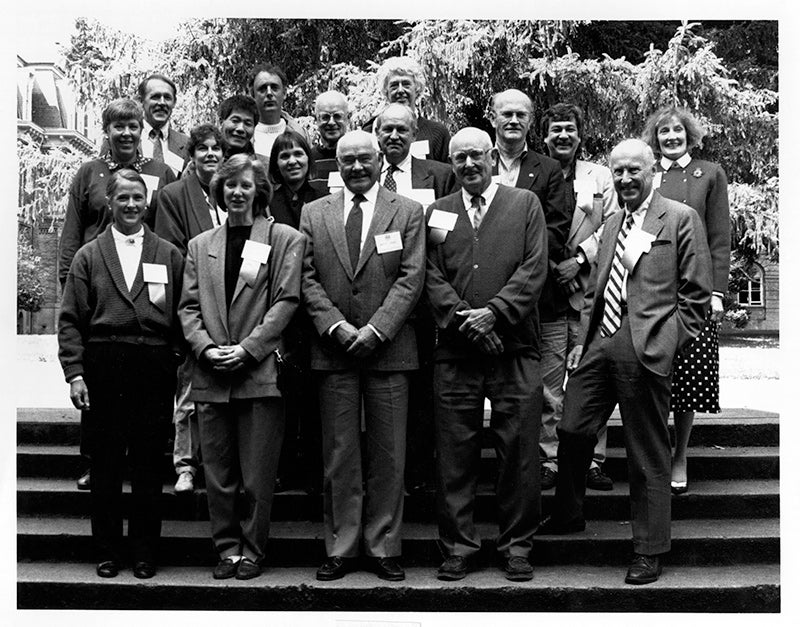 Above: Whit Cox stands front and center among the 1990-91 A&AA Board of Visitors. Back row left-to-right: Brian Mostue, Ulysses Cheng, Frank Boyden, Norman Johnston, William Church, John Lofgren, Elizabeth Walton-Potter. Middle row: Lucy Blake Hart, Patricia Decker, Joan Gray, E. Bruce Ross, James Harris. Front row: Judith Rees, Jodeen Pene, Whitson Cox, Nelson Sandgren, William Fletcher.
Cox' s daughter Marilyn Gendron described her father's lifelong commitment to art, saying "In those early days, you weren't an architect unless you were an artist. He was always an artist."
After his tenure as state architect ended in 1986, Cox returned to work in his new private consulting practice, Whitson Cox, FAIA. He also became a charter member of the A&AA Board of Visitors, where he volunteered his time to advocate for the best interest of the school. This position included a number of tasks, such as advising deans, strengthening alumni networks in California, and assisting with fundraising efforts.
Cox's efforts also helped with the creation and renovation of the Willcox Hearth, a tribute to the professor who inspired him from the beginning. Cox's vision of a bustling Hearth has been realized due in part to his contributions. He also commissioned a table inspired by a Willcox design to be built for the Hearth.
His professional work brought art and architecture together seamlessly, as did his personal life.  His professional devotion to making art publicly accessible mirrored his personal passion for making the world a better place through the creation of art. Before he passed away in 2007 at the age of 86, Whit Cox lived a life that he, and our university, could be proud of.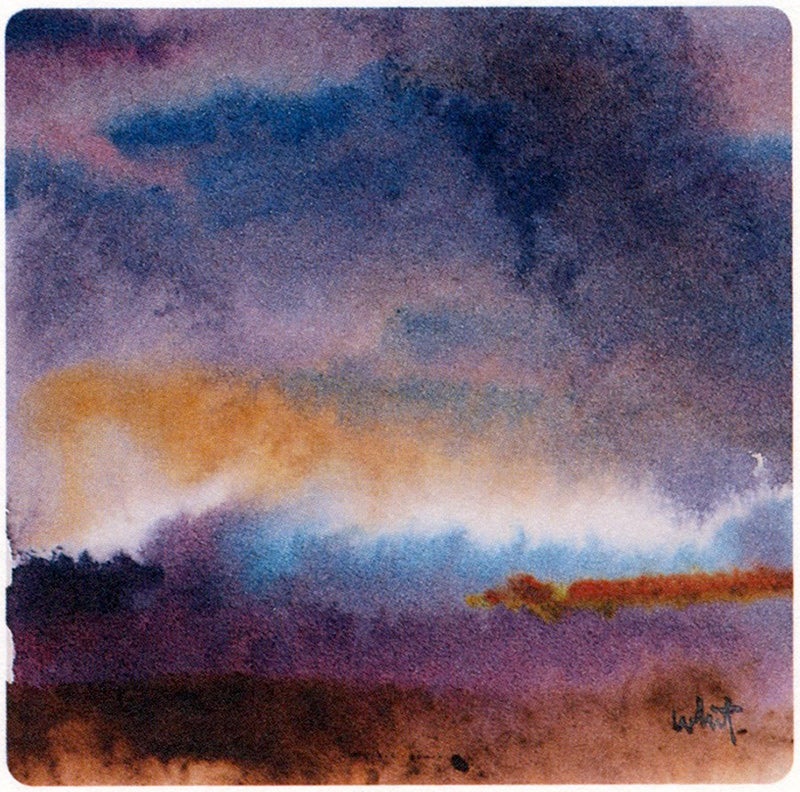 Above: One of Cox's many small-scale watercolor paintings, entitled "Bright palettes of field and sky, painted by the wind." Cox released an anthology of these paintings annually.
This story was published as part of the 100 Stories collection, compiled to celebrate our 2014 centennial and recognize the achievements and contributions of our alumni worldwide. View the entire 100 Stories archive on the College of Design website.