bachelor of architecture '80
UO alumnus works with athletes, Nike, on adaptive design
Although Wilson W. Smith, III graduated from the School of Architecture and Allied Arts in 1980 with a degree in architecture, he has used his skills to design "homes for the feet" through his work designing products for Nike, Inc., that range from Air Jordans to products for disabled athletes.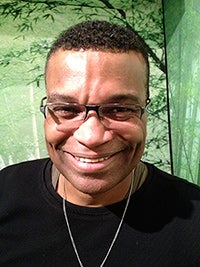 Above: Wilson Smith III.
Smith, now Design Director at Nike, spoke in 2014 in Eugene at a TEDx gathering on campus about designing equipment for athletes with physical disabilities. Smith teaches a BFA-level course for fifth-year Product Design Program students that focuses on adaptive design for athletes; his coinstructor is Bob Lucas, a former product designer for Nike and adidas.
Students in their Product Design Program course aim to help athletes with physical impairments improve their performance. Smith's TEDx presentation includes stories from athletes with physical impairments who were empowered by the students' designs. One of those was wheelchair rugby athlete Will Groulx.
Student Ryan Florentino designed a harness for Groulx that locked into his wheelchair and leveraged his body and movements during a game. The wheelchair rugby team performed in the London 2012 Paralympics Games, winning the bronze medal.
"A student project that started in January was actually a medal winner in August," Smith says. "When you get to know these athletes and you get in their lives, it becomes a relationship and you want to help them achieve their goals."
In another example, a runner named Gabriella aspired to participate in a triathlon. This would be a difficult achievement for anyone—but Gabriella was born with one arm shorter than the other.
While some students focused on creating equipment to help Gabriella swim or balance while riding a bike, student Charlie Hartzel was stuck on a different element of the triathlon: How could Gabriella dress her wounds with one hand?
This question was the inspiration for a student-designed medical bandage that can be applied single-handedly.
"The exciting thing about this concept, which I love, is how many of us wouldn't want to have a one-handed Band-Aid?" Smith asked during his TEDx talk.
Smith graduated from UO in 1980; Nike hired him three years later as Corporate Interior Designer to design showrooms, stores, offices, and various graphic publications for the company.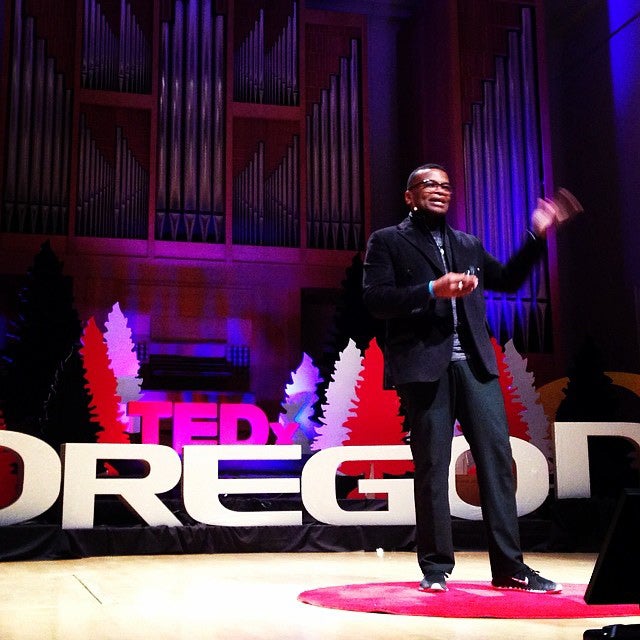 Above: Smith during his TedX talk at UO. Photos courtesy of Wilson W. Smith III.
"During the '80s, I was able to move from architecture into product design, joining other significant Nike creative designers from that era," he says.
By 1990, he became senior designer for Nike Tennis footwear, and soon moved to the position of senior designer for the Jordan Brand, known most notably for the iconic Air Jordan franchise. He was involved primarily with the concepts of Nike's Cross Training and Basketball products.
Smith designed professional tennis player Andre Agassi's game shoes from 1994 through 2000. He codesigned the Air Jordan XVI in 2001 and the Air Jordan XVII in 2002.
"As I initially had expected that I would stay in the field of architecture, I was personally fulfilled designing 'homes for the feet' in athletic footwear," he says. "At U of O, I believe I received a strong background in 'how to design,' and creative thinking. When you first enter in the design field you're often assisting others in their creative ideas and concepts, but I have found that my A&AA design foundation has had a greater influence after the first five years, as my design career has continued to develop."
In 2003, Wilson became the design director of Nike Court, which includes all tennis- and racquet-driven footwear, and helped lead concepts for Nike endorsees and professional tennis players Serena Williams and Roger Federer.
After twenty-nine years with Nike, Wilson is now the creative catalyst within Nike Zoo—Special Other Operations. He is involved with Nike Better World projects, which include aiding recovery efforts in Haiti, and is the design director for N7, which provides sports and physical activity programs in Native American and Aboriginal communities in the U.S. and Canada.
"It has been an honor to work with all of the athletes over the years designing products with their insights and specifications," he says. "In particular, I have been inspired most recently working with the athletes from the adaptive community."
In a video about his adaptive athletics course, Smith notes that student empathy helps connect the athletes with the designers, which results in a catalyst for novel design.
"[Design] is never just about the theoretical," says Wilson, who was named by Black Enterprise magazine as one of the top African-American designers in the United States. "Good design is not about that. Good design performs for people. Good design solves problems. It's not just beautiful; it solves problems."
Also a worship leader for the SouthLake Church in Lake Oswego, Oregon, Smith closed his TEDx talk with a verse from 1 Timothy 4:12: "Do not let anyone despise your youth."
"You're the ones with the ideas," he says.
 
This story was published as part of the 100 Stories collection, compiled to celebrate our 2014 centennial and recognize the achievements and contributions of our alumni worldwide. View the entire 100 Stories archive on the College of Design website.