Jeremy Ebersole
Historic Preservationist. Commercial Archaeologist. Neon Dreamer.
Jeremy Ebersole
Historic Preservationist. Commercial Archaeologist. Neon Dreamer.
A Preservationist for the Neighborhood
At heart, Jeremy Ebersole is an advocate for old places. The graduate student in Historic Preservation (class of 2020) was drawn to the long tradition of the Historic Preservation (HP) program, which is the oldest one on the West Coast.
"The way preservation is taught here is a little more progressive than the way it's thought of back east," Ebersole said. "Community input is important too, not just expert input."
Case in point, Ebersole is on a mission to preserve the diners, motels, and movie theaters of the world—places that are often beloved by the communities that use them.
"A place doesn't need be a Civil War battlefield to be significant," he said.
In fact, Ebersole is the vice president for, and on the board of, the Society for Commercial Archeology, which celebrates the importance of cultural landscapes, from diners and gas stations to neon signs like the iconic one atop the White Stag Block that houses the HP program. He was also treasurer for the UO Associated Students for Historic Preservation.
For his terminal project, Ebersole is examining how to preserve the neon signs of Portland, more specifically how decisionmakers and advocates in Portland can use a combination of regulations, economic incentives, and public outreach to protect these cultural artifacts.
"We have more neon in Portland than anywhere I've lived, but it's still only a fraction of what there once was, and signs are still disappearing all the time," Ebersole said. "This is a crucial time when we have a window of opportunity to enact policy that ensures that the signs that define our neighborhoods remain to brighten people's lives long into the future."
Post-graduation, Ebersole will head to Wisconsin, where he has accepted the position of executive director at the Milwaukee Preservation Alliance, a nonprofit advocating for the protection and stewardship of Milwaukee's built heritage.
Watch the video to learn more about Ebersole's passion for neon. Read more below about students, alumni, and faculty in the School of Architecture & Environment.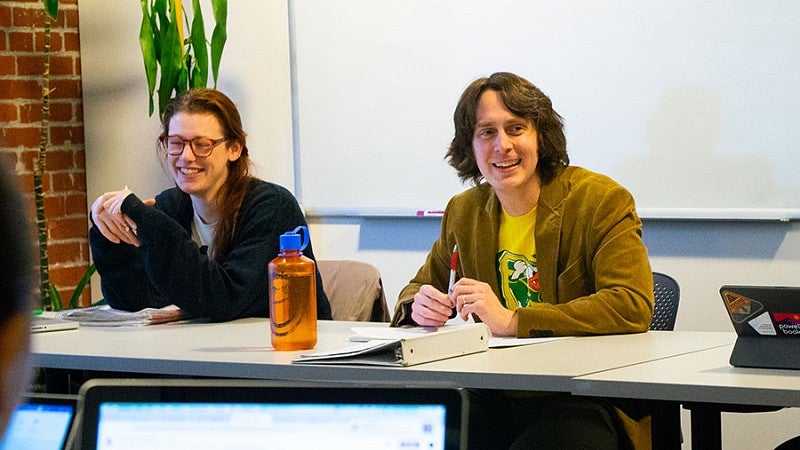 Ebersole in a historic preservation class at the White Stag Block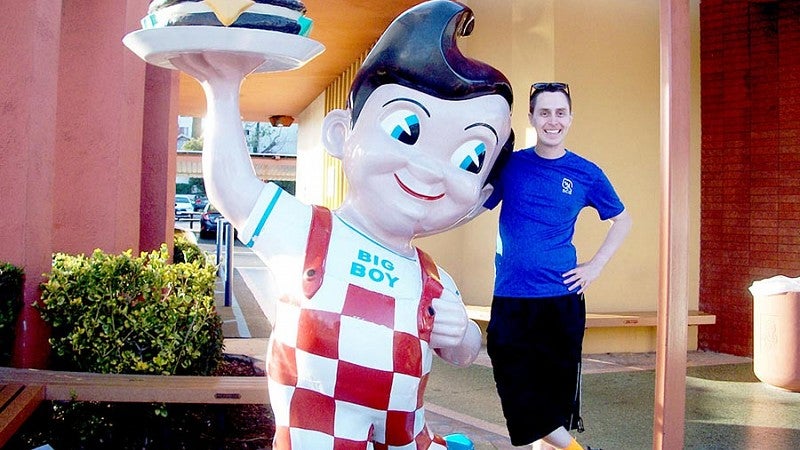 At the first Bob's Big Boy in Burbank, California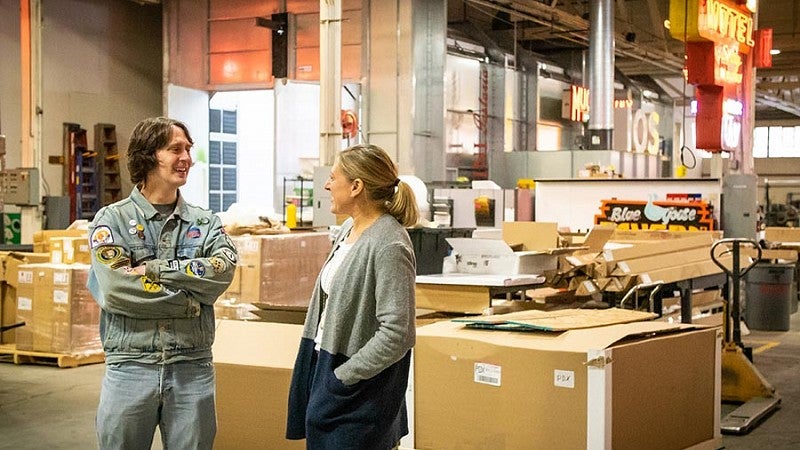 Ebersole with Security Signs Portland's Community Manager Darci Keljo