Rankings

There are many services that rank colleges and universities. Just three are described here. As with any ranking system it is important to understand the methodology used.
DesignIntelligence
DesignIntelligence (DI) is an independent company that publishes an annual report called "America's Best Architecture and Design Schools." The survey ranks architecture programs on their ability to prepare graduates for professional practice. It asks hiring professionals; current students and recent alumni; and deans, chairs, and department heads to provide their perspectives on the strengths of architecture, interior architecture, and landscape architecture programs in the US.
Due to COVID-19, DI cancelled the 2020 rankings survey.
In 2019, over 9,000 hiring professionals from over 4,200 professional practice organizations returned survey responses. Hiring professionals provide input about the schools they most admire, the ones they hire from the most, and how recent graduates are performing in 12 key focus areas. 
Deans, program chairs, and department heads complete a survey about major changes in their course offerings, and current students and recent alumni from architecture, interior design, and landscape architecture programs offer their perspectives on the quality of the programs they studied in and how prepared they feel in key skill areas. Learn more about DI Methodology and Rankings.
The School of Architecture & Environment includes nationally ranked programs in sustainable built environments, adaptive design, and resilient design; healthy built environments; and most hired-from school.
19
most admired
​​​​Architecture schools
6
most hired from by
landscape architecture firms
4
sustainable built environments & adaptive and resilient design
2019 DesignIntelligence Survey Results
Most Admired Schools:

19—Architecture Undergraduate
29—Architecture Graduate
16—Landscape Architecture Undergraduate
21—Landscape Architecture Graduate

Schools Most Hired From by Firms (by program size):

12—Architecture (100+ graduates)
6—Landscape Architecture (20–34 graduates)
Sustainable Built Environments/Adaptive Design/Resilient Design:

4—Architecture Undergraduate
7—Architecture Graduate

Healthy Built Environments:

4—Architecture Undergraduate
10—Architecture Graduate

Most Admired Educator: Professor Alison Kwok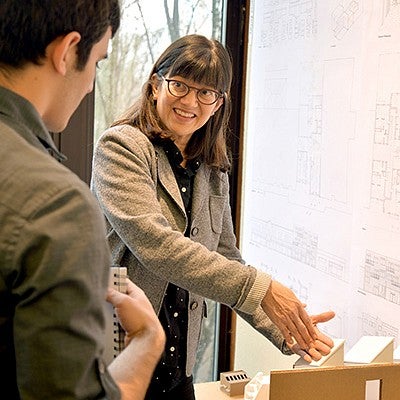 Most Admired Educator
An Inspired Educator with an Eye on Sustainability
Professor Alison Kwok, whose "passion and perseverance for passive design, LEED, control systems, and dedication to education shines beyond the courses I took with her, but also into my career." —An alumni nominator
DesignIntelligence has twice named Kwok one of the 25 Most Admired Educators in the country.
Learn more about Professor Kwok
​​​​​​
---
Architectural Registration Exam
The Architectural Registration Exam (ARE) multi-part (or division) exam is designed to test your knowledge and skills regarding the practice of architecture. University of Oregon graduates outperform graduates from many competitor institutions on the ARE, a key milestone to licensure. based on data through 2020, UO graduates' pass rates average 73% compared to the national average of 55%. UO graduates consistently score above the national average in all six exam areas:
Construction and evaluation
Practice management
Programming and analysis
Project development and documentation
Project management
Project planning and design
Compare UO to USC (53%), Michigan (61%), UPenn (58%), Cal Poly SLO (66%), Arizona (55%), UC Berkeley (61%), and UT Austin (67%).
---
Learn.org
Dedicated to helping millions of students and working professionals research potential schools, degrees, and careers by providing reliable and practical answers to your most critical questions, Learn.org currently ranks our architecture programs at #9.
---
QS World University Rankings
Quacquarelli Symonds Ltd. (QS), based in London, has been conducting college and university rankings of the world's top 1,000 universities for 15 years. For the 2020 results, they assessed the best of the 4,700 institutions that were eligible for inclusion and ranked the top 1,000 institutions.
For 2021, our rankings in QS's best U.S. schools is 111–120 out of 352 universities. Our ranking in the Architecture and Built Environment category is 201–220.
---
Wall Street Journal/Times Higher Education
The Wall Street Journal/Times Higher Education (WSJ/THE) College Rankings collects its data through their annual US Student Survey, reflecting input from approximately 200,000 current college students on 1,000 institutions. Questions focus on students' engagement with their studies, their interactions with teachers, and overall satisfaction with their experience. The student-focused nature of the WSJ/THE College Rankings means that the results differ significantly from the THE World University Rankings, which have a heavier emphasis on research excellence on a global scale.
University of Oregon is currently ranked 239.