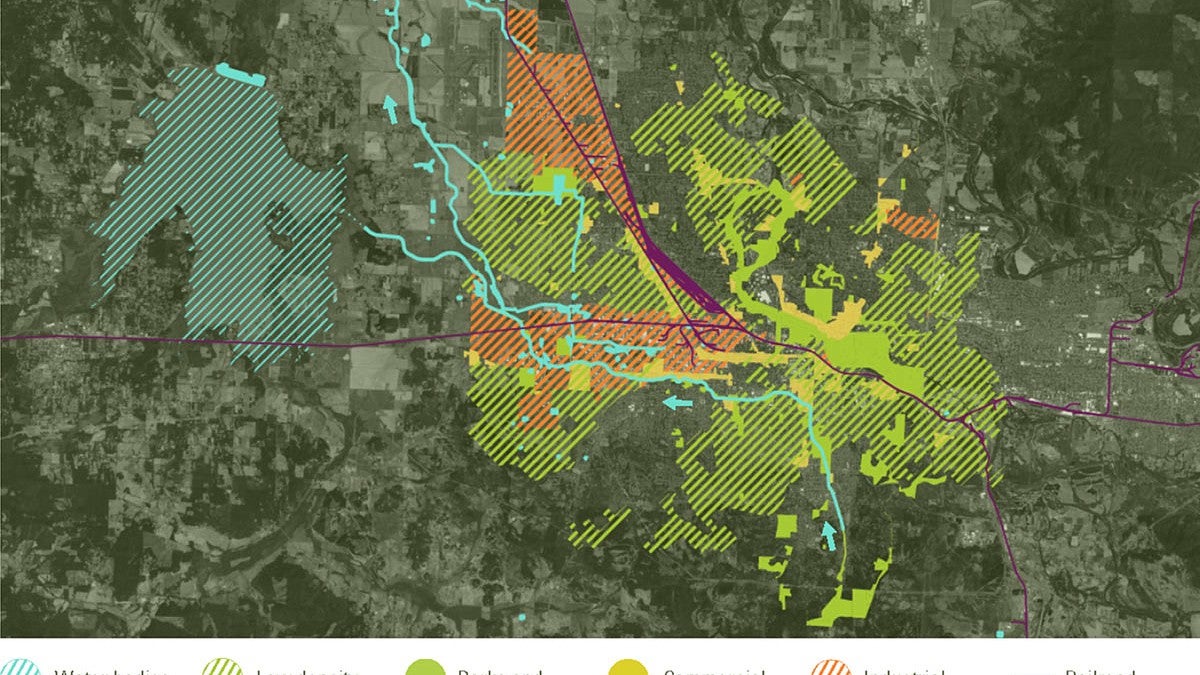 A map of the geospatial distribution of pesticides sources from the 'Post-Pesticide Eugene' project  
In March, the Council of Educators in Landscape Architecture awarded a team of four master of landscape architecture (MLA) students with the 2021 CELA Student Creative Scholarship Honorable Mention, an international award that recognizes the ability to combine research methods and design innovation in the field.
The student team includes Natalia Dorkina, Grace Graham, Jenna Witzleben, and Daniel Teeler. Their project, "Post-Pesticide Eugene: A Green New Deal Superstudio," was recognized for the award.
"This achievement is unprecedented for first-year students developing their first studio work ever," said Ignacio Lopez Buson, pro tem instructor of Landscape Architecture, the faculty member who led the team. "It speaks to this cohort's passion, motivation, and raw talent—a cohort who also accepted the challenge of starting their MLA in the current health crisis. Everybody at the UO has made an incredible effort to adapt to these extraordinary circumstances. I would like to thank students, faculty, reviewers, and local experts who made this studio so successful through their contributions."

MLA students Jenna Witzleben, Grace Graham, Natalia Dorkina, and Daniel Teeler 
Natalia Dorkina, Grace Graham, Jenna Witzleben, and Daniel Teeler.
The students completed the award-winning project, "Post-Pesticide Eugene," for Lopez-Buson's landscape urbanism studio "Emergent Urban Natures." The project examines the sources and impacts of pollutants from Eugene, Oregon's industrial zones on local watersheds and communities. The team also  proposed a design and action framework for transforming the city's industrial ecology from one of extraction and toxicity to one of health and resilience. 
"This recognition reaffirms the important role that landscape architecture can play in the healing of contemporary cities," said Lopez-Buson. "The MLA program promotes a multi-scalar design framework based on cross-disciplinary research and big ideas. Simultaneously, our methods are socially and environmentally contextualized through collaboration with local experts and community partners. The 'Post-pesticide Eugene' project is an excellent example of such an approach to design—a balanced combination of top-down and bottom-up strategies."
Lopez-Buson explained that it is motivating for MLA students who are learning critical methods while also having a direct impact on their community. The project, he says, can also be used as a model for other cities with similar conditions to help them transition to a more sustainable post-industrial urban model.
"We hope this work will support local partners and inspire decision-makers to keep improving our physical environment through design," Lopez-Buson said.
Read more about the awards in CELA's announcement.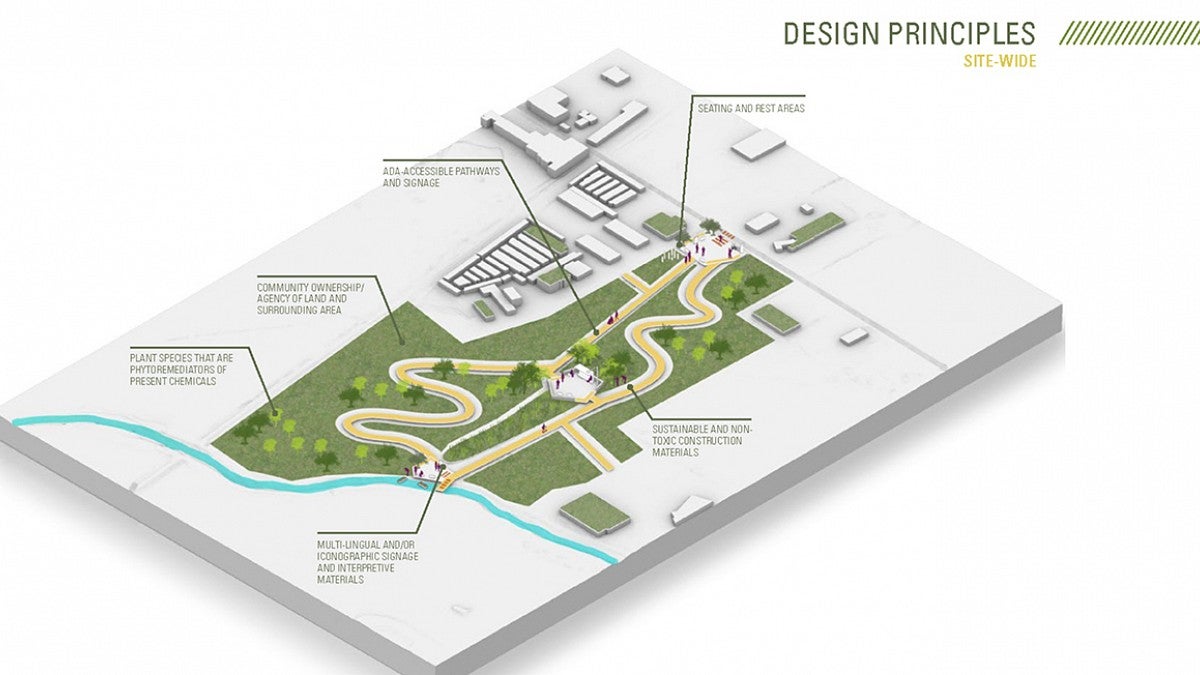 Design principles for the 'Post-Pestide Eugene' project