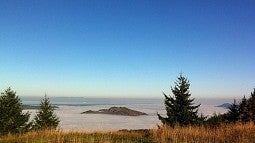 The view from Mount Pisgah's summit
At 1,500 feet, Mount Pisgah offers panoramic views of the Willamette Valley, making the summit one of the area's most popular hiking destinations, but its popularity is starting to take its toll.
Landscape Architecture Professor Bart Johnson told local NPR affiliate KLCC that, in the past two decades, annual visitors to Mount Pisgah have increased from 40,000 to 400,000.
Johnson has put the challenge of protecting the summit landscape while accommodating increasing visitors to students in his Site Planning and Design studio.
"Students are really profoundly good at imagining things that other people haven't imagined," Johnson told KLCC. "And pushing the envelope on those."
Learn more about the project in the KLCC story "UO Students Re-Imagine Mt. Pisgah Summit."