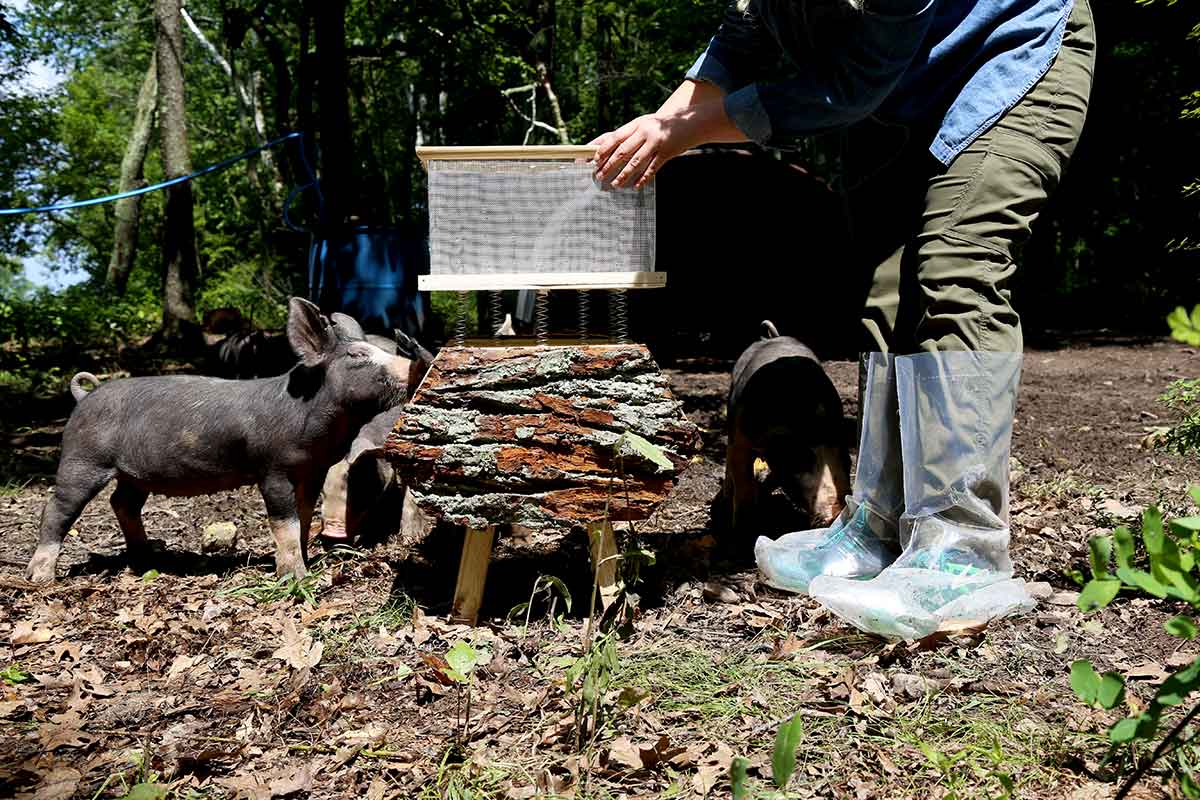 In the heat of last summer, the pigs of Overlook Farm received a special treat: a scratcher. 
Landscape Architecture graduate student Hannah Six designed a tool that provides sweet relief for pigs while also doubling as a seeding machine.  
"The pigs come, and they clear out invasive species and they rub up against the machine and it shakes the top and the seeds disperse," said Roxi Thoren, department head and associate professor in the Department of Landscape Architecture and director of The Fuller Center for Productive Landscapes (FCPL) in the School of Architecture & Environment. "The pigs promptly ran over to it and scratched against it. It actually works."
Hannah Six was one of about a dozen students who this summer attended the Overlook Field School in Pennsylvania, run by FCPL, which provides an education site for exploring the role of place in cultural sustainability. Each cohort is presented with a theme, and this year the students tackled the idea of maintenance. Students worked with Katherine Jenkins and Parker Sutton, landscape architecture faculty members from Ohio State University's Knowlton School of Architecture.
"The point of the field school this year was to really think about how we maintain gardens and landscapes," Thoren said. "Are there ways we can do it that are more ecologically functional?"
The students designed tools and developed site plans, both of which have been on view at the Gallery Land Collective in Philadelphia. The show opened Oct. 5 for Design Philadelphia's First Friday event with more than 400 visitors to the gallery. Thoren said the tools were both whimsical and provocative. 
"These things are quite funny, quite beautiful, and raise some interesting questions about landscapes and time," Thoren said. The field school held a closing reception for the exhibit Oct. 18 attended by many "Friends of Overlook," and landscape architecture professionals, who are in town for the American Society of Landscape Architects (ASLA) annual conference, which Thoren and the students are also attending. 
"ASLA has the best landscape architects in the country presenting their cutting-edge designs. It's such a great opportunity for our students to be able to ask the designers, doing the most important work in the world, about their work," Thoren said.
Every year, ASLA sets up an alumni tailgate for which schools design booths. Last year, UO students created a rain-themed booth and won a design spirit award that came with 12 tickets to this year's event.
The 2019 Overlook Field School will explore the theme of "Difficult Landscapes." The deadline for summer 2019 is January 31, 2019, for priority consideration. 
Learn more at the Overlook Field School website.