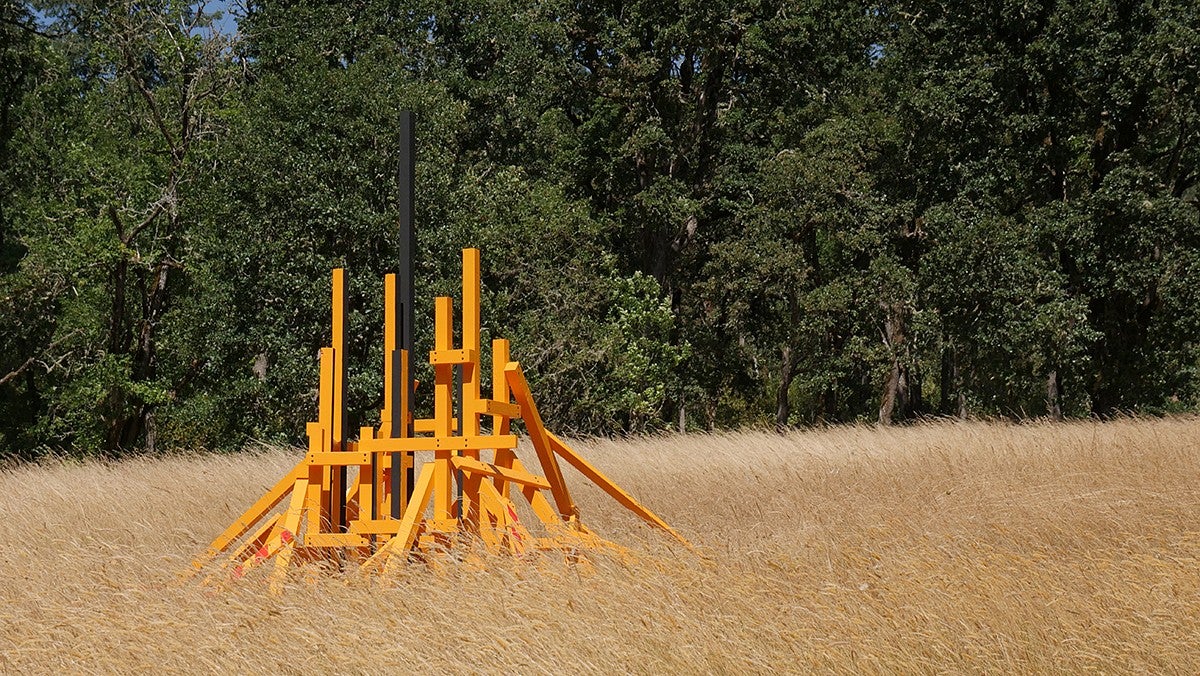 Environmental artist and designer David Buckley Borden has long created art to draw attention to landscapes, to have the eye linger on the effects of climate change, be that the upcoming Ghost Forests in Boston or a multidisciplinary immersive installation near Yellowstone National Park.
"How do we care for the land? How does it take care of us? What is the meaning of recovery in the face of continual trauma, such as wildfires and other disturbances, be they environmental or cultural?"
Now the visiting professor of landscape architecture is prompting students to think about the land in relation to wildfires. Borden is the 2021 artist in residence for the Overlook Field School, a summer design studio for UO Landscape Architecture students that is supported by the Fuller Center for Productive Landscapes, which was founded by Susan ('71) and Mortimer Fuller in 2012, who have generously given over $3 million in its support.
Guided by a team of scholars, students use fieldwork and a range of creative methods to investigate an annual theme, culminating in the construction of landscape installations.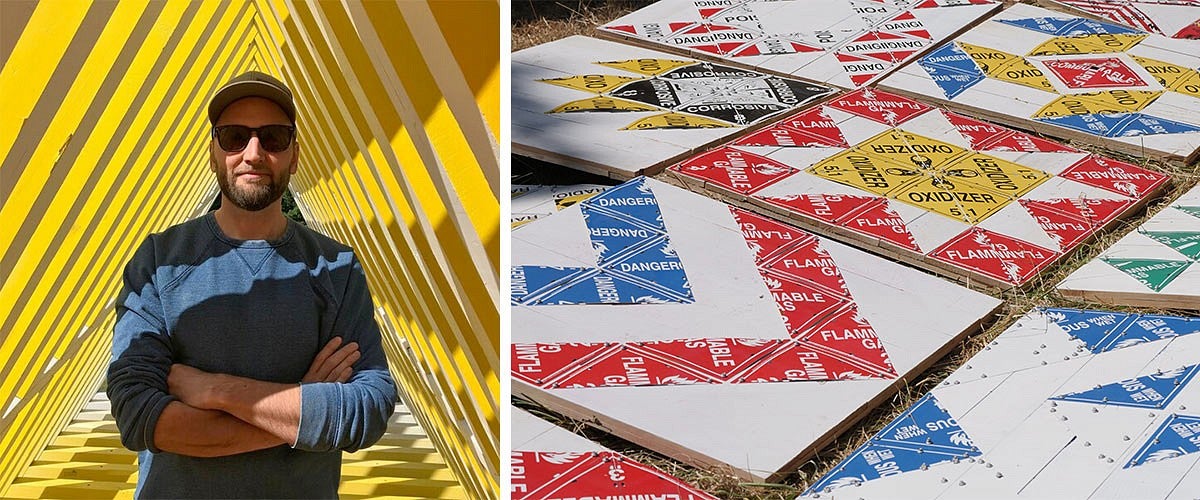 This year's theme is "Recovery," and the studio concluded this summer with an exhibition of landscape architecture and art installations at Mount Pisgah Arboretum, a 209-acre nature area outside Eugene—and a not-infrequent site of wildfires.
The College of Design recently caught up with Borden to discuss environmental art, Overlook and the exhibition, and his fall 2021 course—Environmental Communication Theory (LA 4/572)—which is open to all students and inspired by Borden's environmental communication work at HJ Andrews Experimental Forest in the Cascade Mountains. (Scroll to bottom of story for longer course description.)
What does it mean to be the 2021 Overlook Artist in Residence?
Being the Overlook Artist in Residence meant that I had the opportunity to share my creative practice and process with students as we collectively explored the concept of "recovery" in the context of regional wildfires. Professor Michael Geffel and I toured burn-sites with students and led a creative process that enabled each student to produce a final landscape installation at Mount Pisgah Arboretum.
The 2021 Overlook theme is 'Recovery.' How does your work address this theme?
We explored the transformation of "Recovery" as it applies to productive landscapes. How do we care for the land? How does it take care of us? What is the meaning of recovery in the face of continual trauma, such as wildfires and other disturbances, be they environmental or cultural?
For this year's program, my own work was inspired by regional narratives in response to the 2020 wildfires. Along with recent Bachelor of Landscape Architecture graduate Nancy Silvers, we created a series of 16 large-scale, mixed-media quilt patterns from recycled hazardous material signage to express community memorial, testament, critique, and celebration of wildfires as an ecological phenomenon. While telling the story of the 2020 fire season, our work addressed larger issues of climate change, industry, community experience, and the past, present, and future of wildfires in the Pacific Northwest.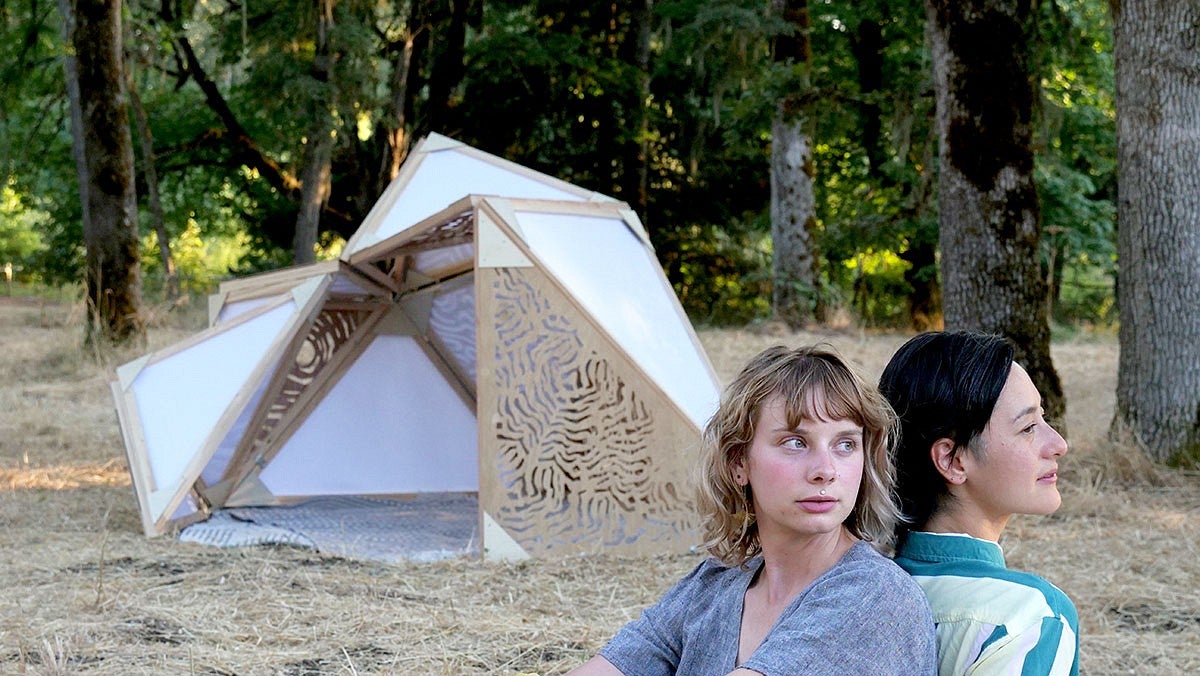 Tell us about the Overlook exhibition featuring the work of Landscape Architecture students at Mount Pisgah.
The exhibition was a chance for Overlook students to share their landscape installations, and smaller process-work, with both the UO design community and the greater Oregon community. The three-day exhibition showcased eight site-specific projects including "Hyper Instrument" by Will Bonner and "Flair X Flare" by Kennedy Rauh—both Master of Landscape Architecture (MLA) students.
Bonner's "Hyper Instrument" explored the hybrid world of nature and technology. Bonner describes the installation as having "acted as an interface between the complex processes of the environment and our own senses, giving us a broader understanding of the process of recovery over time."
Rauh's installation calls attention to the role of the snag [a standing dead or dying tree] in a post-fire landscape. In Kennedy's own words: "Snags are essential to recovery. The story of the forest is shared through the trees torn, twisted, burned, clear-cut, re-planted, decayed. Inspired by the upright remains of a Western Red Cedar, this project explores the typologies of snag-hood using nominal lumber to amplify the difference between naturally formed snags and logged stumps found in our forests."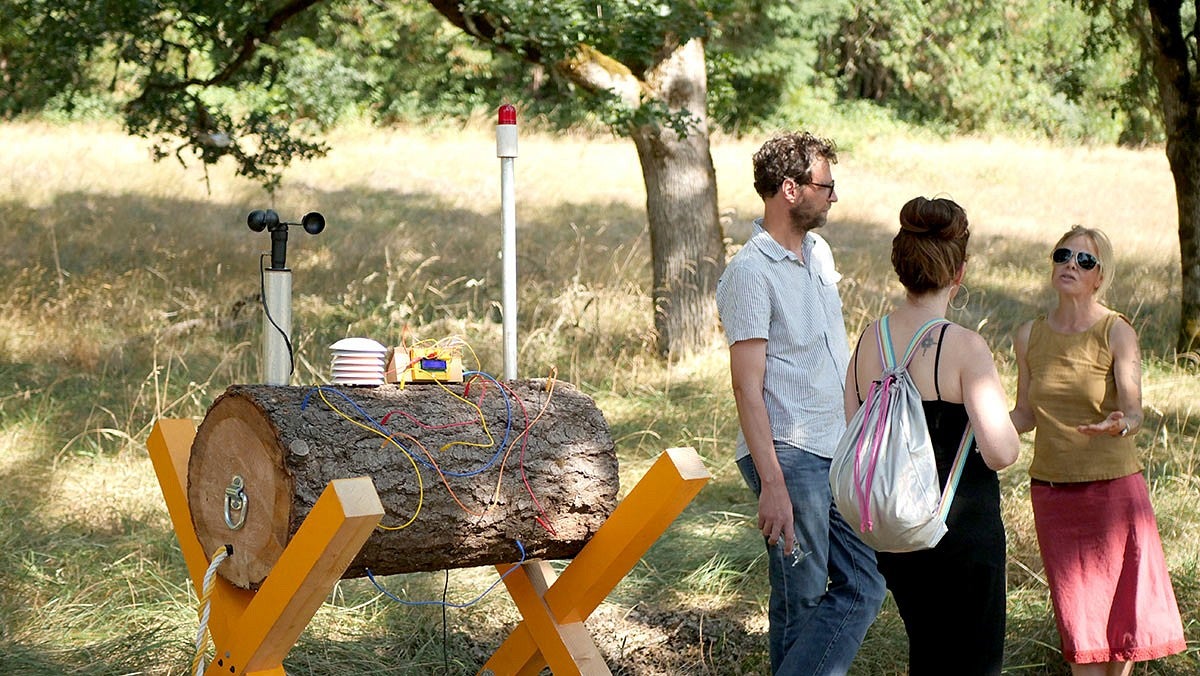 You have launched a new design-ecology initiative between the Landscape Architecture department and the HJ Andrews Experimental Forest, a 16,000-acre long-term ecological research site in Oregon's Western Cascades Mountains. What can you tell us about this initiative so far?
The initiative is focused on developing interdisciplinary projects that introduce students to the people, place, and practice of the HJ Andrews Experimental Forest (HJA). It enables creative projects that explore collaborative design work and new relationships that build off the research knowledge of the HJA.
Landscape architecture students are not only involved but are at the core of the initiative. Beyond this summer's Overlook Field School, I have organized several studios, guest lectures, reviews, and the like, with UO students and HJA researchers. This fall I will be teaching a design-research studio—Environmental Communication Theory (LA 4/572)—at the HJA in which students create place-based landscape designs to communicate environmental knowledge. I'll also be collaborating with HJA researchers and students to design and build a series of educational landscape installations both on site at the UO and HJA with the support of the Fuller Center for Productive Landscapes.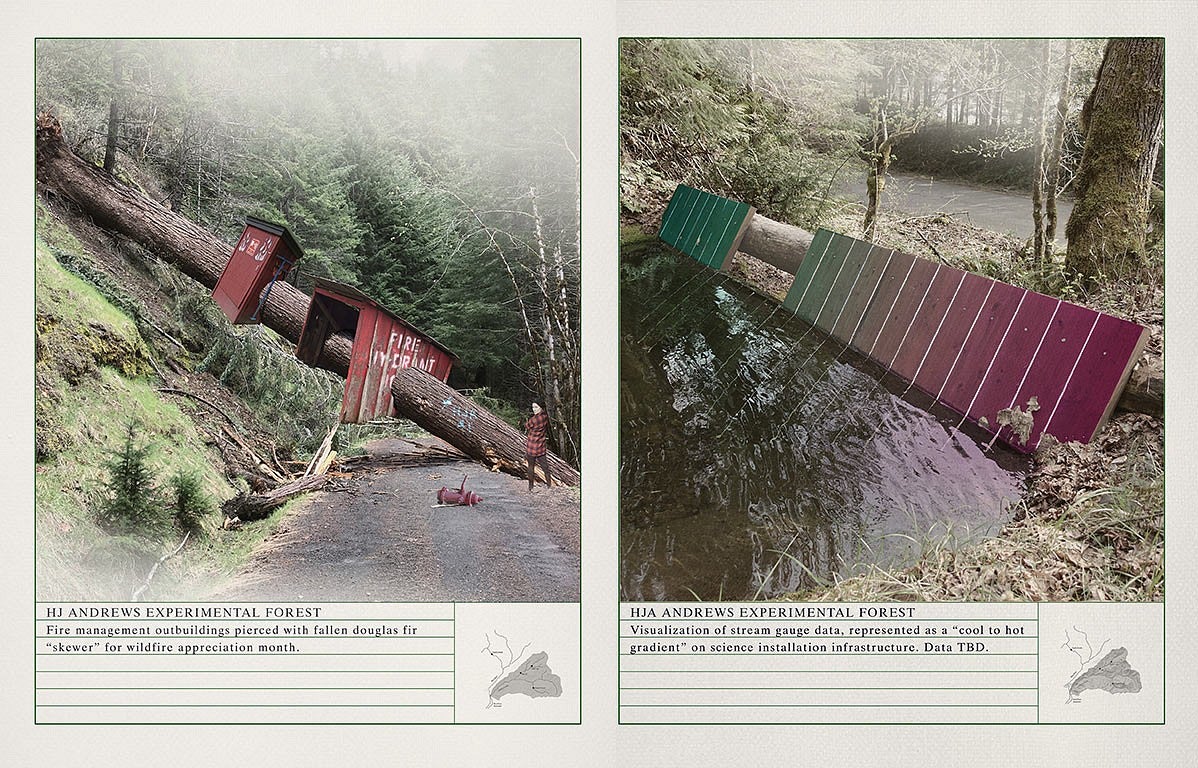 What can Landscape Architecture students learn from environmental artists like yourself?
My practice is ultimately focused on the synthesis of art, design, and ecology to communicate environmental issues to the public. I sometimes tell my students that the world's greatest environmental challenges are rooted in culture, not ecology. That said, landscape architecture students must develop skills to articulate environmental challenges and ultimately solutions. The relevance of this work goes beyond LA students to include any student who is interested in environmental stewardship. I welcome all students to take my this fall. The class is open to all majors and is a timely opportunity to explore the role of communication and how it shapes our environment.
What have you learned from UO Landscape Architecture students?
I have learned that these students prefer generating sawdust and paint fumes in Lawrence Hall over digital design work on a computer. So, as I start the second year of my Visiting Professor appointment, I plan to deliver more maker-based studios per the demands of these ambitious students.

---
See full course description for LA 4/572:
File
Environmental Communication Theory