When Willie Richardson moved from South Carolina to Oregon in 1978, she came with her three sisters and their families. Though the five adults and six kids traveled in cars rather than in a covered wagon, as African Americans from the South moving West to reinvent their lives, they were akin to pioneers.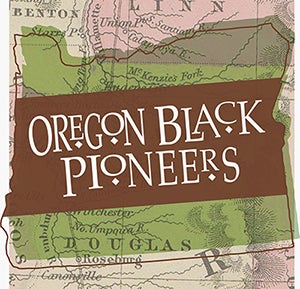 Forty years later, the Oregon Black Pioneers, a group Richardson has shepherded since 2004, is being honored with the 2017 George McMath Historic Preservation Award, presented annually by the UO Historic Preservation Program in the School of Architecture and Allied Arts.
The award will be presented at a luncheon beginning at 11:30 am Wednesday, May 17, at the White Stag Block, 70 NW Couch Street in Portland. Tickets may be purchased online until May 12. Tickets are $50 per person. Proceeds support financial aid for historic preservation students. For information, call 541-346-3697.
Since 1993, the Oregon Black Pioneers has produced publications, exhibitions, conferences, and stage productions, delivered presentations in classrooms and boardrooms, recognized burial sites of black pioneers in Oregon, and published two books, Perseverance: A History of African Americans in Oregon's Marion and Polk Counties, and African Americans of Portland.
The group was recently asked to help with the UO's plans to create a Black Cultural Center.
In partnership with the State Historic Preservation Office, Oregon Black Pioneers has documented historic sites statewide that have been centers of African American population. The long-term goal is to prepare a National Register of Historic Places' multiple property document for the whole state.
"We want to bring the story of African Americans in Oregon alive," Richardson said, "and make sure that not just our children who look like us but everybody sees the value of and how we are part of the fabric of this state we all call home."
Researching the history of blacks in Oregon is often sobering, Richardson said.
"As you delve into it you are really humbled by what the folks who cleared the pathway for you did, even against horrendous circumstances and obstacles placed in their way," Richardson said. "You feel honored to tell their stories because it's their stories and their lives that made it possible for us to be here in this state."
 "All Aboard: Railroading and Portland's Black Community," the group's exhibition held at the Oregon Historical Society in 2013, focused on the African American community around Portland's Union Station from the 1800s to 1940s. The exhibit was later displayed in Salem and Eugene.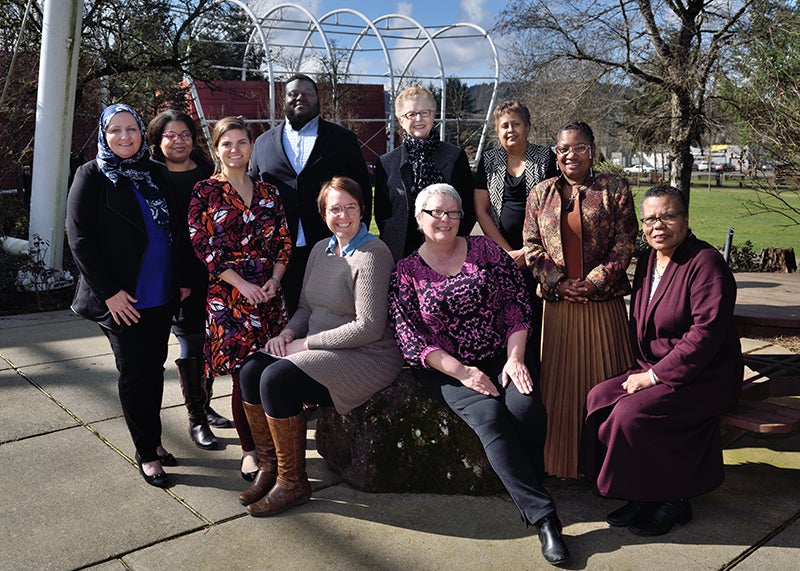 Above: The Oregon Black Pioneers board of directors (first row, left to right): Suesann Abdelrasul, treasurer; Natalia Fernandez, collections (in red print dress); Janet Jacquier, internship recruitment development (seated, beige sweater); Zoe Morrison, chair of marketing; Willie Richardson, president; Gwen Carr, secretary. Back row (left to right): Tatianna Bryant, co-chair, virtual museum development; Jonathan Cain, chair, virtual museum development; Martha Rutherford, chair, board development; Kim Moreland, vice president.
Oregon Black Pioneers is now working to mount "Racing to Change: Oregon's Civil Rights Years," which will be on display at The Oregon History Museum starting in January 2018.
The prestigious McMath Award "will elevate us to another layer of outreach to other folks out there and hopefully some of them will want to become involved," Richardson said.
"We are delighted that, for the first time, the McMath Award recognizes an organization rather than an individual," noted James Buckley, director of the UO's Historic Preservation Program. "It has required a true team effort for the Oregon Black Pioneers to locate and celebrate the many pieces of African American history in this state, and we are excited to highlight their many accomplishments."