A Collaborative, Creative Design Discipline
In Interior Architecture, we blend interdisciplinary design experiences with discipline specific knowledge that prepares you to be at the forefront of interior design practice. Deep design thinking coupled with the rich liberal arts focus of the UO offers interior architecture students the opportunity to blend broad understanding of the human condition with innovative design strategies to create human-centered environments.
---
Undergraduate Degrees Offered
The Department of Interior Architecture offers a Bachelor of Interior Architecture (BIArch) and a minor in interior architecture. The bachelor of interior architecture (BIArch) degree includes both professional curriculum and general education requirements.
Interior Architecture undergraduate students can choose to minor in a program within the College of Design—such as architecture; art history; art; historic preservation; landscape architecture; and planning, public policy and management—or pursue a minor in one of the many other programs offered at the UO including business, international studies, music, Italian, Spanish, Japanese, Chinese, German, French, dance, theater, ethnic studies, environmental studies, and more.
---
Student Spotlight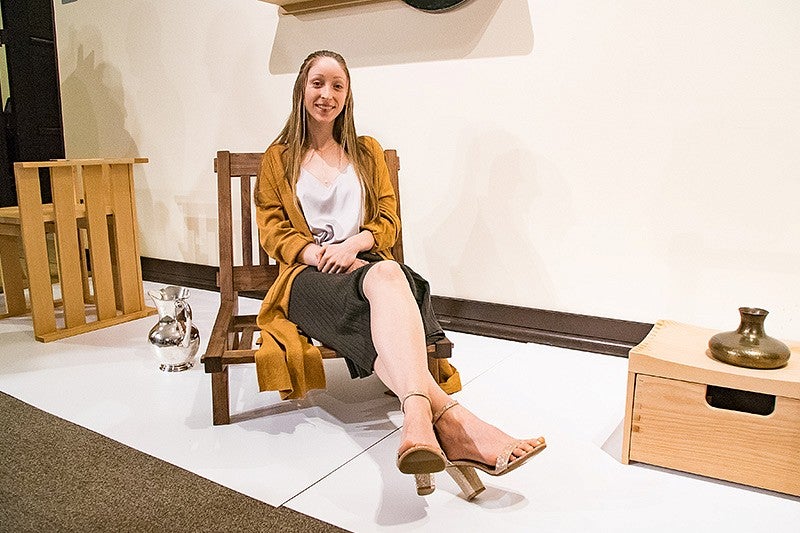 Stella May Christ (BIArch, class of 2020) chose to study interior architecture because she loves beautiful solutions. "How do you make every little thing beautiful?" Christ asks. "I like the details of projects a lot, rather than the broad context." Christ was a design associate for the UO Capital Construction office and is now a material consultant specialist for the Design Resource Center, a materials library created and run by SAE instructors Jenna Fribley and Kelsey Buzzell.
---
Courses Open to Nonmajors
We invite you to explore your interest in interior architecture. Try:
IARC 204. Understanding Contemporary Interiors. Introduction to the theory of interior architecture. Design criteria explored through illustrated lectures and projects involving analysis of space.
IARC 474, 475, or 476. History of Interior Architecture I, II, and III.Interior architecture as artistic expression. Includes the study of furnishings, textiles, and other interior traditions.
---
Let Us Show You Around
We have tours throughout most of the year.
---
Accreditation
Our Bachelor of Interior Architecture (BIArch) is accredited by the Council for Interior Design Accreditation (CIDA) and the National Association of Schools of Art and Design (NASAD).