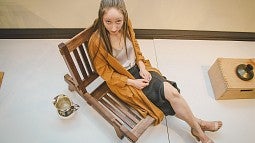 Stella May Christ with her Hoek Chair created for the Spring 2019 Interior Architecture 486/586 furniture studio
Stella May Christ, a lifelong trumpet player, came to the School of Architecture & Environment from the beach town of Pacifica, California. 
In addition to a bachelor of interior architecture, Christ is pursuing minors in music and architecture.
"I really like having the two artistic disciplines because they are both different evocative expressions of ideas and emotions," Christ said. "If I didn't do music I wouldn't be quite as good at design." 
We caught up with Christ as she begins her final year at the College of Design and prepares for the next steps in her interior architecture career.
Why did you choose to study interior architecture at the School of Architecture & Environment?
One thing I liked about it is, I didn't know much about it. Then I fell in love with interior architecture. I played trumpet for 13 years, but I wanted to keep music as a hobby. I knew this was one of the best schools on the West Coast for interior architecture, which also had a good music program.
I've been artistic my whole life. I took a class in high school on color theory, how color affects people physically and mentally. I found it so fascinating. How does space affect people? I thought psychologically it was an interesting question.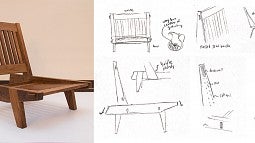 Stella May Christ used a silver pitcher by Arts and Craft artisan Dirk van Erp to inspire the design of her Hoek Chair
What have been your favorite moments and challenges in the Department of Interior Architecture?
I love being creative and having to adapt new ideas, like working on plans for a school or restaurant. 
I really liked the furniture studio [Interior Architecture 486/586]. I'm a really hands-on person. I liked being able to create something not just from my head, but from my hands.
What has surprised you about your experience?
I was surprised to learn how integrated interior architecture is with architecture. There is this huge stigma that interior designers don't do as much as architects. I was surprised that what we do is so much more important than putting stuff on the inside. It's so important to the human experience. I was surprised a lot by the stereotype breaking. What people really experience is everything that is interior architecture. 
What would you like to pursue in an interior architecture career?
I would like to work designing for mental health because that's what I'm passionate about.
There is a lot of anonymous architecture associated with health facilities and mental health as well. It's blank and sterile and uninviting. We need to come up with better ways of making patients really feel that it's a place to heal in and not just a functional box. The environment is so much more important to our healing than these places give credit to. I want to support mental wellness and make patients feel supported and healed.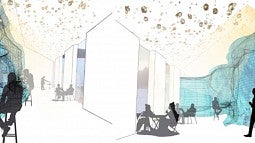 Christ's rendering study for the Wanderer, an experimental seasonal restaurant in Sisters, Oregon