On a recent March evening, the Jordan Schnitzer Museum of Art (JSMA) Papé Room buzzed with burgeoning designers and furniture enthusiasts. Under the spotlights, original student designs for the Interior Architecture 486/586 Furniture Design studio review lined a wall, each piece of furniture paired with a shimmering object. For the winter 2019 course, Instructor Tom Bonamici tasked the students with choosing an item from the Margo Grant Walsh Collection of tableware and then designing and constructing a complementary piece of furniture. Walsh is an alumna of the Interior Architecture program.
"The Margo Grant Walsh collection is a great resource for design students, as it bridges fine art, craft, and industrial design," Bonamici says. "Margo's collection is also fascinating for a class about making, like the Furniture Studio, since it's heavy on Arts & Crafts-era pieces; they're a terrific source of inspiration."
Scroll down to learn more about the students' experience.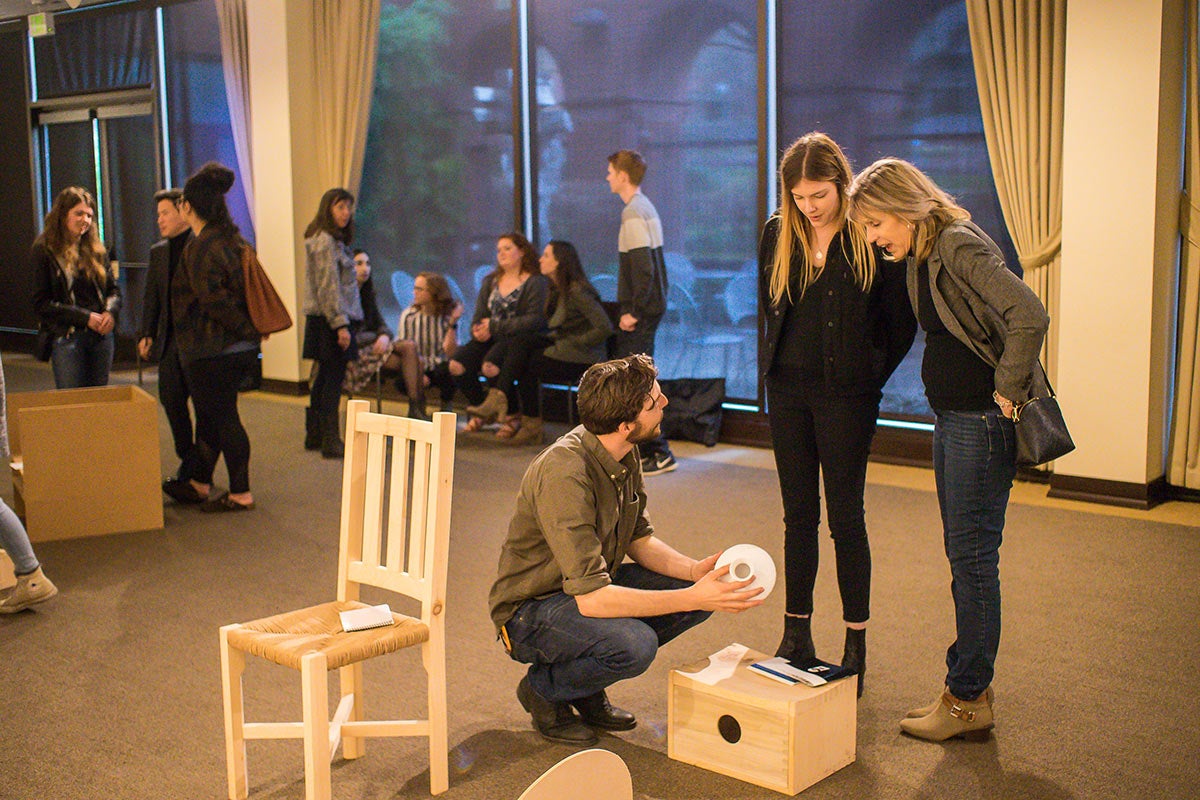 For the majority of students in the Furniture Studio, this was their first time working with wood, let alone building a piece of furniture. "This exercise was very challenging for students because the metal objects were distinct in material, scale, and function from their furniture elements," said Linda Zimmer, associate professor and head of the Department of Interior Architecture. "Students that I talked to in the review began to see proportional relationships and conceptual parallels that they would not have ordinarily drawn. It was a great exercise for them to be able to relate one design to another in compositional, and abstract or philosophical ways and helps them to understand a subtle language of design inspiration."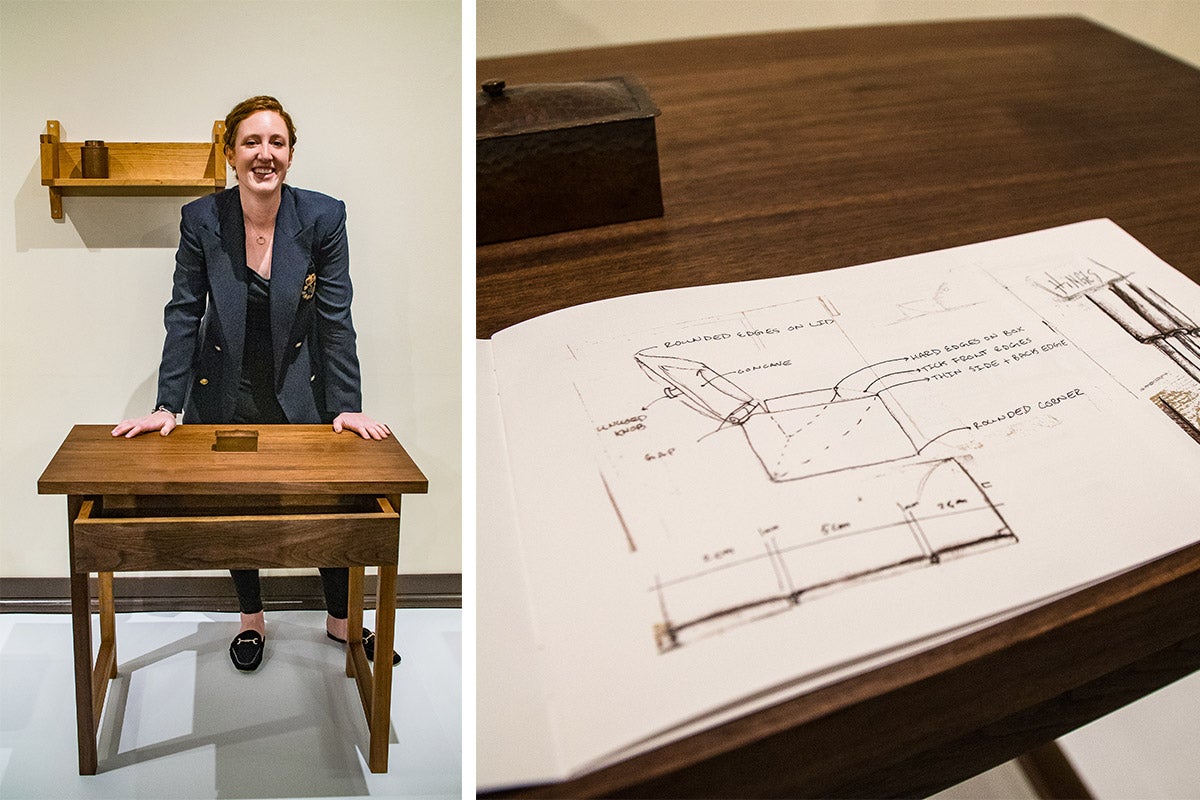 Students were able to choose their inspiration piece from about two dozen objects in the Walsh Collection. Hayley Stacy, a second year interior architecture graduate student, chose a hammered copper stamp box by the 20th-century designer Gustav Stickley. The box inspired her walnut wood table with a drawer that pulls out from below. "I've never built a piece of furniture in my life," said Stacy. "It sparked a passion for me." Bonimici added, "Hayley's piece is a great example of a really good interpretation of a historical piece with its subtle but fine detailing."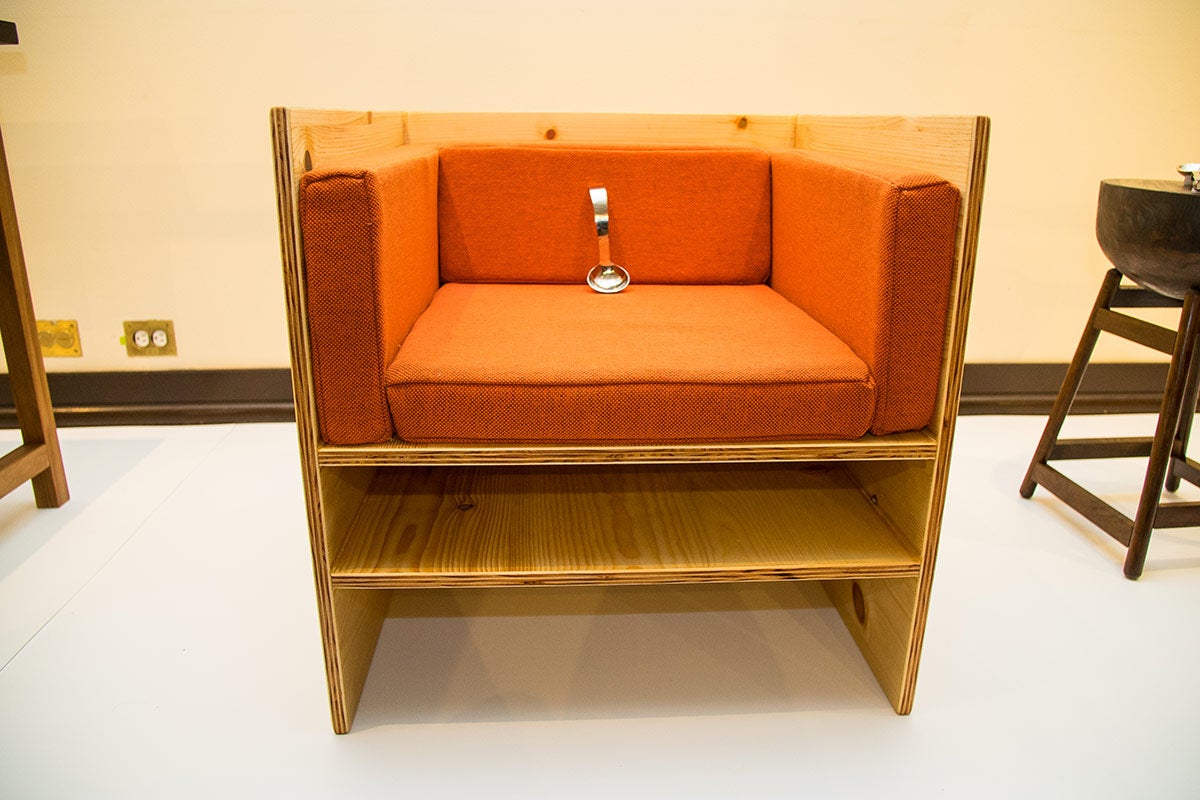 Undergraduate interior architecture student Phoenix Hirsh designed the cube chair using as inspiration a sterling silver ladle made in 1915 by the Keswick School of Industrial Handicraft.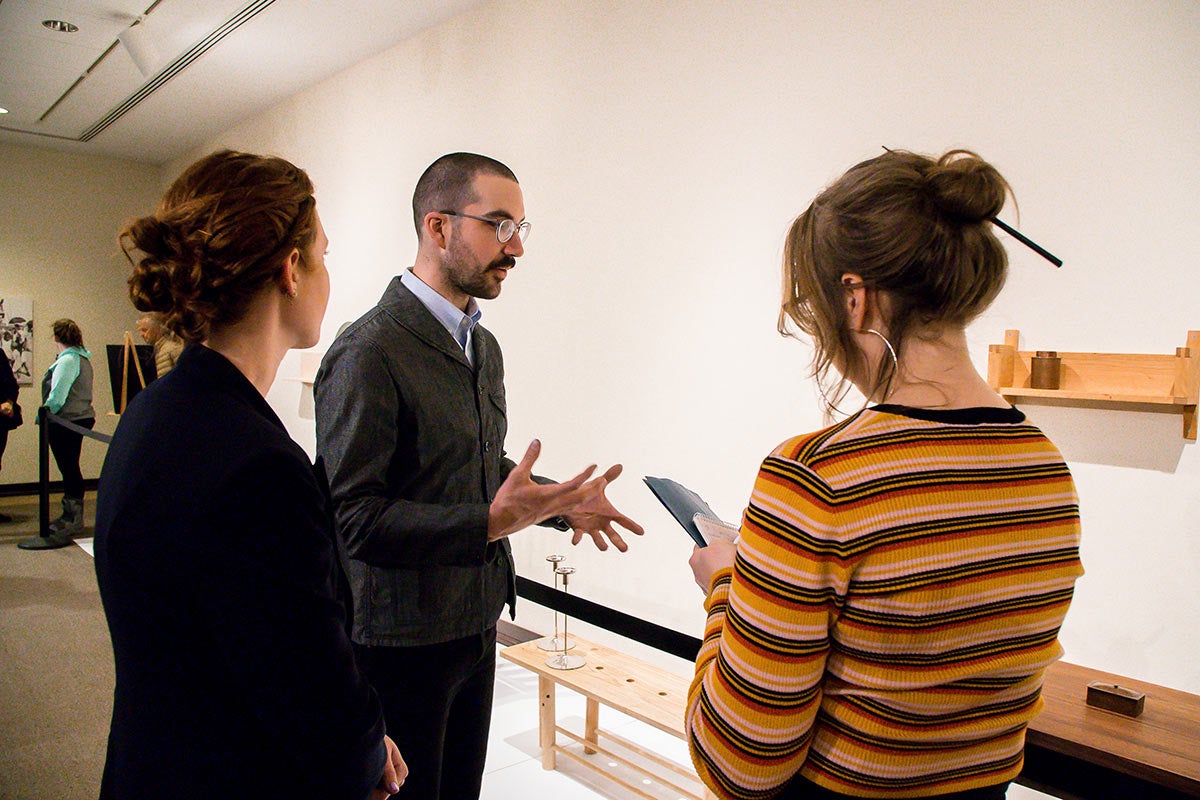 The exercise is important for design students to begin learning how to design with an object or objects they are beholden to, rather than having free reign."I hope they learned the value of having a design constraint, a little about Margo Grant Walsh and her collection, and, most importantly, I hope they were empowered to do design work with their hands and develop a feel for physical materials," Bonamici (pictured middle) said.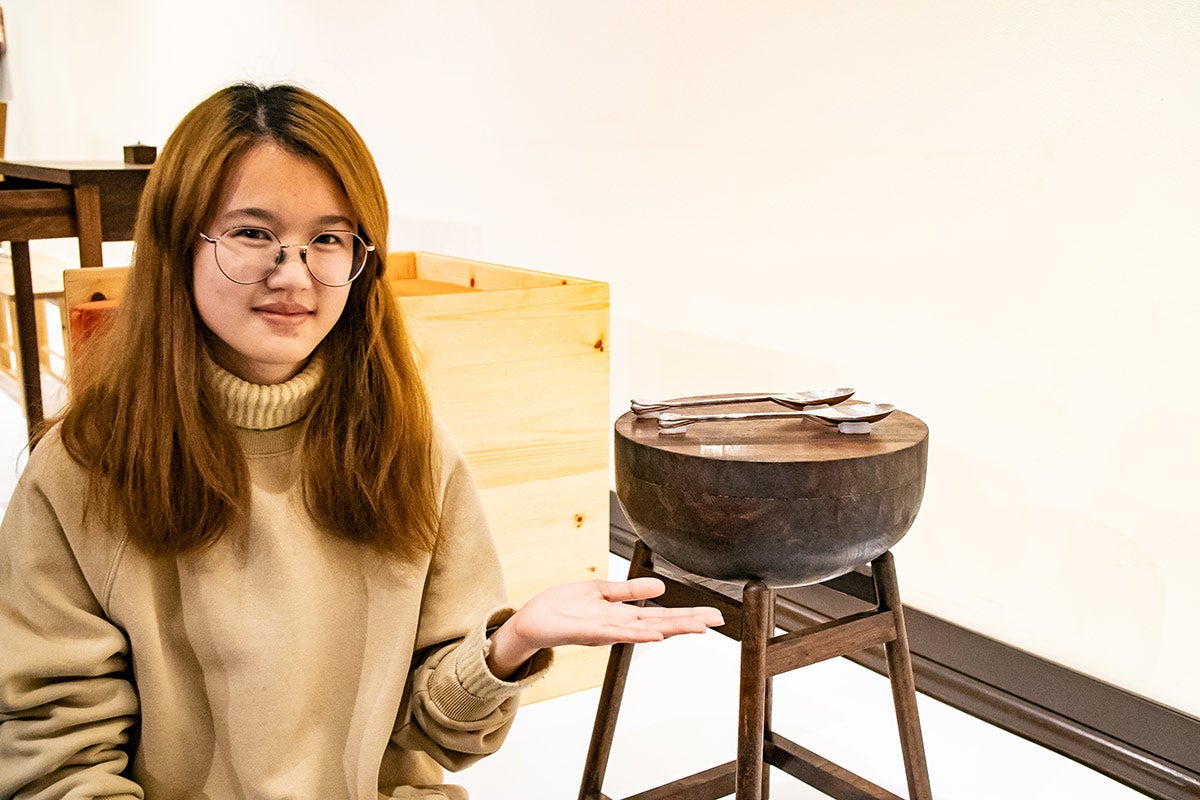 Xiaoli Tian chose a pair of sterling silver serving spoons by Scottish silversmith Graham Stewart as muse for her Big Head Side Table. "I liked the big head and slender body of the spoon the most," said Tian, a master of interior architecture graduate student. "I wanted the table to have a sense of quiet and weight." She used a dark stain to emphasize the weight of the table's bowl. "You're always thinking a step ahead when building furniture," she said. "I had to test the bowl several times to get it right."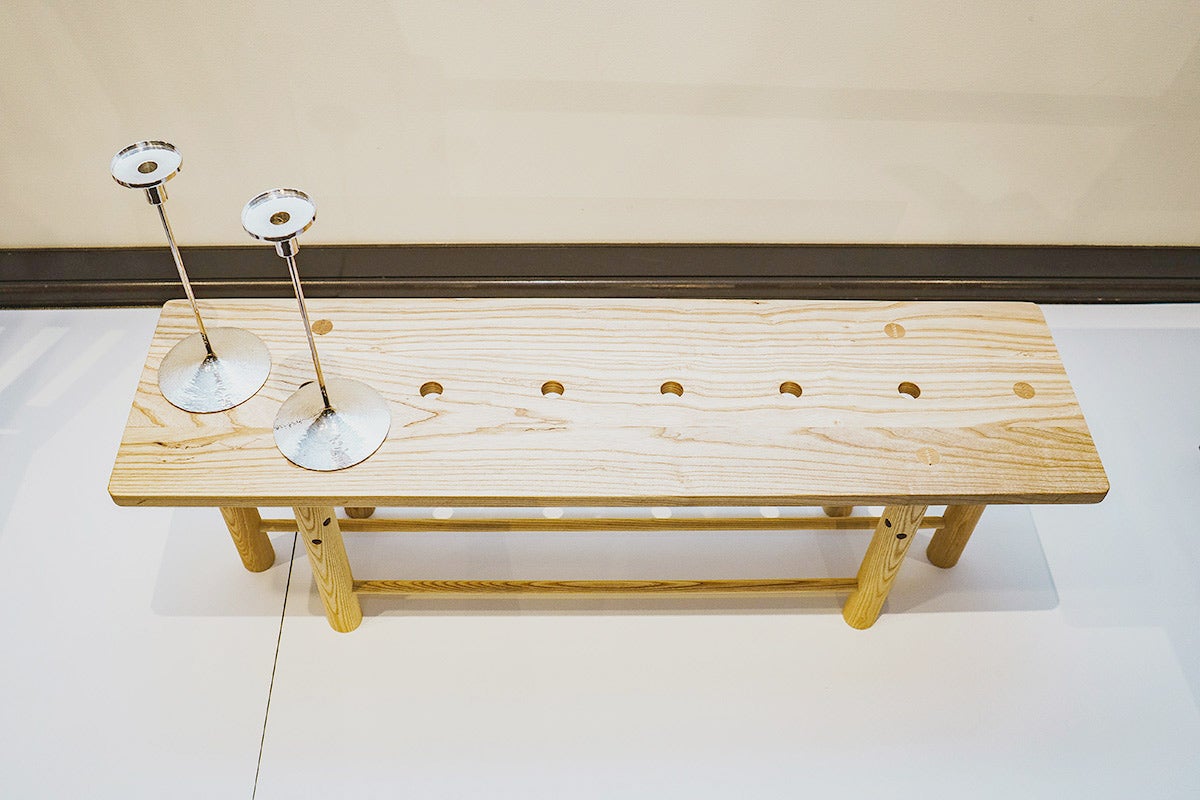 A pair of sterling silver candlesticks by Danish designer John Victor Rørvig are reflected in the design of the Ash Bench by interior architecture undergraduate student Danielle Croft. "Inspired by Danish Furniture circa 1970, this ash bench mimics the hollow construction of the Rørvig candlesticks with perforations along the top."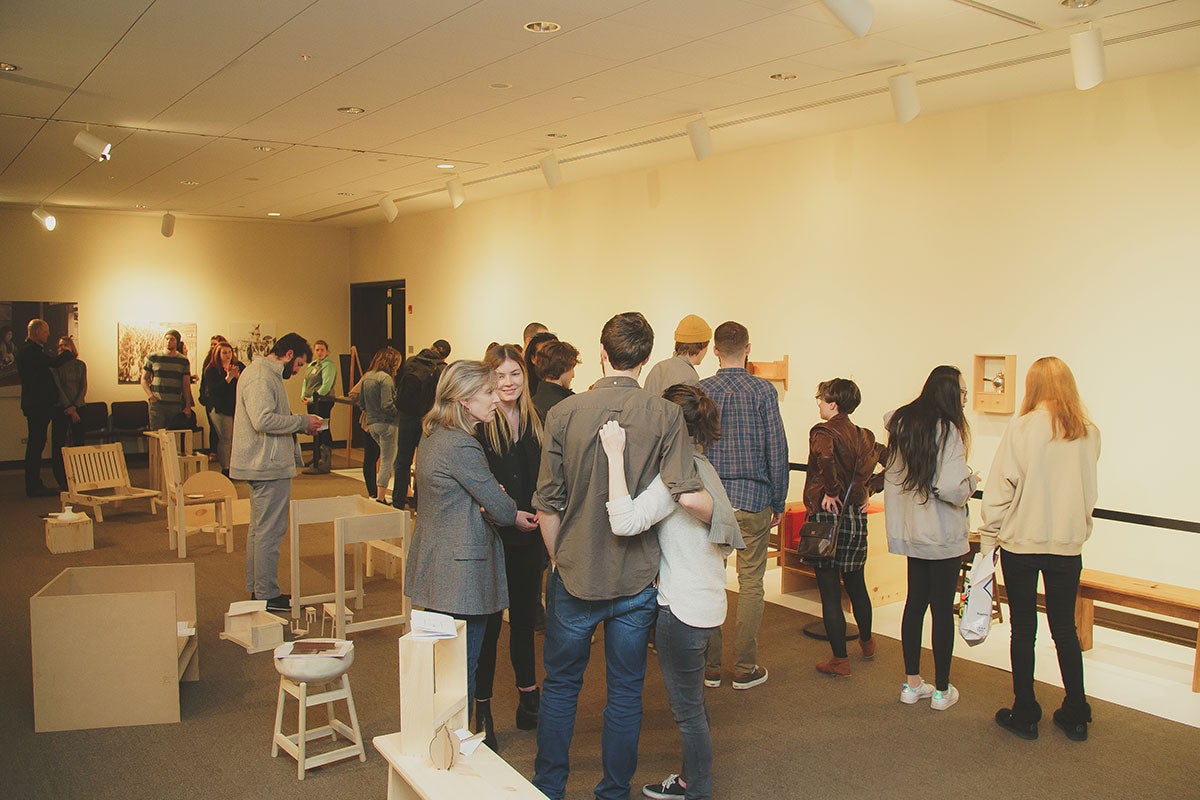 "This exercise had students starting from a standpoint of physical observation, looking just at the object itself," Zimmer said. "This helps train student designers to be astute observers and to consider what physical characteristics make an object visually appealing (or not)." Zimmer added, "At the same time, interior designers are often charged with selecting elements at all scales that work together to make a harmonious whole. By using existing small-scale objects to influence the design of a custom larger object, this exercise helps students to rehearse their judgement in creating a visual vocabulary for projects in the future."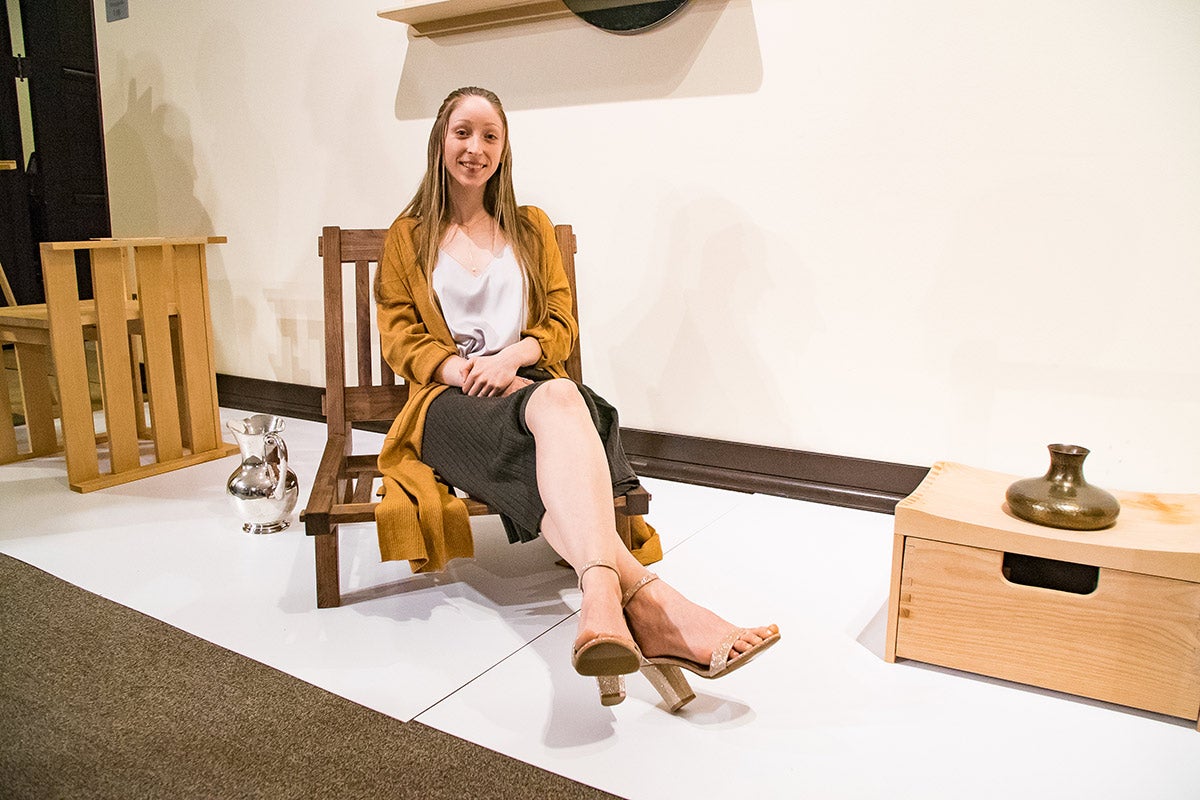 "What I really liked about this piece is how ordinary it is; it's really elegant but you can find it in most households," said bachelor of interior architecture student Stella May Christ, who chose a silver pitcher by Arts and Craft artisan Dirk van Erp. "So I wanted to make something ordinary and elegant. All my angles are subtle, and the chair has a low center of gravity, like the pitcher." Christ said while building the Hoek Chair, her first piece of furniture, she began to master the technique of cutting joints. "I'm definitely going to keep building furniture."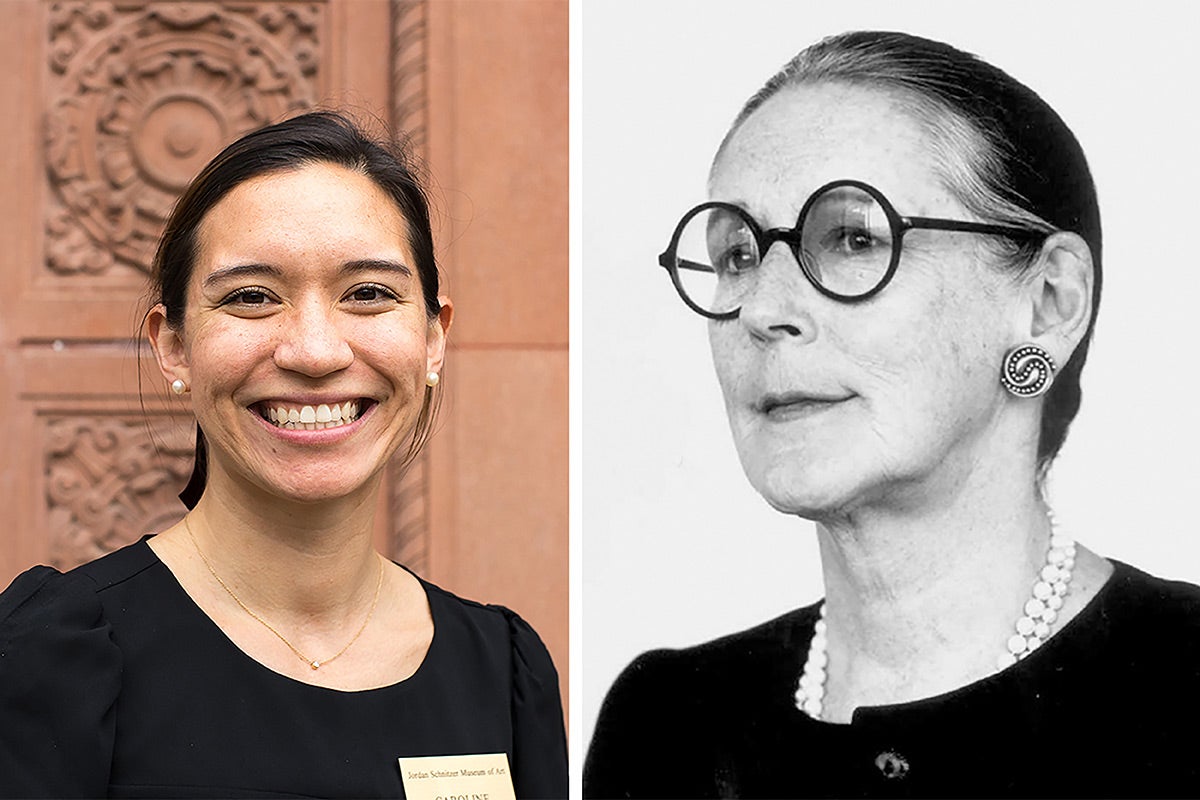 "Margo really cares about design and believes that great design has no borders. Her intent was to provide academic support to students," said Caroline Phillips (History of Art and Architecture MA '18, pictured left), curatorial extern for European and American Art at the JSMA. Phillips collaborated with Bonamici to provide access to the collection for the design studio. "This partnership really showcases the museum as an academic museum." (Margo Grant Walsh pictured right.)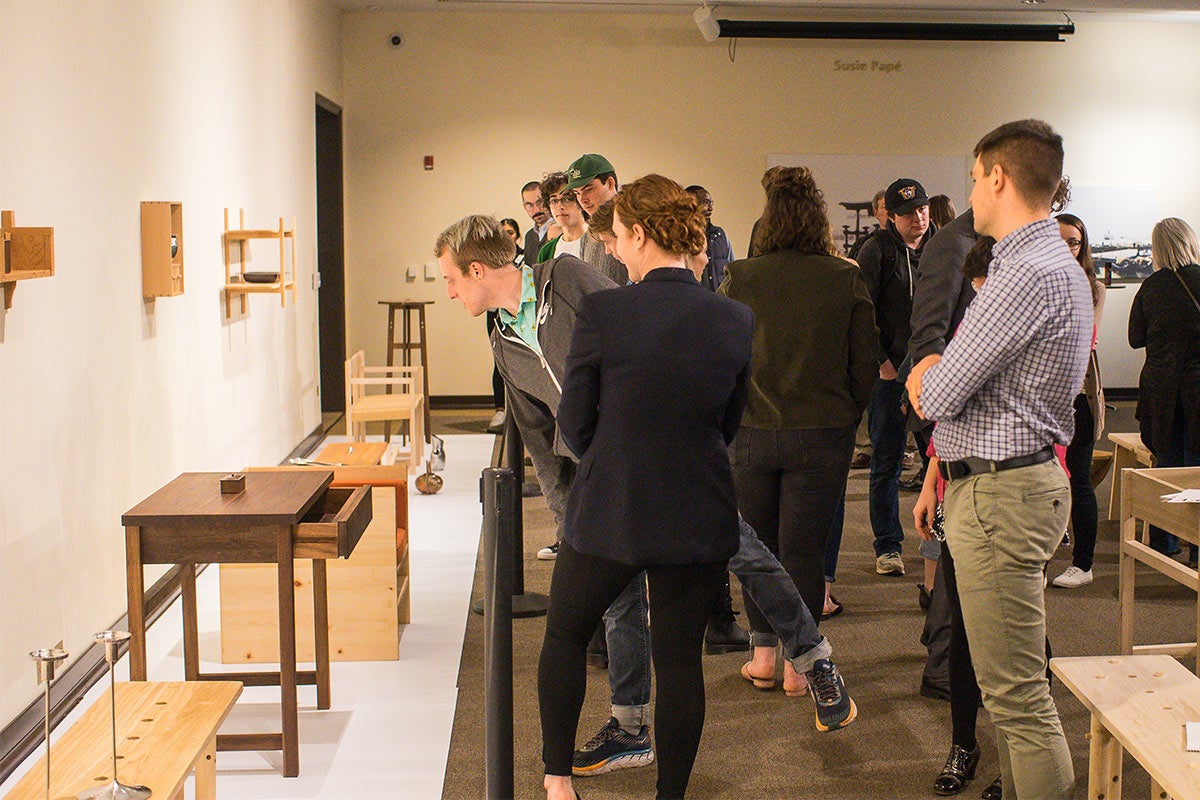 "The JSMA is an amazing resource for all students from the College of Design; it's like a library of objects that students can consult and cite in their 3D work," Bonamici said. "Seeing the finest art and design in person is invaluable, and the JSMA's goal of being a teaching museum is a treasure that I hope to consult much more."