Design Studios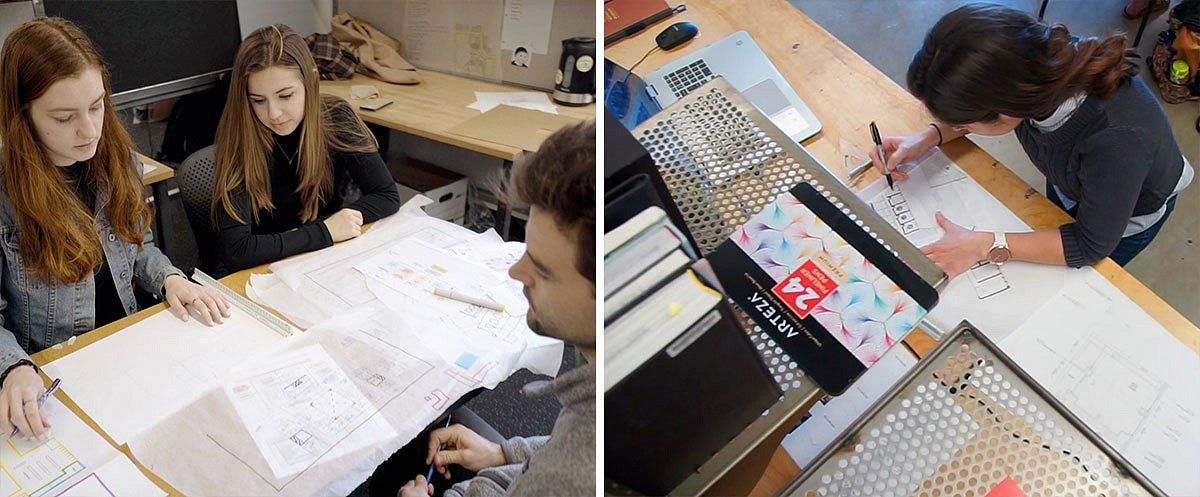 Architecture students enroll in a number of design studios each year of study. Design studios are intensive, small environment courses where students practice architectural design, and incorporate the subject area knowledge gained in other courses. All students enrolled in studios are assigned their own workstation within a space dedicated to their studio group, and available for use at all hours of the day. Students will reside at these workstations for the duration of the term of their assigned studio. The studio sequence begins with studios that introduce the design process, followed by intermediate studios that address a variety of design topics. The final two quarters of the professional degree programs are dedicated to a single comprehensive design project.
---
Eugene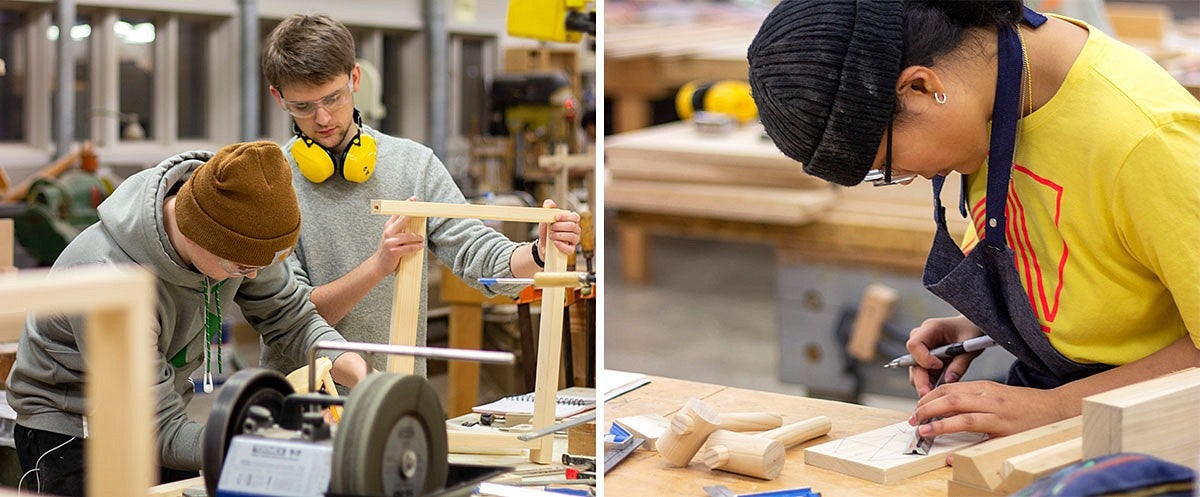 Woodshop
The woodshop is a complete fabrication facility used by students in furniture design courses. The facility has hand tools, power equipment, and space for building projects of multiple scales. The open shop environment has been created to provide a safe, and professionally supervised space in which students can create high-quality projects, while learning skills that further prepare them to excel in their chosen careers. The Woodshop is located in the Millrace/North site complex across Franklin Boulevard from Lawrence Hall, just north of the Urban Farm. Students can access by bicycle or on foot.
Woodshop Tools & Equipment
The Techno RG Series 5996 CNC router table is a 3 axis machine capable of milling stock with a maximum dimension of 59″ wide x 96″ long x 6″ tall. A 4th axis tool with a maximum stock diameter of 6″ is also available.
The Rowland MDX-40 CNC bench top mill provides designers with a powerful 3D milling device. The MDX-40 produces highly accurate prototypes from a wide variety of materials with great precision and excellent surface finish. The working volume of the table is 12" x 12" x 4".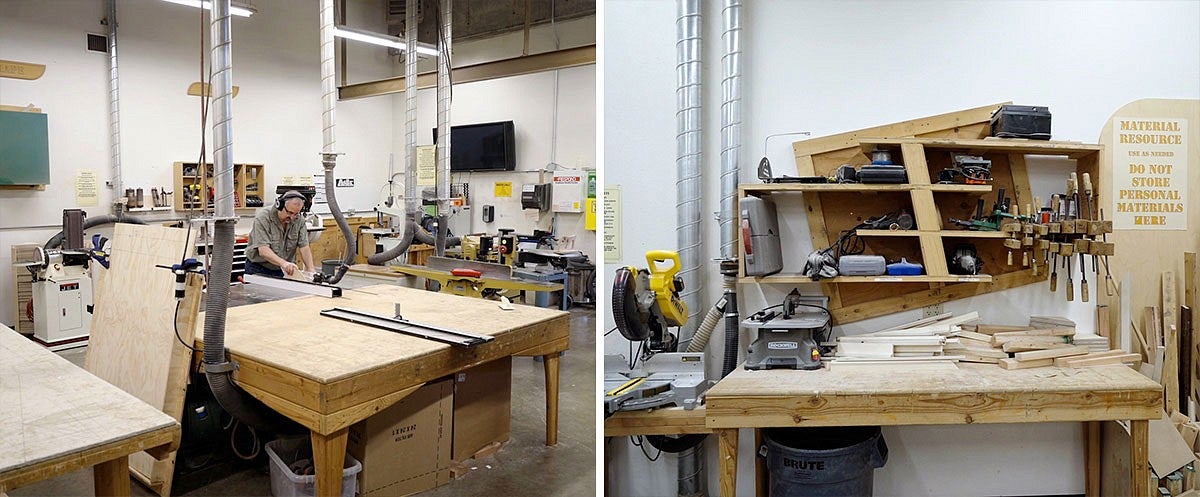 Studio Shop
The Studio Shop is a tools resource for students currently enrolled in School of Architecture and Environment courses. The "open shop" environment has been created to provide a safe, and professionally supervised space; in which students can create high-quality projects, while learning skills that further prepare them to excel in their chosen careers. The shop can be used for building models, cutting designs on the laser cutters into plastics or wood, or metals. The studio shop is located in 185 Lawrence Hall.
Studio Shop Tools & Equipment
Lasers
UNIVERSAL VersaLASER VLS 6.60 ‐ 32"x18" work table. Lasers are available to currently registered College of Design students for studio and class relevant projects. VersaLASER platform series processes multiple materials and diverse applications with speed, detail and accuracy. Available in three platform sizes, the VersaLASER VLS6.60 delivers laser power up to 60 watts with a work area of 32"x18". The VersaLASER systems utilize Universal's patented Rapid Reconfiguration™ technology, which enables customers to change laser power within seconds and without tools. The VersaLASER platform series is designed with seamless integration of Universal's CO2 laser, laser system and advanced Laser Interface+™ materials-based Windows print driver that optimizes the customer's workflow process, improves operation efficiencies and expands customized application offerings.
In addition to lasers, the studio shop offers:
Powermatic 14" woodworking Band Saw Model PWBS14

Dewalt DW716 12″ double bevel

SawStop Industrial Cabinet Saw

Router Combo Packs
Jet JDP 17DX 17" Drill Press
Powermatic 15" Planer – Model 15HH
Powermatic 8" Jointer – Model 60HH
Delta 40-694 20″ scroll saw
Dewalt DW717 sliding compound
JSG-96CS, 6″ x 48″ Belt / 9″ Disc Sander with Closed Stand, 3/4HP 1Ph, 115V
Premium Router Quick-Lift 420
Pinnacle RF-3 Router Table Kit with 28-1/8-inch; x 43-1/4-inch Top And Porter-Cable 7518 Insert
JOVS-10, Floor Model Oscillating Spindle Sander, 1Hp, 1Ph, 115V
Miscellaneous Hand Tools and Clamps
---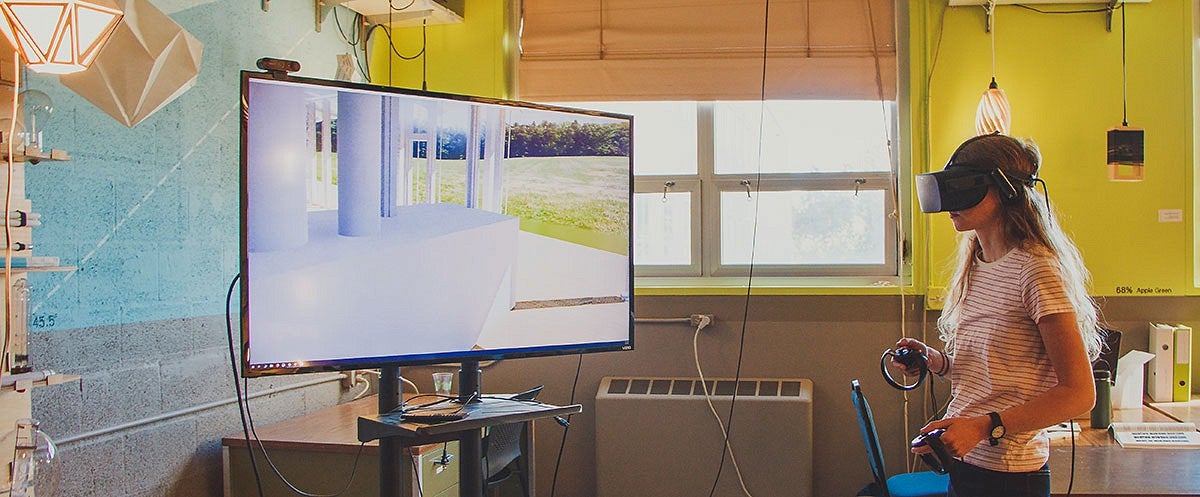 Baker Lighting Lab
The Baker Lighting Lab enables the study of light and color in architecture, by providing for measurement and analysis of existing buildings and proposed daylighting and electric lighting design in new buildings. The lab enriches existing coursework by providing equipment and a facility for investigating new ideas. Students utilize the wide variety of equipment available to test, monitor, and analyze both case studies of existing buildings as well as their own lighting designs and building models.
The Baker Lighting Lab is inclusive, being available to any faculty member and or student who has an interest in pursuing the study of light in architecture. It provides support and opportunity for the exploration of light design ideas. We encourage you to learn more about the opportunities available through the Baker Lighting Lab. Become involved with the Lab's activities and engage in the study and research of lighting design!
Baker Lab Tools & Equipment
Site and Solar Analysis Tools
Pilkington Sun Chart
Sun Peg Chart
Solmetric Sun Eye
Suunto Global Compass and Altimeter
Solar Pathfinder
Solar Transit
Heliodon
Bowling Ball Heliodon
Manfrotto Tripod
Kestrel Weather Meter

Environmental Conditions + Thermal Comfort
Hobo U12 Datalogger
Hobo Weatherproof Pendant Datalogger
Solar Radiation Shield
Sling Psychrometer
Vaisala Humidity and Temperature Meter
Raytek Temperature Gun and Mini Temp Gun

Audio Analysis

Lighting Evaluation Tools
Marietta's Wall
Heliodon
Minolta Illuminance + Luminance + Chroma Meter
LiCor Photometer
Sylvania Light Meter
Minolta Chroma Meter
Bowling Ball Heliodon
Artificial Sky

Electricity and Energy Monitoring
Fluke 80 Series III Multimeter
Kill-a-Watt
Minneapolis Blower Door System
Heat Flux Transducer
---
Portland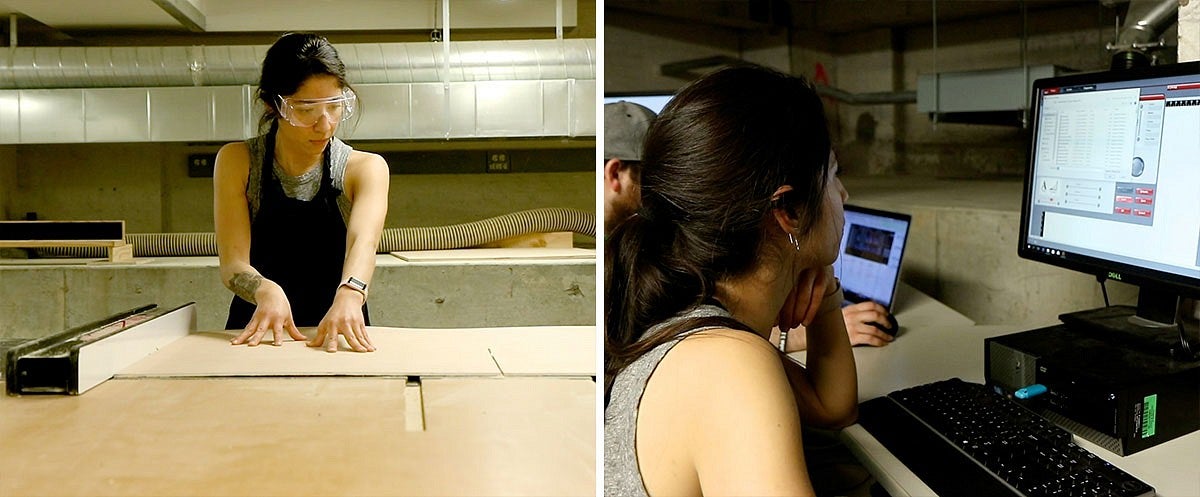 White Stag Block
Architecture students use studio space in the White Stag Block and have access to shops and labs in nearby spaces. The building features state-of-the-art technology, light-filled workspaces, a curated art and design library, and exhibition areas. Students have their own individual studio space, with nearby output room and classrooms for lectures.

Fabrication Lab
The Fabrication Lab in the White Stag Building is used as an additional prototyping space and a digital fabrication facility for students at the UO in Portland. In the Fab Lab and woodshop, shop personnel guide students in woodworking, model-building, and safety procedures. Students can create experimental prototypes and combine high-tech digital modeling with traditional craft processes.
The following tools and spaces are available for use:

Woodshop
During operating hours, the woodshop is accessible without appointment. Patrons must complete the basic safety orientation before working in the facility. A variety of hand and power tools are available to use within the facility, but patrons must supply their own consumables (e.g. materials, fasteners, adhesives, tape, sanding paper, etc.) Equipment is not available to be checked out and may only be used within the shop.

Spray Booth
The spray booth is located near the entrance to the woodshop and remains accessible at all hours.

Fabrication Lab
The Fabrication Lab is available during operating hours by appointment. The facility supports two laser cutters, a 3D printer, and two CNC cutters. Patrons who have been verified to safely operate equipment may reserve timeslots using the appointment calendar.

Laser Cutting
Universal ILS 9.150D
100 watts
36"x24"
Universal VLS 4.60
50 watts
24"x18"
The laser cutters may be used by appointment only.