Innovation and Leadership in Architecture
The Department of Architecture prepares students to become leaders in addressing climate change, social inequity, and rapid technological innovation. Consistently ranked in the top programs for sustainable design, the Department of Architecture offers fully accredited professional degree programs that support collaborative, integrative design thinking needed for the most pressing environmental challenges. Students can work directly with clients and grapple with the complexity of real locations in designing new buildings and revitalizing existing spaces to be uplifting, healthy, and green.
Students have opportunities to choose studios that are relevant to their individual interests and academic needs, receiving qualitative feedback and Pass or No Pass rather than letter grades. Intermediate and advanced students are united into a single learning community where peer teaching among students is encouraged. Each graduate student chooses a professional focus area and may opt for a Specialization, Certificate or dual Master's degrees. The Department of Architecture offers graduate programs both in Eugene and at the historic White Stag Block in Portland.
---
Degree Programs
Master of Architecture II and MS in Architecture candidates can initiate and complete required coursework in Portland in order to earn a degree. Master of Architecture I candidates must initiate coursework in Eugene. Once candidates have completed the necessary prerequisites, they are eligible to continue on to Portland to complete degree requirements.
---
Alumni Spotlight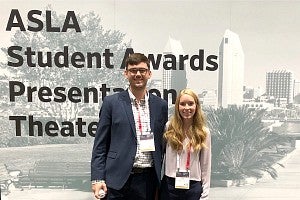 In a 2019 Biomimicry and Parametric Design course, Alex Balog (MArch I, '20) and Julia May (MArch I, '19) were inspired by the basking shark. Based on the animal's unique anti-clogging filter-feeding process, the team designed an even more efficient filter for both air and water.
Now, Balog is working with Oregon State University to develop a prototype.
---
Engaged Faculty
Faculty strive to create inclusive learning environments where students, faculty members, and visitors share a rich intellectual community. For example, the Design for Spatial Justice Initiative brings visiting faculty fellows to grow our mix of perspectives and talents. Full-time faculty members have particular strengths in:
Building Performance
Housing
Urban Design
Architectural Tectonics
Design Leadership
Faculty engage in cutting-edge research, professional practice, competitions, and service projects, sharing work through national and international conferences and publications. Students have opportunities to contribute in these efforts as well as getting faculty support for independent research and creative projects. Diverse faculty specialties are integrated into the design studio to provide a well-rounded education for the architectural profession. Students can also acquire a Technical Teaching in Architecture certificate and connect with many Oregon graduates who are university professors.
---
Funding
Awarded annually, graduate fellowships provide opportunities for significant financial support, as well as teaching and professional experience.
---
Let Us Show You Around
We encourage applicants to visit our facilities and meet faculty members and students in our programs. We offer tours in Eugene and in Portland during most of the year.
---
Accreditation
Our Master of Architecture (MArch) program is accredited by the National Architectural Accrediting Board (NAAB).