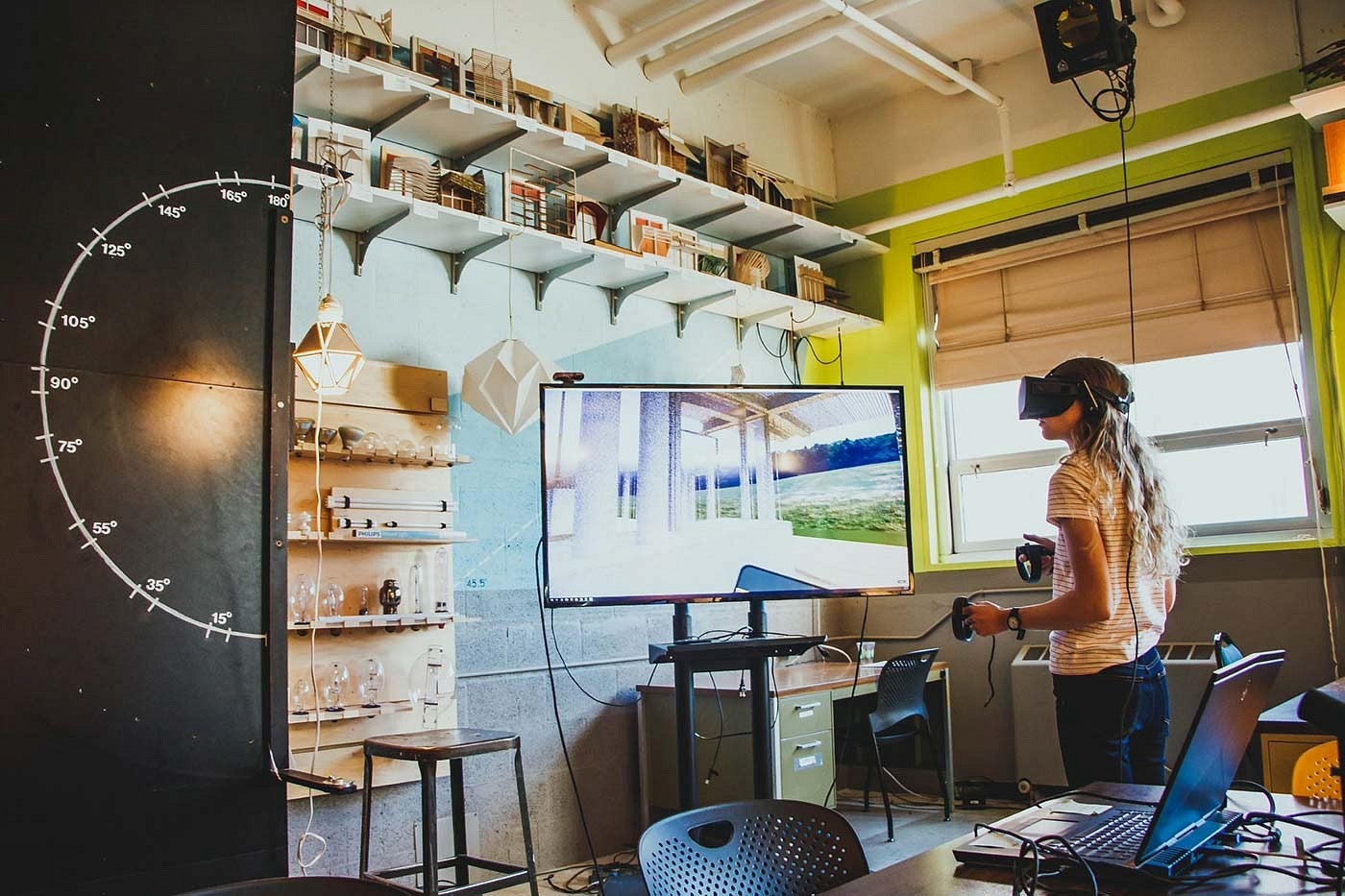 The School of Architecture & Environment is a recognized leader in sustainable design. In interior architecture we ask whether sustainable environments can also be beautiful and uplifting. Our department faculty examine lighting, color, and other physical materials and elements of design and share their expertise with students across the school.
The Baker Lighting Lab enables the study of light and color in interior architecture by providing for measurement and analysis of existing buildings and proposed daylighting and electric lighting design. The lab enriches existing coursework by providing equipment and a facility for investigating new ideas. Students utilize the wide variety of equipment available to test, monitor, and analyze both case studies of existing buildings as well as their own lighting designs and building models.

Core Faculty
Associate Professor Esther Hagenlocher shares her deep understanding and research into color with students. She teaches the required color theory course and teaches studios at all levels in the curriculum. Her research examines color systems and how these developed historically while also engaging in quantitative experiments into color and light in use.  
Associate Professor Virginia Cartwright studies the work of Alvar Aalto with a particular interest in his innovative and beautiful lighting strategies for libraries and how these expanded and became ever more sophisticated over the course of his long career. Her research has been focused on developing a technical understanding of the lighting devices that Aalto employed through digital and physical modeling.
Assistant Professor and Director of the Baker Lighting Lab Siobhan Rockcastle explores topics at the intersection of architectural design, environmental dynamics, human perception, and daylight performance with a focus on well-being. Siobhan's current work uses simulation and virtual reality to model and design experiential lighting environments. She teaches interior architecture electric lighting courses and seminars on her research topics. Interior architecture students have opportunities to participate in her research and/or to work in the Baker Lighting Lab.
Other faculty from the Department of Architecture and the College of Design whose work contributes to the understanding of design theory as it relates to Interior Architecture include Ihab Elzeyadi, founder and director of the High Performance Environments Laboratory (HiPE). Design for indoor environmental quality in green buildings and its impact on occupants' health. He teaches Environmental Control Systems II required for Interior Architecture Students.