National engine of change. Making the most with the least. A ground-breaking nexus of innovation.
Those are just a few of the descriptions attached to the new Oregon Center for a Regenerative Future, a theoretical Portland site intended to house collaborative incubator spaces for the development of sustainable products, tech shops for public use, urban farms, and maker fairs, among a diverse list of other aspirations.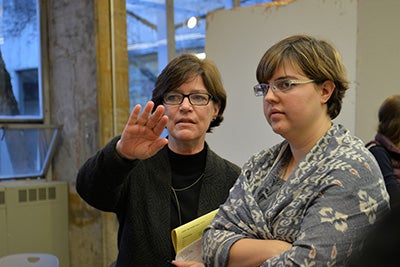 Above: Marsha Maytum (left), BArch '77, FAIA, reviews student work at the final review in December. Photo by Chloe Peterson.
An A&AA intermediate architecture studio underway this fall is helping to shape the fictional Center's future by exploring advanced ecological design strategies. The students' final presentations will double as entries into the American Institute of Architects (AIA) and its Committee on the Environment (COTE) Top Ten for Students Competition.
"We're interested in how architecture can reach beyond its property lines and address big societal challenges such as climate change, homelessness, environments for the disadvantaged, and innovative educational spaces for new pedagogies," says Bill Leddy, BArch '75, FAIA, co-instructor for the studio. "We feel very strongly that architects have a much bigger job to do than to simply express the latest fashion trend. We have an important role to play as leaders in our communities, using the power of design to help show the way to a hopeful, regenerative future. We created the fiction of this project because it very clearly illustrates this idea."
Leddy and Marsha Maytum, BArch '77, FAIA, are the 2015-16 Belluschi Distinguished Visiting Professors in Architecture. They are joined by fellow instructor Roger Ota, MArch '05, in leading the class. Leddy and Maytum are founders and principals at the award-winning San Francisco-based architecture firm Leddy Maytum Stacy Architects (LMSA), named the No.1 firm in the nation for sustainable design in 2013.
LMSA has been working with sustainable design since the early 1980s, well before the Leadership in Energy and Environmental Design (LEED) rating system for the maintenance of green buildings even existed. LMSA has earned more than 100 design awards for its work marrying sustainable efficiency with aesthetic marvel. Among recent awards, Architecture Magazine gave LMSA its Residential Architect Leadership Award in 2014, and the International Code Council bestowed its ICC National Leadership in Sustainability Award on the firm in 2014.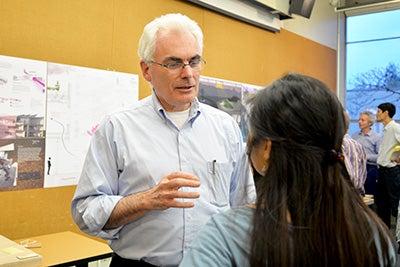 Above: During the term-end review in December, Bill Leddy, BArch '75, FAIA, talks with a student. Photo by Chloe Peterson.
LMSA also actively seeks out projects with philanthropic and social justice angles.
"In our practice, we are very interested in exploring ways in which architecture can help address big challenges that our society faces," Leddy says, explaining the reasoning behind making the Center the basis of this studio. "Of course, one of the biggest challenges is climate change and the need to explore new models of reduced-carbon living and working. The Center is an investigation into the potential of architecture to give this challenge a vital presence—and a practical response—within the daily life of Portland and the region."
The Center is envisioned as an "innovation engine" that would bring together researchers, companies, tinkerers, and the general public to explore new ways of making and distributing sustainable products in the post-oil age. The program calls for incubator spaces for companies and private research teams, tech shops open to the general public to support individual invention, exhibition spaces to display new products, and a flexible "black box" performance space to host presentations, maker fairs, and other public gatherings. 
The facility itself is intended to provide an inspiring model for a reduced-carbon future by displaying advanced ecological design strategies that result in a net-zero energy and net-zero waste environment—"one that connects visitors and researchers more profoundly to each other and to the natural world that supports us all," Leddy says.
The fictional studio project is set in a real space, along the Willamette River in downtown Portland. Leddy and Maytum selected the site because of its proximity to the Oregon Museum of Science and Industry, the new Tilikum Crossing bridge, and the site's high visibility to the surrounding city.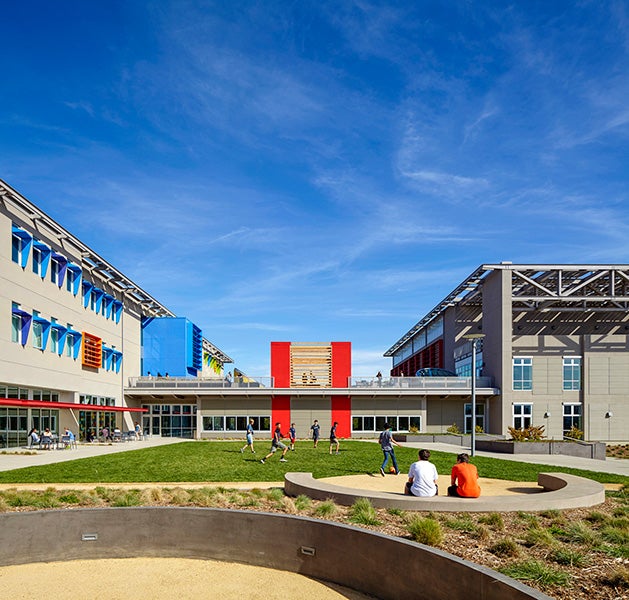 Above: Nueva School at Bay Meadows, in San Mateo, California, reinvents high school for the 21st century, providing an ecology of educational environments that models low-carbon living and learning on a daily basis. All images courtesy Leddy Maytum Stacy Architects.
The other very real aspect of the studio is how it will help students to shape entries for the AIA COTE Top Ten for Students Competition, which Leddy helped create in 2013 when he was chair of the National AIA Committee on the Environment (COTE). He served on the first year's jury with UO architecture Professor Alison Kwok, "and I'm delighted to have a chance to help A&AA students participate this year."
Leddy and Maytum, who met as students at UO, credit their time in Lawrence Hall for their firm's focus on sustainability.
"John Reynolds and all those incredible classes really gave us such an important understanding of energy efficiency and working in harmony with nature and really how it important it was for the environment. Our Oregon experience definitely had profound influences on both of our careers," Maytum said.
"When we were there in the early '70s, the whole notion of environmentally appropriate design was in its infancy," says Leddy. "We'd gone through the oil crisis and the first generation of solar homes was going on at the time. John Reynolds was there teaching his environmental control systems classes and serious environmental responsibility was already a huge part of the A&AA culture."
As for their students in this term's class, "We hope the students achieve a working understanding of an evolving new model of architectural practice—one that marries beauty and high-performance, art and building science," Leddy says.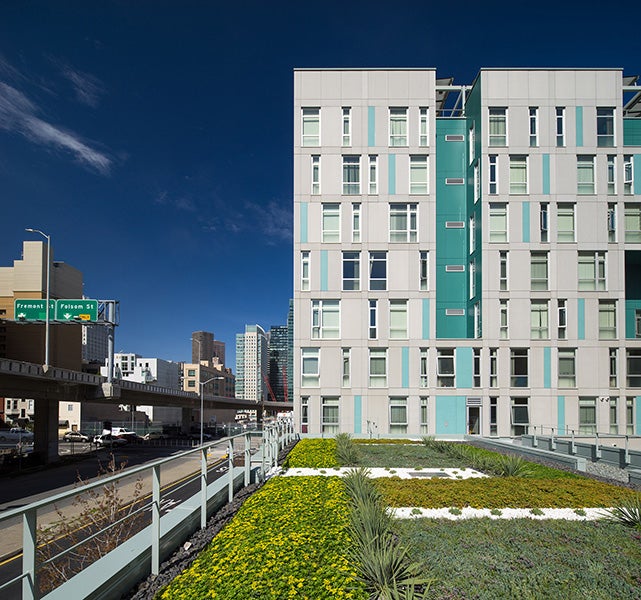 Above: Rene Cazenave Apartments, in San Francisco, California, provides supportive housing for chronically homeless individuals at the heart of San Francisco's new Transbay District. The project integrates advanced sustainable strategies that benefit the residents and their community.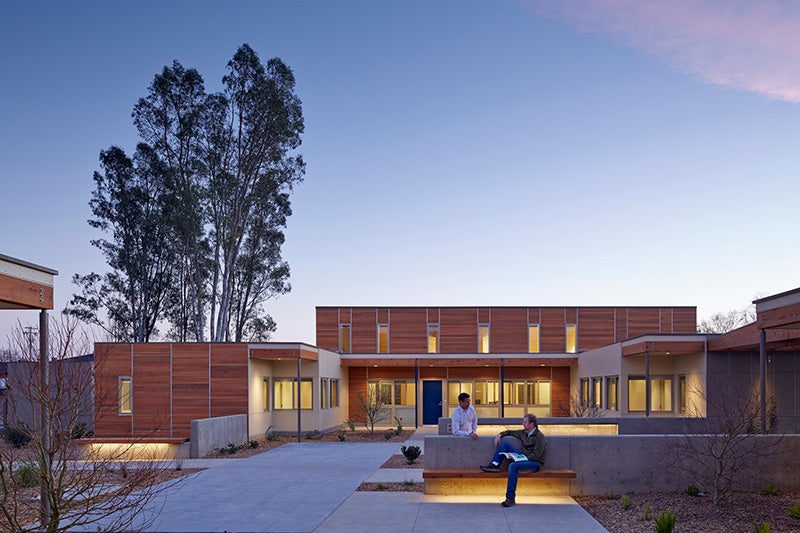 Above: Sweetwater Spectrum Community, in Santa Rosa, California, offers a new residential model for adults with autism spectrum disorder. The project addresses a growing public health challenge by creating a serene, healthy community that uses 80 percent less energy and 50 percent less water.