Architecture and design firm Studio Ma, whose principals include Tim Keil, '99, was recently selected by Architectural Record for its annual Design Vanguard issue "showcasing emerging firms from around the world that are expanding the role of the architect and championing new approaches to design and practice."
Studio Ma is one of just ten firms selected for this honor from an international competition. Those chosen include three architectural firms from the United States, two from Japan, one from Korea, two from China, and two from Spain.
According to Architectural Record, the Vanguard architects are the future stars of the profession. They are "already doing some of the most innovative work in the field and will lead the profession in the future. They are the firms at the forefront of design and the architects are the ones to watch."
Before joining Studio Ma in 2006, Keil served as a project manager for more than $750 million of institutional and higher education projects in California. Keil's experience with managing projects as well as the depth of his on-site construction knowledge have enabled Studio Ma to undertake a wide range of project types and scales.
Keil was recently named an associate partner of the firm and continues to manage projects such as Princeton University's Lakeside Graduate Housing and Arizona State University's Manzanita Hall and Sun Devil Fitness Complex. His deep and practiced knowledge of construction and the regulatory environment allows Studio Ma to work in an efficient manner from the earliest stages of a project through construction administration.
Keil was also the inaugural winner of the Senator Mark O. Hatfield Architectural Award Scholars, an award he won in 1998.
Studio Ma is an award-winning architecture and environmental design studio delivering innovative, sustainable, and unique designs to forward thinking organizations and individuals. Founded in Phoenix, Arizona, in 2003, Studio Ma's four partners—Christopher Alt, Dan Hoffman, Tim Keil, and Christiana Moss—foster a creative and adaptive design practice delivering the full range of architectural services for large and small projects nationally.
The Architectural Record story about Studio Ma is featured on the Architectural Record website.

Above: Keil currently manage projects for Studio Ma such as Princeton University's Lakeside Graduate Housing.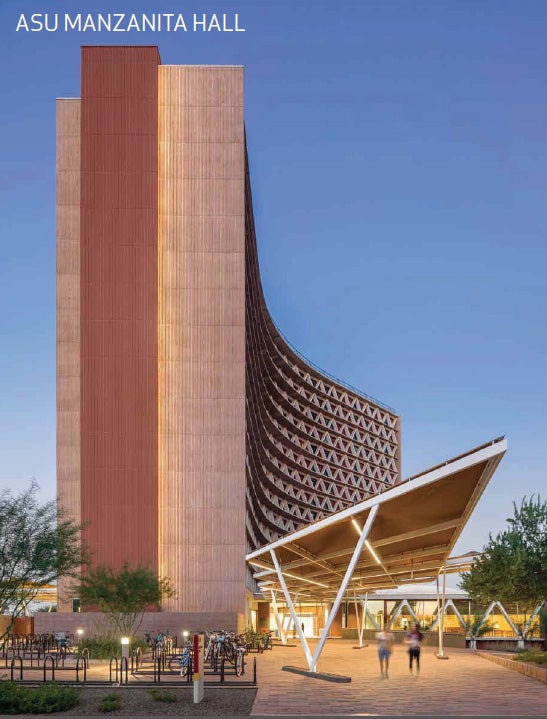 Above: Keil's projects include Arizona State University's Manzanita Hall.